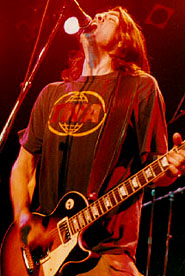 Everyone was Kung Foo Fightin'
Foo Fighters
with Shudder to Think and Wool
The Commodore Ballroom
Vancouver, B.C.
Thursday, July 20, 1995

Review by P. Freako
Photography by Rodney Gitzel

Originally published in the late Euphony Net-Magazine
---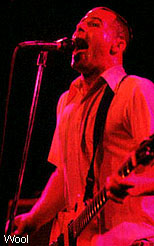 Wool took the stage shortly after eight bells and I was more than ready. I admit it, I am biased. I love Wool. They ripped through their first couple of songs in fine fashion with a leer in their collective voice and a feverish anger in their loins. Wool's live presence showcases intense vocals, high energy, tons of insanity and a frenzied pace. The party faithful at the front of the stage were really into it and a few surfers were brave enough to ride the pubescent-pattern waves. The band seemed kind of pissed off (more so than usual) and hastily explained the reasons for their angst: dealing with customs agents is always fun, but after Wool were forced to pay a $40 duty fee on their t-shirts, the border cops confiscated all their dope.

After relating this story, they lost momentum and the hard driving pace of the first two songs was irrevocably lost. Wool was never able to draw the crowd back in, and I don't think they were able to draw themselves back in either. The endings of their songs became blurry and unsure, and when they finished their 20 minute set, nobody quite knew exactly what had happened. Simply put, the crowd was stunned: like, what do we do now? Though "Kill the Crow" was a standout tune, the set was way too short and uncharacteristically unfocused. Then again, maybe I'd be pissed off if I had to pay some joker $40 to steal my pot too.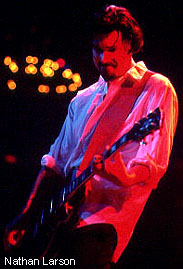 Shudder to Think was next to grace the stage and honestly I don't think the 3/4-full room really cared. They came to see Foo Fighters; they wanted to see Dave Grohl and Pat Smear. Undeterred and self-confident, lead singer Craig Wedren came out dressed in a funky satin blue shirt and sporting a pair of goggles. This was their first show of the tour and guitarist Nathan Larson apologized to the crowd for a few minor technical difficulties that plagued the first half of their set.
Lacking direction and flow, you could tell the band had yet to find their footing. Larson's guitar riffs were straight-ahead, good rock crunches, but I hate guitar poses: wide stance, leaning back and staring up at the disco ball suspended above the crowd. Thankfully, Wedren's vocals were powerful and definitely shined through this otherwise lacklustre display. They seemed to build steam as the set wore on and by the last two songs they hit their offbeat stride. The musicianship and arrangements were brilliantly quirky and combined with Wedren's twisted, reality-bound lyrics, they are definitely an interesting band. But not on this night. The crowd just didn't get it. Or want to.
Moments later, as I was taking out my earplugs, making some notes, and drinking some water (all ages show, ya' know), throngs of young-uns suddenly stampeded by me, flailing and flinging themselves towards the stage. They had obviously caught a glimpse of Dave Grohl and Pat Smear before I did. But I wasn't worried: how hard could it be to see over a sea of 14-year-olds? The projector screens that disguise the stage during change-over were lifted and out came the Foo Fighters. Realizing that today's youth possess MuchMusic/MTV attention spans, the band immediately blasted into "My Hero", and rocked the Commodore with its patented alterna-grunge style. The Foo Fighters had the crowd hooked from the opening chord. They ripped into their current single, "This is a Call" and the crowd went insane.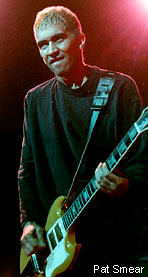 This same group of people who were clearly disinterested in Wool and Shudder to Think, were instantaneously engrossed with Foo Fighters, moshing and diving in a maddening frenzy.
"Rudebega" followed with the same intensity as the first two songs, cranking out volumes of guitars and vocal angst. Grohl seemed to enjoy himself, chewing gum, belching into the mic and confirming his place in the crowd's hearts as a regular, cool kinda guy. The whole band, including bassist Nate Mendel, and drummer William Goldsmith, were psyched and prepared to rock the house with the Foo Fighters' style of poppy grunge tunes held together with an angry, but I don't care attitude. Dave Grohl's vocals weren't stellar, but man, this guy can scream and wail! He pulled off every song with absolute conviction and ire, screaming repeated choruses such as "get out" from the song "Good Grief" and "I don't owe you anything." The crowd related to those sentiments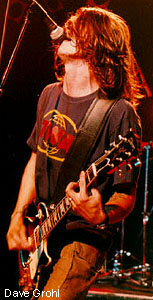 and the band motored on with a loud wall of sonic guitar energy -- we couldn't get enough. Pat Smear had that truly sinister smile on his face for the duration of the show and seemed to truly enjoy interacting with the crowd. At one point, he even took a picture of us!
Somebody splashed water on Grohl and he loved it. No posturing here. The Foo Fighters truly wanted to be there. "For All the Cows" was a grungy number that had the crowd bouncing from front to back. "Pete Townsend" was dedicated to the pop icon and it rocked with great guitar riffs in a proper, honourable salute. The final song of the set looked like it was going to end with predictably long, drawn out feedback and distortion with respect to you know who (R.I.P.), but they brought it all back and rocked it out in what must be described as Classic Foo Fighters Style. The set was one hour of high-paced, hard-rocking tunes and they gathered it all togther with tight musicianship, brain-thumping beats and raging guitars that contained the audience us from beginning to end, never letting us drift. At the end of the night they bid us a fond adieu with a simple thank-you and a goodbye. After all, Grohl reminded us that they've only been together for six months and that's all the songs they knew. Cool show.
---
Drop-D Magazine
Index | Search | E-mail | Info | Copyright

Considering copying some of the images from this story?
Please read this first. Thanks.