Pretzels 1, Merlin 0
Merlin
with Son and Supergarage
Gastown Music Hall
Vancouver, B.C.
May 30, 1996

Review by Daniel Ewacha
Photography by Paul Clarke
---

"We're the freak show tonight!" exclaimed Merlin as he and his band took the stage at the Gastown Music Hall. Merlin proceeded to cast his magician's spell upon the audience with an imaginary conversation between two people comparing Merlin to the likes of Prince, Michael Jackson and the Godfather of Soul, James Brown. Merlin's band accompanied this splendid form of acting with a soothing instrumental before exploding into a full rage of beats, rhythms, melodic symphonies and struts, all of which kept up for the rest of the evening.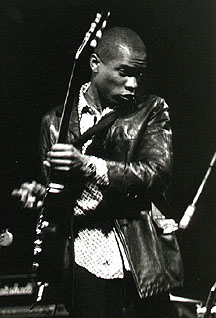 To make a long story even longer, Merlin put on a spectacular performance for an audience who were, for the most part, satisfied to "sit back and watch TV," as Merlin likes to categorize it. It amazed me how a talented performer such as Merlin, who with his full intensity and explosiveness put on a show which would demand an audience to stand up and take notice and dance and sing, had to deal with mere head bobbing, chatting, and pretzel eating. It was quite a sight to watch the two conflicting forces battle one another: Merlin and his music demanding the attention and respect it fully deserved versus an audience who were happily chatting amongst themselves in between and during songs, fully engaged in alcoholic bliss. Ultimately, Merlin wowed the full capacity crowd as much as they could be wowed. Next time, however, the battle will be won decisively hands down by Merlin, who, despite all the distractions, definitely made his presence known.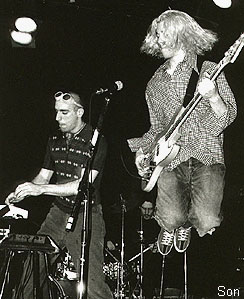 Opening the evening were Son, a band out of Toronto who could best be described as Elvis Costello on a loopy trip of acid. These guys were awesome. Their rhythm section was full on, sound to the core, accompanied by the 70's style wah-wah guitar, which had me transported back to the days of Blondie and Pat Benatar. As the centrepiece of the band, the serene sounds of the keyboards made the music that much more intoxicating. Son do have an album out called Thriller, and, if you can, make an attempt to see them live. You will not be disappointed.
Also on the bill were Supergarage from St. Catherine's, Ontario, home of supermodel Linda Evangelista. What is it with all these bands with the word "super" in their name? Super Friendz, Superdrag, Supergarage... Anyways, Supergarage were a mixture of the Tragically Hip, Ramones, and Alanis Morrissette (they even covered her song, "You Oughta Know"), and provided a great start to a great evening.
---
First published in Drop-D Magazine on June 7, 1996
Index | Search | E-mail | Info | Copyright

Considering copying some of the images from this story?
Please read this first. Thanks.