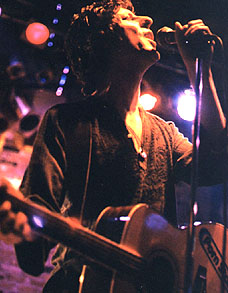 New Wave Stars not Extinct, Yet
Modern English
with The Extinct
Richard's on Richards
Vancouver, B.C.
May 31, 1996

Review by Daniel Ewacha
Photography by Suzanne Goodwin
---

I saw Howard Jones a couple years ago and Electrafixion (featuring Echo and the Bunnymen's Will Sergeant and Ian McCollough) a few months back, both at the Town Pump. I found it both depressing and interesting to see these pop stars of the 80's playing club-sized venues: depressing for the fact that seeing these musical heroes of mine in these small venues showed the mortality of pop rock & roll stars, forced to play clubs for lack of popularity and/or interest from a generation of fans who have "outgrown" them; interesting for the very same reasons.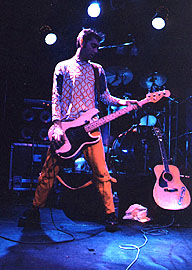 Now, when I heard Modern English were playing Richard's on Richards, I thought, "Who the hell are Modern English?" If it wasn't for the poster/advertisement claiming "best prizes for best 80's garb," I wouldn't have known that they represented all that was New Wave back in the 80's. Having someone explain to me that Modern English wrote one of the biggest anthems of New Wave still didn't ring a bell until they sang it, the song, of course, being "I Melt With You." It's one of those songs where you might not know its title or who sings it, as in my case, but when you hear it, you remember and recognize it instantly. And I knew I had to go see them.
Playing initially to a half-empty club, most of whom were there to hear "the song," Modern English absolutely delighted the crowd with material stretching all the way back to their beginnings and right up to their current release. Breezing their way through their all-too-short show, and with the help of a small group of fanatics, Modern English showed why they were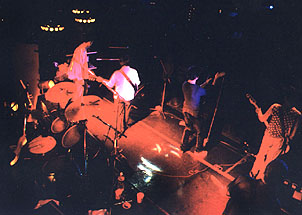 the quintessential band of the 80's. Full of energy and excitement, they won over everyone in the audience, which at this point was close to capacity as the doors were open to let the regulars in. Then it was time, as their lead vocalist announced, "We're going to play the song that most of you came to hear!"
Well, in all honesty, "I Melt With You" is better heard on the radio, tape, CD, whatever, just not live. The live version lost something in the transition, although this could be said for almost any live version of a song, some more apparent than others. This was, fortunately, the only mark against them in an otherwise flawless performance, and was nonetheless accepted enthusiastically by those on the dance floor. Modern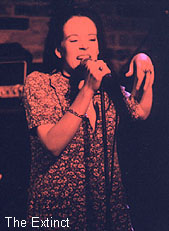 English did prove, beyond a shadow of a doubt, that they are strong enough as a band and as individuals to produce more than a runaway single. And, as the new material showed, they haven't lost their touch.
Opening for Modern English were the Extinct, hailing from Los Angeles. They seemed a strange choice to open for Modern English. With music which intertwined influences from rock, R & B, soul, blues, and a splash of country, the Extinct are the epitome of versatility, complete with a female Eddie Vedder, who looked and sounded quite similar to the Pearl Jam guru. The band, however, lacked any excitement in either their music or stage presence, falling just short of a good performance; as well, they spread themselves too thin in trying to cover so many aspects of the musical spectrum.
---
First published in Drop-D Magazine on June 7, 1996
Index | Search | E-mail | Info | Copyright

Considering copying some of the images from this story?
Please read this first. Thanks.