0 to 60 in a Matter of Months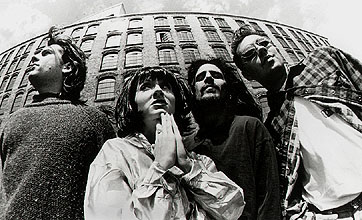 An Interview with Vancouver's Tone
Interview by Rodney Gitzel
---

39-second excerpt from "Revenge of the Average Apartment Renter" (various formats)


It was an accident, actually. Seeing new Vancouver band Tone, I mean. I had intended to spend most of the night over at Music Waste, so many weeks ago, but between sets I headed over the Phunky Toad and Music West to see what I was missing. Turns out I was missing a lot, and I was quite annoyed to be catching only half of Tone's set. They were amazing! A solid almost-metal band with a manic frontwoman in a baby-doll with this voice... I procured a media weasel kit and arranged to interview guitarist-songwriter Ted Hamelin Jr. and singer Jennifer Hershman.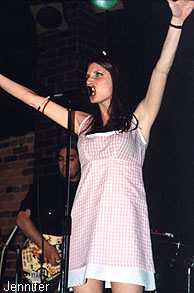 So what about that voice? Jennifer has a unique, almost operatic, sound, like Kate Bush, Yoko Ono and Geddy Lee all fighting over one set of powerful pipes. "I've done a lot of theatre in the past, and I think maybe that's where it comes from, I like to go to my dramatic extremes." Dramatic indeed. Listening to the band's independent and cool CD Brand New Lunatic takes you from "I'm the kind of psycho who'll cut you into pieces" to "Fuck you all who dare to test my strength" to "Oh Lord, peace Lord, waters be still Lord," and you don't doubt her for a moment.
"We did a CD with another band, and you wouldn't know it was her singing. We talked a lot about whether we wanted to do another CD, and if we were going to make another CD, we wanted it to be our CD, and not just some attempt to put a package together." Ted looks at Jennifer and continues: "We decided that [the vocals] had to be really you -- what that is, it doesn't matter really what that is -- it has to be you." "That really opened things up for us," adds Jennifer. "and I think that's one of reasons things have happened for us -- the original voice."
Ted continues: "The band's pretty generic, and it's supposed to be generic. It's supposed to be a hard rock band, because that's honestly who we are. It's a weird combination of Jennifer's voice with our type of band; I don't think it's ever been done. It's a bit of a hybrid."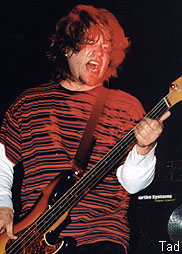 Ted and Jennifer have been together in bands for the last five years. A good chunk of this time was spent touring western Canada playing "top 40 stuff." Says Ted, "It was a good learning experience... terrible gigs, great gigs, everything in between. I'm glad we did it, but I'm glad we're not doing it now. It got us to this point." This point? Well, Tone's very first live show was opening for Our Lady Peace in December at a sold-out Commodore show. "It was fun... I wish we could do THAT everyday!" laughs Jennifer.
The band started playing two or three shows a month in January, and quickly attracted a following, both critical and from fans. "I think that's actually the best response," says Ted, speaking of the people coming to their shows. "A couple people have even started to follow the band from gig to gig, which is pretty weird, but it is a good feeling."
This series of shows led to a successful Music West showcase. "It just totally fell together, it was ridiculous. They just called us and said 'yeah, we really like the band' and they gave us a really good spot." The half-dozen A&R types present were busily scribbling through-out the show, as was "the guy that owns Cargo [their Canadian distributor]; he was really into it, and that's made a big difference."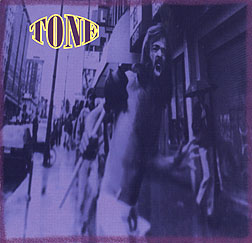 Meanwhile, Brand New Lunatic went out to radio stations all over Canada. "Radio's been really good; about 37 colleges added it, all the modern rock stations featured it. At CFNY in Toronto it's on medium rotation right now and it's getting lots of play on [Vancouver's] CFOX. It's really hard, too -- it's not exactly a radio type album." The video for "Waters be Still" is still in rotation on MuchMusic -- 18 plays, at last count -- "for an indie video it did really well," says Ted.
If it sounds like Tone are on a roll, well, they are. And no one seems more surprised than the band members themselves: "We didn't form this band like most bands we've formed or like most bands are put together, it just HAPPENED. It wasn't planned. I don't think we ever even talked about forming a band. One day we just said, hey, we've got all these songs, let's go record them. We didn't even record them thinking we were going to press a CD. But then it turned out pretty well. And we never pressed it expecting to get to Music West or to chase down a record deal... it has kept working so well."
"We went from zero -- absolutely nobody had any idea who we were at all -- to radio all over Canada, since January." Jennifer, still sounding a little awed, exclaims, "So hey, that's pretty good!" "Yeah," responds Ted. "We have to keep telling ourselves that. About every four days we have a nervous breakdown."

Tone will be playing in-stores at the Robson HMV June 20th and the A&B in Surrey June 22nd, and will be heading across Canada soon thereafter with Vancouver's Sex with Nixon.
---
First published in Drop-D Magazine on June 7, 1996
Index | Search | E-mail | Info | Copyright

Considering copying some of the images from this story?
Please read this first. Thanks.