Happy Birthday, Ingrid!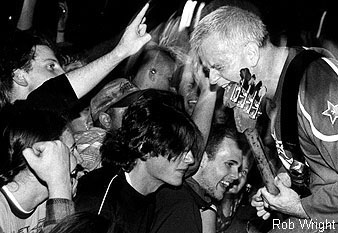 NoMeansNo
with Pigment Vehicle
The Commodore Ballroom
Vancouver, B.C.
May 29, 1996

Review by Rodney Gitzel
Photography by Paul Clarke
---

I've never met Ingrid Severson, though I've seen her name on lots of NoMeansNo CDs. I don't know why they call her "Ingrid the Hun," but I'm sure they have a reason. I did go to her birthday party at the Commodore, however, and you gotta like someone who can get two of Vancouver Island's finest bands to play at their party!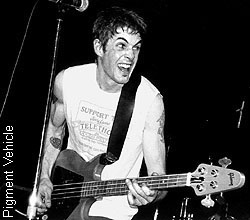 Pigment Vehicle started off with a challenge from their drummer: "We're going to test you, to see if you can dance to this funky shit; if you can't, don't worry, cuz we can't either!" No doubt. Now, originally I thought PV to be an odd band to put on a bill with NoMeansNo, as for years PV seemed very much to be a NoMeansNo clone band -- still good, mind you (get a copy of 1993's Perfect Cop Mustache, if you can), but still very NMN-ish. Well, not no more! Where NMN are actually quite melodic, of late, PV have gone completely out there. Long epic songs (think back to NMN's "That's Sad" and "Real Love" for reference) and very angular -- and complicated -- music.
You'd think that this 'progressive punk' would be losing people, but, no: all around me people were nodding along and muttering, "yes, yes" to themselves. Not bad, especially considering PV were playing only new material. A few people tried to dance -- only a rather hyped-up jive seemed to work to this "funky shit" -- and eventually a pit got going. The crowd's support is not totally surprising: PV do an excellent job of playing their anguished, intense songs, and they are a TIGHT band. And they're supposed to be releasing a new CD, soon... woohoo!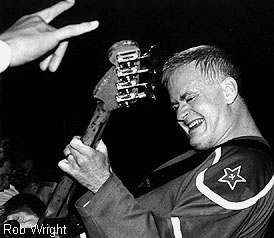 It was about 11:30 when NoMeansNo tore into their set. Kinda early, I thought. Two hours and over twenty songs later, I stumbled out of the Commodore, happy the show hadn't started any later!
They started out with a 2-guitars-2-drummers song, then replaced both guitars with basses, which was ok. When they went back to normal instrumentation and broke into an aggressive version of "The Day Everything Became Nothing," things really started to boil -- and now I understood the reason for two drummers: the thundering powerful sound. This was also right about when I started thinking, "Gee, those stage divers are being awfully good about staying away from Rob [Wright, the band's bassist]." Of course, someone then immediately ran into his mic stand. NOT a good thing to do -- I've seen the band shut down a room full of punkers when they've strayed too close to Rob. He was right pissed off this night, too: "Don't fuck with this stuff [his mic] or I'll fuck with you!"
They continued on with a few more songs, including an anemic version of "State of Grace" and a rev'd up and punchy version of "Junk." It was during the next song, "Angel or Devil," from their latest CD, The Worldhood of the World (as such), that I started to get a sense of the depth of their fan base in Vancouver. I've seen a lot of surfers, but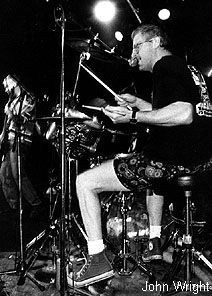 I've never seen surfers singing along to songs that haven't made it to Top40 radio. Cool! "I've got a Gun" followed with what was probably the most rabid pit of the night, and then everyone had a little break while John [Wright, drummer] apologized for playing Vancouver twice in six months ("Huh? Has someone complained?"), before adding, "I know you've heard this one before..." Rob and guitarist Tom Holliston started up the nasty back-and-forth duet, "Brother Rat," which had everyone singing along and John doing hand actions (?). Sadly, Tom doesn't have much of an edge to his voice, so he didn't sound very convincing. Oh well, it was still really cool, as was the creepy "What Slayde Says," which, of course, followed, and which, or course, had everyone singing along. Life is good.
A couple songs later there was another "incident." Rob introduced "My Politics" as being "not about governments or politicians, but about the politics of the heart." ("Oh, it's about Gordon Campbell!" piped up John.) "It's about men, and the way we have of dealing with things," continued John. Ok, fine. But when another stage diver nearly wiped Rob out, look out! "What are you, fucking morons? Jesus! See, you know how to sing it, but not to hear it. This is about about having fun, not about beating each other up. I don't want my teeth smashed. Get up [on the stage] and get off!!!" Sigh. You can lead punkers to water...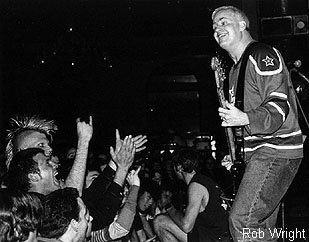 Things soon picked up again. I was wondering if the CD Wrong was being ignored; reading my mind, they played "The Tower," and, lo, it was cool -- and it was amazing to see hundreds of fists suddenly punch the sky when Rob screamed "Damned!" This crowd really really knew this stuff! I also started noticing that there were more girls around than are found at most shows, and more girls diving and surfing, too. Cool.
Onward. "Joy" saw Rob hopping about, getting actually quite funky. "The River" was smoldering and burning, with more of the twin thunder drumming. Rob chilled a bit by this time and was becoming more and more visibly amused by the surfers and divers before him. They closed the set with "Lullaby" (the "When the bells ring out" song).
Of course, that wasn't it. They encored with "more songs about Ingrid," first playing "Humans" in two keys at once (or so it seemed), followed by "Rags 'n Bones," which got the crowd super hyped again. "The Jungle" put a (yawn) damper on things, but the long and classic "Small Parts Isolated and Destroyed" more than made up for it. Tom sang this one, and again, didn't have the voice for it, but it was still WICKED. At "everybody's in the groove," the dance floor went insane once again. Ah, life is still good.
Then they played that odious "Oobladi, ooblada" song. Uh, OK. (It's Ingrid's most hated song, apparently). And that was the show.
Well, no, of course, it wasn't. The crowd demanded yet more, so out they came again, with Rob announcing, "I'm too tired to play any more, so let's just let the drummers go." That they did, while he and Tom went into rap-boy mode for "Big Dick," highlighted by the two of them doing a romantic huggy voicing of "it won't be long..." Rob then calmly walked backwards out onto the crowd, as hundreds of arms appeared and floated him carefully about before lightly tossing him back up on stage. The drummers were in a duel by this time, and Tom and Rob began dismantling their kits, piece by piece. John shouted "Real love!" and made it a couple of bars into the song before he had no drum kit left. And that was it.

[Apologies to Puncture, by the way, who opened the whole show, but who unfortunately did it a little too early for me...]
---
First published in Drop-D Magazine on June 13, 1996
Index | Search | E-mail | Info | Copyright

Considering copying some of the images from this story?
Please read this first. Thanks.