Where the Blue Notes Float Like Butterflies...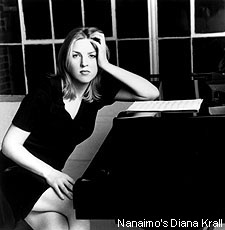 The 11th Annual Vancouver International Jazz Festival
Vancouver, B.C.
June 21-30, 1996

Preview by Stuart Derdeyn
---

Hold on to your goatees and start hauling out your finger-snappin' beatnik finery. The Vancouver International Jazz Festival hits town for ten days of skwonkin', honkin', poundin' and cool groovin' shows from June 21-30, including two weekends of completely free and varied gigs in Gastown (June 22 & 23) and at the Plaza of Nations (June 29 & 30).

With a well-deserved rep worldwide for pursuing a fearless booking policy that places the wiggy journeys of free jazzers right alongside the museum docents of the neo-bop scene, it is fair to say there is something for everyone at this year's shindig.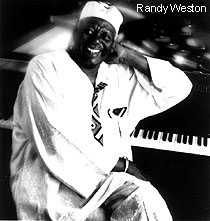 Oddly enough, where previous years drew some criticism for emphasizing the soul-free, intellectualized, white European New Music over African-American players, the 1996 line up emphasizes the blues and/or bluesy, black side of jazz in all its manifestations. From the Texas stripper well low-down creep of Big Jack Johnson & the Oil Kings or Maceo Parker's full-force funk, to the New Orleans purity of big daddy Ellis Marsalis' Trio or the inspired North African Gnawa meets Monk work of pianist Randy Weston's African Rhythms, the heart-istic origins of jazz music are receiving major focus.
Not to say that there aren't enough envelope-pushing avant-artistes booked this year. In the free(d) jazz category the number of not-to-miss gigs is staggering. Local superstar pianist Paul Plimley will appear in no less than three sure win perfomances, with South Indian percussion master Trichy Sankaran, bassist Kent Kessler and ubber-drummer Hamid Drake as well as weird 'n' wonderful Italian trumpeter Pino Minafra, saxman Carlo Actis Dato and percussionist Louis Maholo. Clarinet god Don Byron will present his Music for Six Musicians ensemble for two shows at Studio 16. Trio Three, with World Saxophone Quartet co-founder Oliver Lake, sessionaire bassist Reggie Workman and drummer Andrew Cyrille is a don't miss at the Vogue. As well, drummer Phil Haynes' Hammond Insurgency, with relentless trumpeter Paul Smoker and organist John Dryden, will certainly take the classic B-3 unit to uncharted climes.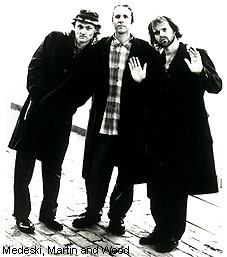 With Acid Jazz/rare groove/neat-o funky stuff in ascendency again, the New Groove series is bound to please, with acts like Dame Deborah Harry and the Jazz Passengers, the Broun Fellinis, the triple-threat trio of Medeski, Martin and Wood, who, with the Shuffle Demons and the Charlie Hunter Trio, play a triple-bill Commodore Ballroom blow-out. There are many more entries to sample at various venues, including the Chameleon Urban Lounge and Purple Onion Cabaret.
Nothing catch your interest yet? Well, sleeper gigs like Australian saxophonist Bernie McGann and his trio might. McGann has the distinction of playing one of the most talked about shows no one attended at the Pitt Gallery years ago. Brazilian composer Gilberto Gil is big like the Beatles in his homeland, and the Master Musicians of Jajouka have lead junkie layabouts like William S. Burroughs out into the Moroccan mountains just to space out to their ancient tribal trance tunes.
Face it, rock and roll is tired, corporate and dull most of the time. Take advantage of a chance to see real musicians pushing real boundaries to produce real music. Pick up a copy of the jazz festival program (all over town) and read up on all the stuff coming up. Remember, there's loads of free shows to test out your taste buds on. If you like the flavour, take a bigger bite.
See ya at the place where the blue notes float like butterflies and sting straight down to the soul.
---
First published in Drop-D Magazine on June 20, 1996
Index | Search | E-mail | Info | Copyright

Considering copying some of the images from this story?
Please read this first. Thanks.