Fresh Out of the Can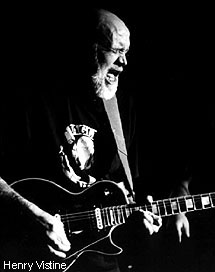 Canned Heat
Vancouver International Jazz Festival
The Yale
Vancouver, B.C.
June 30, 1996

Review by Michele Martin
Photography by Rodney Gitzel
---

Man oh man. I can't believe it. I been waiting a long time for this show. Going up to the country (downtown, actually) and gonna get me some of that Canned Heat. I even brought my big brother down from Kamloops, he having introduced me in 1969 to the music of Canned Heat. This is gonna be fantastic...

Well, okay, pretty good, at least. We somehow miss the first set (why do some shows start so early, and others so late?), and arrive to the usual kerfuffle at the door -- so much for media accreditation. We eventually manage to get in to the very crowded, very loud, and very uncomfortable venue. People can scarcely move, but the door people keep on packing 'em in.

The break over, we wait expectantly for the opening tune, which turns out to be a honky-tonk number, "Bullfrog Blues." Squinting to see the stage from my far-off locale, I can just barely make out a few recognizable faces, being original members Adolfo de la Parra ("Fito") on drums and vocals, and an exhausted and elderly looking Henry Vistine on guitar. The lead vocalist/harp player/slide guitarist, Robert Lucas, has a solid, booming voice with an excellent range, and looks pretty young to be playing with these veterans. Junior Watson, doing an admirable job on lead guitar and vocals, and newcomer Greg Kage on bass round out the band. So, let's see what this version of Canned Heat can do.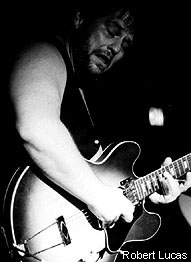 Listening to the second tune, "You Have to Come and Get It," my brother remarks "This ain't the Canned Heat I remember." And, indeed, they sure don't sound like they used to. But what they do sound like is pretty damn good. It's been a long time since I heard four guitars on stage being played in harmony and as smoothly as these fellows were able to do.
There's lots of young people in the audience busy being cool in their tie-dyed shirts, with unshaved armpits, and trance-like movements (hey, wait a minute, this sounds strangely familiar), and a lot of older fans just busy enjoying the music, their pleasure accentuated by an excellent sound mix.
Lucas on jangly slide and Watson on revved-up lead guitar (you can almost see the sparks flying from his shiny pate) lay out some amazing riffs and licks, chatting amiably between tunes with the audience, who just lapped it up. After all, it's not every day you get to hear a band whom you idolized in your youth. Canned Heat did more than just play Woodstock (the original Woodstock): their songs became an anthem for a whole generation of discontented youth: "On the Road," "Going Up To The Country," and "Let's Work Together." (You know, "United we stand, divided we fall...")
I'm excited when I heard the opening chords for the infamous "Going Up...." Fito does the honours with his distinctive and unforgettable voice, but it's obvious it's a lot harder now for him to hit those high notes than in the past, and it's painful to hear his voice cracking. But, judging from the crowd's appreciative response, no one's too worried about it.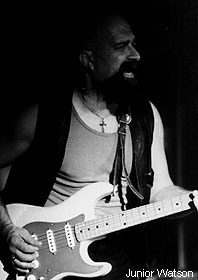 Once I accept the fact that this was, indeed, Canned Heat, but 30 years later, I begin to enjoy the show. By the third set, the band's found its niche, and loosened up a little and having some fun. And I gotta say, for a bunch of good ol' boys, they can still rock and roll with the best of them, particularly on such lively tunes as "Let's Get High" and "Play That Boogie Song." The only problem was that they tend to lose steam midway through some songs, which is disappointing for listeners just getting into the groove. As well, they bore the audience with some of their quieter stuff, which tends to be a bit draggy.
The venue, unfortunately, doesn't lend itself well to the performance: sightlines are poor and you can't get anywhere near the stage. The dance floor's too crowded, and you can't even move off the floor without elbowing someone or being elbowed. I sometimes feel that a particular band would be better to see in a more intimate venue. In this case, however, it would have been great to have Canned Heat in, say, the Commodore (may she Rest in Peace). Now that place would have been rocking -- and with some elbow room to spare!
In any event, a decent show, if somewhat different than I had anticipated. But as a real Canned Heat fan, I got a sufficient dose of liquid fire, which is what I came for. So, the next time Canned Heat do Vancouver, check 'em out, but do try hitting the Yale on a slower, less crowded night, and you'll probably find yourself appreciating all that much more the different yet still damn fine sounds of Canned Heat.
---
First published in Drop-D Magazine on July 4, 1996
Index | Search | E-mail | Info | Copyright

Considering copying some of the images from this story?
Please read this first. Thanks.