If I Were a Dog and You Were a Flower...
Dog's Eye View
with the Wallflowers
The Town Pump
Vancouver, B.C.
June 27, 1996

Review by Daniel Ewacha
Photography by Paul Clarke
---

I walked out of the Town Pump last Thursday convinced that I had just experienced what it's like to be part of a hippie commune. I mean, the vibes in that place were hypnotically laid back. True, this is Vancouver, but this was something I had never experienced before in any of my concert-going adventures.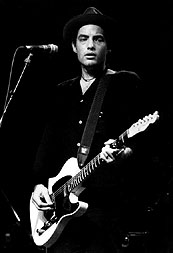 A quiet yet intense sense of anticipation engulfed the Pump as the audience waited casually for the Wallflowers to begin their set, which they did promptly at 10:30. The band's frontman, Jakob Dylan (yes, indeed, Bob's son), crooned, harmonized, screamed, droned, and sang his way into the hearts of everyone in attendance, lifting them one level higher in their search for Nirvana (no, not the group, the other Nirvana). Combining Dylan's voice and thought-provoking lyrics with the rest of the band's luminous harmonies and thick musical textures had a more intoxicating effect on the crowd than the beer they were consuming. Or, in my case, the bottle of Jamiesons in which I reached my own state of pleasant numbness.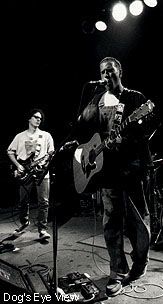 Touring in support of their second release, Bringing Down the Horse, the Wallflowers set the tone for the evening by sending everyone into a state of euphoria. The verdict: Dog's Eye View had a tough act to follow.
Yet I wasn't about to count the 'View out just yet. I saw Dog's Eye View last time they were in Vancouver, opening for, of all bands, Catherine Wheel and Belly, and they more than held their own back then, as I hoped they would this night as well. But, ohhh -- they just missed! They weren't bad or anything: they just failed to be as exciting as they were last time, or as the Wallflowers were earlier. Dog's Eye View did put on a good show, starting with a smooth sounding ballad before kicking into their first single, "Everything Falls Apart," off their debut release, Happy Nowhere.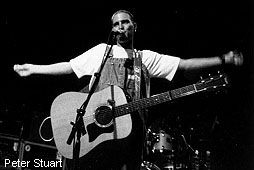 Frontman extraordinaire, Peter Stuart, while not as energetic as the last time I saw him play, still found it within himself to let it all go from time to time. The one thing that strikes me as peculiar about Mr. Stuart is his uncanny ability to flash a big toothy smile while singing some of the most depressing lyrics every written: Ian Curtis would be proud. It is this ability that makes Dog's Eye View worth seeing and listening to. This cat is just too happy in his misery and is willing to share it with the world.
All in all, it was a good night to be out on the town. I'm just sorry that it had to end so early, leaving me plenty of time to catch the last Skytrain back to Dullsville.
---
First published in Drop-D Magazine on July 4, 1996
Index | Search | E-mail | Info | Copyright

Considering copying some of the images from this story?
Please read this first. Thanks.