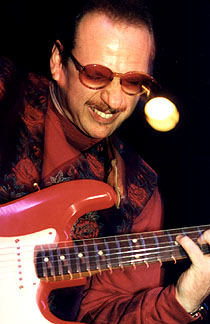 Get Rhythm (Get NRBQ)
NRBQ
with Ronnie Earl and the Broadcasters
Vancouver International Jazz Festival
The Commodore Ballroom
Vancouver, B.C.
June 22, 1996

Review by Michele Martin
Photography by Suzanne Goodwin
---

Wow. My first show at the 1996 Vancouver Jazz Festival and a great venue to boot -- better enjoy the Commodore while I still can. Lots of silver hair and tanned skin in the well-heeled crowd, and a surprising number of young 'uns (under 25) being introduced to the blues.

First up, Ronnie Earl, blues guitar player extraordinaire, and the Broadcasters. Earl is a master guitarist: it was a joy to watch his fingers move at lightning pace on the strings of his snazzy red guitar with nary a wasted motion. The amazing sounds coming out of that instrument kept me looking for the horn, or the harp, or... well, you get the picture.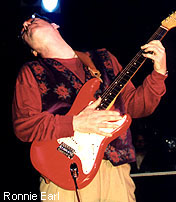 Pouncing furiously on keyboards and Wurlitzer, sideman Bruce Katz stole the show, though. On many occasions listening to the keyboards taking dominance, I decided the ensemble should be renamed "Bruce Katz and the Broadcasters." It was just too easy to forget that Rod Carey was even there on bass, or that Per Hanson was still pounding away on drums: they simply faded into the background and were no match for the ongoing interplay between Earl and Katz.
The Broadcasters played a range of tunes from their CDs, including their new release, Grateful Heart. Pieces such as "Indigo Burrell," had an intimate, loungey sound: full-bodied, yet understated guitar accompanied by seductively soft keyboards. At other times, the atmosphere was reminiscent of the George Benson school of Breezin' -- light and smooth, and cool and trippy -- more appropriate for afternoon or early evening listening. Once in a while they managed to really cut loose (often midway through a tune, much to the delight of the expectant audience), before returning all too quickly to the light and easy listening sounds which characterized their set.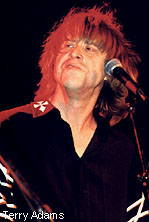 Unfortunately, the choice of venue (too large) and the choice of tunes (too mellow) detracted considerably from the band's performance. Earl puts his heart and soul into his playing and, indeed, is an incredible player to watch. It's too bad that he didn't pay more attention to the audience, whose interest visibly waxed and waned throughout the set, especially through the slow and draggy parts, of which there were too many.
Much of the music was boring and repetitive, or too pretty or frothy, and seemed incongruent with the setting. Earl finished with a few words: "We love you and we want to thank you for opening up your hearts tonight." Actually, Earl, we were opening up our mouths, but that was just to yawn. Oh well, from what I've heard, NRBQ ought to wake us up.
Seeing them on stage, it's hard to believe NRBQ have been playing together for some 25 years: they scarcely look old enough to drink, much less to be seasoned bluesmen. Of course, it's amazing what good lighting and a top knot can do...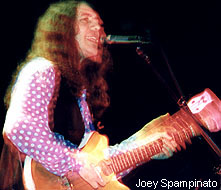 As if to make up for the Broadcasters' lack of energy, NRBQ had energy to burn, and then some. Terry Adams, the maniacal keyboard player and M.C., came out looking like a cross between a rubber-faced Jerry Lewis and Rod Stewart on a bad hair day. Responding to the enthusiastic audience, Adams used his wild and humourous antics and facial contortions to entice the crowd and keep their interest. There was an added dimension to this show: you were never quite sure whether they were improvising, or just loosing it entirely.
Adams and bass and guitar playing brothers, Joey and Johnny Spampinato, respectively, shared the singing duties, each possessing a distinctive yet complementary voice. They sang remarkably well together in harmony, with "Blues, Stay Away From Me," sounding very gospel-like. Resembling a sheep with his woolly curls, drummer Tommy Ardolino kept up with the rest of the crazy men, no matter what outrageous rhythm was thrown at him. He also came out and played a tune quite credibly on the keyboards, while Adams did some performance art and recited a "poem," (and I use the term loosely: "Thoughts are things you think of"). Don't quite know what the heck that was all about, but it was fun to watch anyway.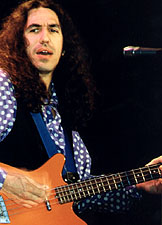 Unlike Earl and his troop, NRBQ guys were able to play their slower material and still keep the audience's interest. They describe their music as "omni-pop," which seems appropriate, in view of the incredible diversity and range they presented over some nineteen songs (twenty or twenty-one if you count the two well-earned encores). Traditional/country blues, folk, funk, hard rock, honky-tonk, roots and raunch and roll -- these guys played it all and did it with panache.
They also played some lively dancing music, 'though the audience appeared more interested in watching the stage so as not to miss anything. The only drawback to the long set was a poor sound mix with far too much reverb and lots of assorted shrieks and whistles adding to the muddy cacophony. And we could have done without some of the inane tunes such as "Spampinato" (don't ask).
NRBQ's last song, "When You Get the Blues (Get Rhythm)" provided a lively and upbeat way to end the evening. I simply couldn't imagine their music being incapable of chasing away anyone's blues. A great show to take in and tons of fun. So next time, when you get the blues, get NRBQ -- and get rhythm.
---
First published in Drop-D Magazine on July 4, 1996
Index | Search | E-mail | Info | Copyright

Considering copying some of the images from this story?
Please read this first. Thanks.