In the Hands of Father Jazz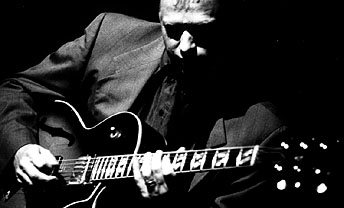 The Ellis Marsalis Trio
with The John Hart Trio
Vancouver International Jazz Festival
The Vogue Theatre
Vancouver, B.C.
June 23, 1996

Review by Stuart Derdeyn
Photography by Rodney Gitzel
---

Genes, baby. They really count for something in creative families if ol' man Marsalis is any indication.

Pops to Wynton, Branford, Delfayo and Jason, musicians all, the patriarch of New Orleans' most prolific musical family (after the Nevilles) blew into the Vogue Theatre for a jazz fest gig which was originally scheduled as a quartet show with trumpet honker Nicolas Payton on the bill. No Nick, no Jason Marsalis on drums either (although replacement Donald Edwards did just fine).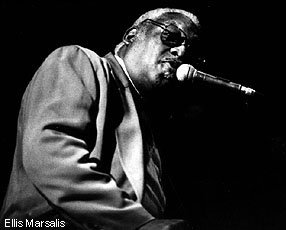 Opening with a beautiful version of "Softly, As in a Morning Sunrise," Marsalis was all steam and no smoke from the first key. His technique is flawless, harkening back to the old gospel/blues playing of his New Orleans predecessors -- busy right hand, steadily comping left hand. Not a lot of flash, but loads of full-chordal intensity. As a pianist, Mr. M knows how to break and build a song, and Edwards' cymbal punctuation covered all the spice. The bassist was fairly invisible throughout the show.
The weak point was that Mr. M is not much of a composer. His three numbers in the first part of the set didn't stand apart in any way. Competent piano jazz numbers, expertly rendered. Maybe that's where his kids come off, too. But a beautiful and sensitive version of Modern Jazz Quartet director John Lewis' "Django" and a stunning rendition of Oscar Peterson's "Wheatland" brought enough emotion to the show to have the crowd cheering. Marsalis learned the Peterson number, from the "Canadiana Suite," specifically for his Canadian tour. Citing our nation's finest ivory-tickler as one of his biggest influences, Marsalis lent all he had to this wandering, lush tune.
A nice show, nothing more/or less. Kind of makes me wonder whether Mrs. M has more fire than the rest of the clan. Genes, man.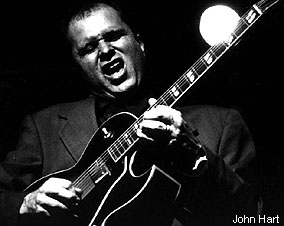 Guitarist John Hart's Trio opened the show with an uptempo set of swinging be-bop guitar. Utilizing all the usual jazz guitarist's arsenal of rapid chording, arpeggiated scales and quick-be-nimble neck travelling, Hart is a humming JAZZ GUITARIST. Unfortunately, in a world of Bill Frissel, Pat Metheny and Vernon Reid, I'm not too terribly excited by another smooth-toned jazz guitar man. Years of rock's sonic indulgence have ruined the treacle-toned sound for many jazz listeners. Tends not to say much, dig? But what a cool effect it was to see the light rays streaming off of Hart's silver-finished guitar.
---
First published in Drop-D Magazine on July 12, 1996
Index | Search | E-mail | Info | Copyright

Considering copying some of the images from this story?
Please read this first. Thanks.