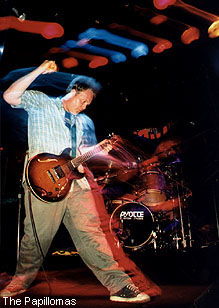 What? No Aliens?
"Independence Day"
with The Daisychain, 1000 Stamps, The Papillomas, Space Kid and Pinwheel
The Gate
Vancouver, B.C.
July 4, 1996

Review by P. Freako
Photography by Suzanne Goodwin
---

The Gate played host to the inaugural "Independence Day" show, which is a gathering of independent bands on one stage. This looks to be a monthly event and, judging by the talent this night, I'm going to be attending every month. I suggest you and 20 of your friends do the same and check out some awesome bands.

Tonight, powerpopapalooza.

What a better way to kick this gala off than on July 4th, Independence Day for our neighbours to the south. In honour of this, the first band to take the stage was Pinwheel, from Washington State.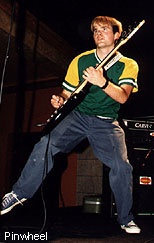 Celebrating their nation's birthday, they blew on stage and whirled our minds with an energetic performance, filling the air with breezy ultra-pop music. Driven by catchy vocal harmonies and poppy guitar chords they put forth a good show, flaunting their ability to play tight, catchy songs. Hey, they even performed "Granville," a song they wrote about Vancouver (thanx). Pinwheel is a fun band to watch, but they're not the most diverse band musically. They aren't going to crash through any musical borders, but they're fun all the same. I don't know why, but I just had the feeling sometimes that they were a nice version of Thrush Hermit... and I'll tell you, I just don't know why... maybe I'm distracted by the glowing lights in the night sky? Maybe I'm insane? Is that a UFO?
It must have been a spaceship, because when it landed, Space Kid crawled out to take the stage. Well, what about this band anyway? Are they the bastard love-children of Gorrell and Princess Leah? I don't think so, but somebody must have had some Kryptonite, which resulted in Space Kid putting forth an uninspired performance. Maybe it was that lady at the front of the stage doing that uncoordinated low impact aerobic dancing -- I know she made me feel queasy. Yes, the Kryptonite must have affected Space Kid, because they started out strong with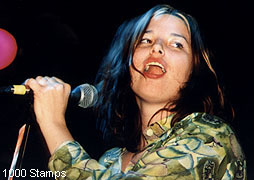 a cool guitar-led rock instrumental to begin their set, and that, unfortunately was the pinnacle. The avalanche soon came and crushed their spirit with a cold, icy demise. They just didn't seem to want to be on stage this night: their heavier edged pop music was highlighted by strong guitar work, but the songs and the vocals just weren't happenin' today. You know it's a bad sign when, near the end of a short set, the singer asks the sound guy if it's 5 minutes to go yet so he can introduce the last song. Unfortunate. Why?
Because it turned out that every other band on this bill rocked. That's why!
The Papillomas, from Nanaimo, got their asses on the ferry from Vancouver Island and we were thankful they did. I would put them in the power-pop genre. As an added bonus, the lead singer/guitarist looked like John Lithgow's skater son. Fueled by aggressive vocals and constant guitar crashing through their songs, the Papillomas entertained us with a spirited energy and verve as they bounded about the stage. Unlike the previous band, they definitely wanted to be on that stage and definitely made the most of their time in Vancouver. Hey, their energy had assorted members of Speedbuggy dancing in the crowd. Cool!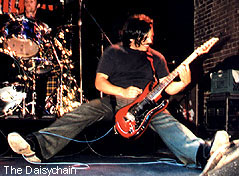 There was, this evening, a host of musicians in the audience. Jabber, Speedbuggy and the Deadcats were represented as well as others I'm sure. This was a good scene. Vancouver absolutely needs to develop a stronger musical community, so this was nice to see. Before I cry, we should move on.
The postman/woman's (or as Bart Simpson would say, "The Femail Lady") worst nightmare were up next: 1000 Stamps. Their arrival introduced the moodier segment of the show. Like a curtain lifting for Act I, the lights came up for us to see the lead singer sitting on the stage smoking a cigarette before she slowly rose and slaked her way over to the microphone. Their musical style can be described as aggressive power pop (geez, I've heard that description before). This was a band with a moodier, intense edge, however. Musically, they were strong. Pleasing us with showy guitar, pumped bass and solid drumming, they all stood out as individual pieces and as one unit. That's rare, let me tell you. The flamboyant stage presence of the singer was at times reminiscent of Eleanor Whitledge (of the Goops) and added a visual, dramatic presence to their performance. 1000 Stamps played a host of songs that carried emotion, displaying the rare ability to build a song, highlighting each part of the tune. The slowly growing crowd was movin' their feet just a little more and were now ready for the grand finale. Take us to the bridge... nah! Take us to the post office.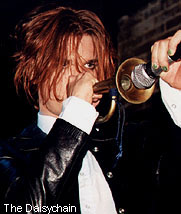 The headliners tonight were the Daisychain. This Vancouver quartet not only lit up the stage with their set, but lit up the stage literally with translucent tubing filled with intermittent little light bulbs and a foil backdrop with 'The Daisychain' overlaid in red lettering. They were the most stylish band, with their 70's style pants carrying those beautiful vertical stripes. Their music followed that same fashion at times with its trippy vocal stylings and melodic guitar, but the Daisychain are a rock band and their energetic, mood driven power pop reminded me of a rockier more guitar driven version of Jellyfish (in their "Ghost at Number One" stage). The Daisychain's singer displayed a special flair in flailing his arms and roaming the stage, eventually lunging back to the microphone and definitely drew the eyes of those in attendance.
The Daisychain was another band who knew how to craft songs. This was a tight unit that emoted their style through powerful vocals, smiles abound and constant interaction with the crowd. The majority of the crowd seemed to be here for the Daisychain and the band didn't disappoint their fans. We were rewarded with t-shirts and cassettes launched into the crowd as an icing on the cake to their stellar performance.
This was a damn fine show that showcased some bands that deserve to be heard. I'll see you next month to celebrate the strength of independence.
---
First published in Drop-D Magazine on July 12, 1996
Index | Search | E-mail | Info | Copyright

Considering copying some of the images from this story?
Please read this first. Thanks.