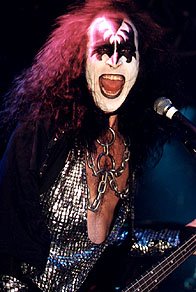 Can You Tell the Difference? Vancouver's Own KISS Tribute Band, Black Diamond Interview by Daniel Ewacha
Photography by Rodney Gitzel
---

So it finally has happened: for the first time in 17 years, the four original members of KISS have apparently put aside their differences and have once again donned the makeup and costumes to begin a two-year world tour that will have everybody reliving the 70's and leave those teabags from England known as Oasis shaking in their boots. The big boys are back and are ready once again to take centre stage in the world of entertainment!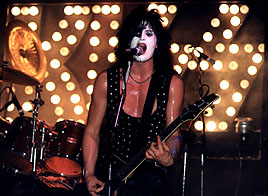 That is not to say, however, that we have been without the opportunity to view, to some degree, the spectacle that once was KISS. The band has always been a prime subject for tribute bands, who copy the makeup and the leather and make like they're the real thing. One of the very best of these is none other than Vancouver's own Black Diamond.
Named after one of KISS' greatest songs, Black Diamond has for the past two years given people literally all over the world a taste of what they missed during the makeup days or an opportunity to rekindle those sparks of memories for those who were fortunate enough to experience KISS in their heyday, myself included. Although Black Diamond are a smaller, more toned-down version of KISS (let's face it -- nobody can pull off a KISS show but KISS!), until now, they have been the closest and best chance to witness a piece of rock and roll history. "We are the hors d'oeuvres to the main course, " explains Benny Doro, a.k.a. Paul Stanley. "We provide a service to the fans who want to see and/or relive KISS during the 70's."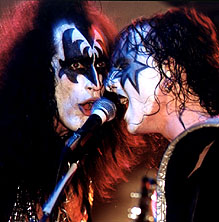 Now, I've always been curious as to why musicians form tribute bands. I mean, it's one thing to be a fan, but to put all the time and energy into something that has already been done instead of perhaps performing original music? These tribute musicians are obviously talented enough to play: why not try and get to the same level as the band they are portraying with their own original music?
"I used to be in a band called Unchained which, oddly enough, was managed by Paul Stanley. We only got to the demo development stage when metal took a header into the ground. I thought 'the kind of music I want to play isn't being done,' so I said to Paul, 'I want to do a tribute!' Paul said sure, so I asked him if we can use the sign, the logo and he said, 'If you guys are any good, you can use whatever you want. If you suck, forget it,'" says Benny with a laugh. "So obviously we're doing all right."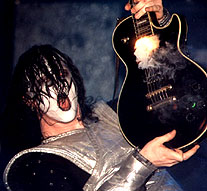 KISS have seen Black Diamond in action. In fact, Black Diamond was one of the tribute bands asked by KISS to play at the "official" touring KISS convention last summer. KISS think Black Diamond are great.
This is no Mickey Mouse performance that Black Diamond puts on, either, let me tell you. Made up of KISS fans, of course, it took Black Diamond four months to rehearse the songs and put the costumes and stage show together. That's seven days a week, 10-12 hours a day for four months. "We even counted how many rhinestones were on the costumes to make them that much more authentic." The costumes are from the Love Gun era and all songs are pre-Dynasty.
A Black Diamond show comes complete with stage bombs, flames, and explosions, not to mention the special effects pulled off by Gene Simmons (Rick Lee), including spitting blood and breathing fire, and Ace Frehley (Kurt Frolich) with his sparking, smoking guitar. Black Diamond have nailed the KISS performance down cold, as I discovered recently at one of their shows at Studebakers in Burnaby.
But, as noted earlier, there's no substitute for the real thing: "I saw the first show [of this new KISS tour] down in L.A., and all I can say is it's magical. Purely magical!" The fact that the whole reunion tour is even happening -- and coming to Vancouver September 2nd!! Woohoo!! -- brings a smile to Benny's face: "I think it's great they're back. I think it's good for music as a whole as well."
But does this spell doom for Benny Doro and Black Diamond? "No, we'll be around for a bit longer. After all, somebody's got to keep the faith!"
---
First published in Drop-D Magazine on July 25, 1996
Index | Search | E-mail | Info | Copyright

Considering copying some of the images from this story?
Please read this first. Thanks.