DJ's and Then Some
Manchester's UFG Soundsystem
Interview by Daniel Ewacha
Photography by Rodney Gitzel
---

With the way music has been transformed over the past two decades, it's hard to imagine what will be done next. UFG Soundsystem, however, may have the answer. Mike E Bloc and Danny Hibrid, who make up UFG, have elevated dance music to an art form. To watch them play is purely magical, poetry in motion, if you will. Most people may feel that DJ's aren't really musicians, and that they don't really create anything -- they just spin records on turntables and make sure they don't forget to change them once they end. Maybe. But most people haven't met UFG Soundsystem.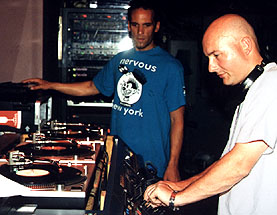 "We use three turntables and four arms," begins Bloc, just before their show at Graceland on July 10th as part of the ongoing 'UK-DJ Series.' "As far as I know, we're the only two who do this." Hibrid continues, "Along with the turntables, we use a keyboard to add different effects and samples that blend in with the music, a reverb unit and an effect unit to change the samples." After a brief demonstration, much to his joy I comment that the possibilities are endless. "Yeah," he answers, "It's good because for two people who live for making tunes, it's good to know that we can do this for a very long time without getting bored or redundant."
The talent doesn't end for UFG Soundsystem at being DJs. Oh no: the duo also have their own record label called UFG (distributed by Pirate Records here in North America), with over 39 releases in just two years, and are now looking to set up another label known as Defunkt, "Home of the mid-priced albums," laughs Hibrid. It doesn't end there, folks. UFG Soundsystem have also recently released a CD-ROM project. Complete with two audio CD's and one CD-ROM, the package brings the city of Manchester to the user's home. Bloc explains: "The CD-ROM has an interactive map of Manchester which allows you to go into clubs and shop, see what they're about; there are help lines, information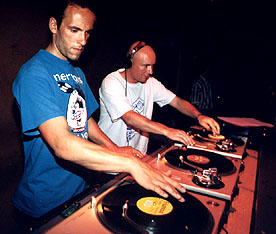 on different sites around town. We even have a bit where the user can play DJ and mix records and sounds together. They can practise DJ-ing and we give them tips on what to do and that. It's pretty cool." So how did the idea to pursue this project come about? "It started off as a compilation on Manchester music," says Hibrid. "Then we hooked up with a group of computer programmers and it went from there. We kept building on the idea until we came up with the finished product."
Manchester, if not the whole of England, has always been known as one of the pioneers of dance music, along with Chicago, New York, London and Detroit. Manchester's reputation on the world scene has been strengthened by the likes of 808 State, Prodigy, Underworld and so on. So why has it taken so long for DJ's like UFG Soundsystem to make their way over here and promote the music they love? "Well, yeah, part of the reason why we're here is to break new ground, but it's hard to do that when the demand for your talents is greater in other parts of the world. Japan, for instance," explains Danny Hibrid. "We're here for the first time but not for the last," Mike E Bloc adds ever so subtly, "The real reason why we're here is to rape and pillage! The music's just a smoke screen," he says with a laugh. Lock up your club kids!
---
First published in Drop-D Magazine on July 25, 1996
Index | Search | E-mail | Info | Copyright

Considering copying some of the images from this story?
Please read this first. Thanks.