Hey! Where'd All the Old Guys Go?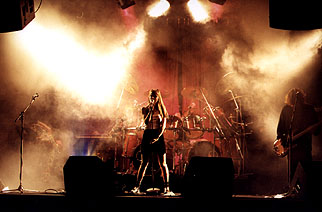 Tone
with Jabber, Dorothy Missing and Talmige Bachman
The Gate
Vancouver, B.C.
Thursday, July 18, 1996

Review by P. Freako
Photography by Rodney Gitzel
---

There were four good bands on the bill tonight, but after the show I was left with the impression that each one of these groups was missing that extra spark...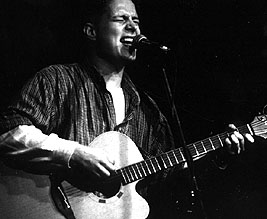 Talmige Bachman was the first to take the stage tonight. Now, Bachman's music is rock with a touch of folk, roots, and blues thrown into the pot. His band's performance focused on the musicianship and the crafting of his songs. Definitely songsters, they wound their way through a variety of melodies and chord changes. But perhaps they were too focused on the songs, and their stage presence was a victim of neglect. They are excellent musicians and Bachman seems to be an excellent songwriter, but they just lacked flair which, as the set wore on, took away from the mood of the songs. They were good, but just not overly exciting.
Something ticked me off, too: Talmige Bachman and his band played way over their time limit, cutting into the other bands' time. I've always said that Vancouver needs to develop a stronger music community and garbage like that doesn't help. It was good to see Randy Bachman in attendance, though; I thought that's pretty cool, him coming out to catch the show, but after the first band was done, everybody over the age of 40 left. Okay, so two things ticked me off.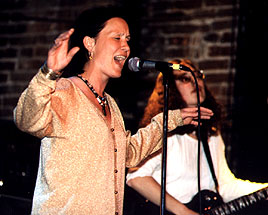 Dorothy Missing were next to find the stage. Highlighted by powerful vocals, Dorothy Missing poured through a set personal rock with folky undertones. Singer Sara Mitchell received a rose from an apparent friend in the audience. What is this, figure skating? No! It's a rock show, so let's move on. She carried through the songs with rough, powerful vocals, and I would put her somewhere in the unique middle between Melissa Etheridge and Holly McNarland. It was a good set, but at times it was a little non-descript -- until the end that is, when Dorothy Missing rocked out on their last song, with guitarist Karen Rauh's hair flying as she flailed away at her guitar. I feel some momentum building here!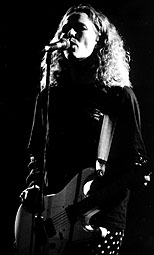 Could Jabber bring the needed momentum with their indie rock stylings to the small faithful in attendance? Nope, but Jabber did have some cool songs. With light, alterna-rock guitar parts, they laid down a set of numbers highlighting vocalist Eileen Ryan's voice and the songs' interesting time changes. Jabber sounded pretty cool and they seemed to carry interesting content, "touch my tears, try to touch a little bit of wisdom," but the band just wasn't overly tight as a unit. Sloppy time-changes and awkward phrasing clouded the effectiveness of their songs, and this lack of sharpness took away from what could've been a better show. This was the first time I had seen them, so I'd be interested in seeing them a few months down the road.
The headliners tonight? Tone, a local rock band that was the heaviest of the night. They take a hard, powerful musical base and throw in the unique vocals of frontwoman Jennifer Hershman to create an interesting nice band/mean band contrast. She's got that rough, tattooed exterior which seems to be popular these days, à la Bif Naked and Kinnie Starr, but that is just a perceived look and we should just get over it. Her commanding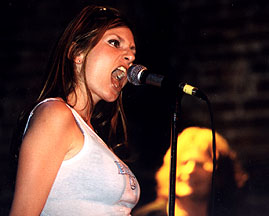 voice managed to get a couple of young lads up and dancing and by merely telling them that they should by a CD, they did. They were putty in her hands.
Like Hershman's stage presence, Tone is usually a captivating live band. Not tonight, however. As they played their songs, there was just no momentum. It didn't take us anywhere. They played well and were spirited on stage, but it seemed like a collection of songs instead of an overall performance. Maybe if Tone had more time for their set (thank you Talmige Bachman) they could have built it to something. Oh ya, the smoke machine was cheesy.
So, this show had some good bands with good songs, but every band shared in missing one ingredient, whether it be stage presence or tightness as a unit, that left them unable to build to anything memorable. Too bad, but they are all young bands and I'm looking forward to their next shows.
---
First published in Drop-D Magazine on August 2, 1996
Index | Search | E-mail | Info | Copyright

Considering copying some of the images from this story?
Please read this first. Thanks.