Hip Hip Hoppin' Around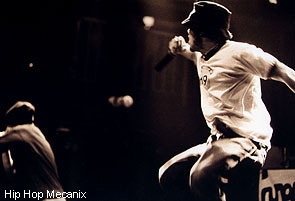 Run DMC
with Hip Hop Mecanix and Social Deviantz
Richard's on Richards
Vancouver, B.C.
Thursday, July 18, 1996

Review by Cereita Goulbourne
Photography by Rodney Gitzel
---

Run DMC recently blew into Richard's on Richards to perform for a 400+ capacity crowd. Opening for these legends of hip hop were locals Social Deviantz and the Hip Hop Mecanix.

Generally, the night got off to a good start. The crowd was equally divided into males and females, and did not seem to be your typical hip hop crowd as far as appearances go. They were actually coming to Richard's for a regular club night. The vibe for the night was real relaxed and peaceful like.

The first act to come on was a local group, the Social Deviantz. Having reviewed their debut album, essential mental nutrients, I would have to say that they performed their songs just as smoothly as on the record. The sound was excellent, their voices and lyrics were clear and not overpowered by the music. The trio tried to interact with the crowd but like many unknown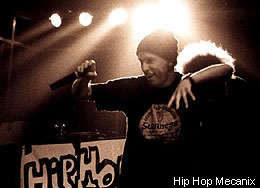 opening acts, the response of the crowd was minimal. They remained seated or standing patiently waiting for the main show to begin. The Deviantz, however, seemed to be enjoying their performance and continued to deliver nuff energy throughout the rest of their performance.
People began to move to the stage for the Hip Hop Mecanix, who were next up -- apparently there seems to be some kind of Hip Hop Mecanix following. Their style was very Beastie Boyish, meaning theirs is a whole different kind of hip hop. Their music was more of a grunge/slash/slam/thrash with a little bit of hip hop somewhere in there. The Mecanix' lyrics were drowned out by their shouting and loud, very loud choppy music. The band has a fitting name, because they have taken hip hop and remodeled it into their own sound which will surely attract those who love fast shouting music.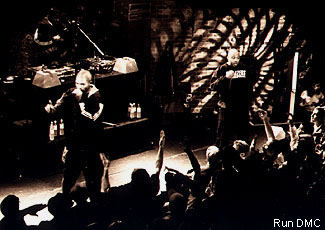 Finally at 11:30 p.m., it was time for one of the pioneers of rap music, the old school hip hop masters, Run DMC. The crowd was instantly ecstatic to see this group, comprised of DMC, Run, and Jam Master J, who blew up in the 80's and came back in the early 90's with the song "Down with the King." Their performance was real nice!
Run DMC were naturals at moving the crowd. Run, DMC and Jam Master J continually spoke to the crowd, with an excellent response. Having this trio at Richard's made the show more intimate and personal. They seemed reachable. Often when concerts are held at large arenas the performers seem so distant that they are unreachable.
Run seemed to have a cold or something because when he spoke he had a raspy voice that was cutting out; however, he put so much voice energy into his music that you would never have noticed. Jam Master J continually demonstrated his skills as a DJ, and it was while he was scratching and mixing at the speed of light that I realized what the previous bands still have to work towards.
I also noticed the quality of the group's music and their commitment to hip hop -- real hip hop! I have a real respect for these artists. Their music is so clean: no cursing, the N-word was not used once and I do not remember a single mention of weed in their songs. They've shown that you can make respectable clean rap music, you can stand alone in a business where everyone seems to follow the trend of the week. Run even mentioned that he was a reverend and that the song "Down with the King" has religious meaning.
The group did not perform any new songs this night, the most recent one being "Down with the King" from a couple years back, and while their music is rarely played on popular radio shows at the present time, one may think that they have lost their popularity. However, from the turnout and the response from the crowd, Run DMC proved in their hour-long performance that they are still one of hip hop's finest.
---
First published in Drop-D Magazine on August 8, 1996
Index | Search | E-mail | Info | Copyright

Considering copying some of the images from this story?
Please read this first. Thanks.