An Apple a Day...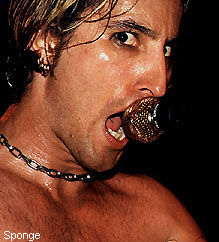 Green Apple Quick Step
with Sponge and Lucky Me
The Town Pump
Vancouver, B.C.
Saturday, August 17, 1996

Review by Jamie Quong
Photography by Michael T. LaRivière
---

To be quite honest I was not really looking forward to this concert, not because of the bands but because of the venue. The Town Pump plays hosts to great bands every week, but it is still a inadequate venue with its knee high stage and its dance floor the size of a litter box.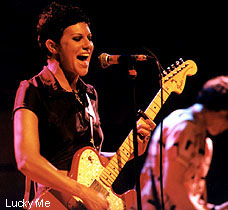 The first band cemented my mood. Lucky Me is not the words I would choose to describe any fan of this band. However, "typical, grungy, alternative Seattle rock" would be the words I would use to describe this band's sound. Watching Lucky Me was about as captivating as watching a church choir sing. I have to give them credit for a few things, though. Their vocalist has a lovely, very strong voice, and I'm sure she could put it to better use in another band, one with a more original sound. Also, their guitarist looked exactly like the Brady dad. I wonder if that was intentional?
Sponge was a refreshing treat. Hard, almost industrialesque rock with a front man that reminds me very much of Perry Farrell and Iggy Pop at the same time. He commented that this was one of the best shows they have done and rewarded the appreciative crowd with cuts off of both their albums, as well as a rough and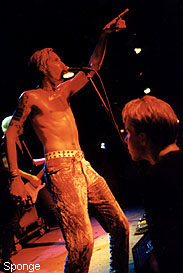 tumble cover of "16 Candles," and they closed the set with the "Speed Racer" theme, which Sponge covered for the Saturday Morning Cartoons compilation.
Green Apple Quick Step was my favourite for the evening, not only because I think they have the best band name in history, but because it is always nice to hear a Seattle band that could never be pinned as Seattle generic. I believe the use of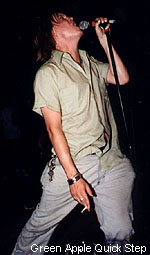 the term "strung out" could not possibly be used better to describe anything but the singer of GAQS. Seemingly half asleep one second and gone crazy the next, he was like a wind-up toy hurling himself all over the stage and over the crowd. Their bassist provided sweet backup vocals, and even led a couple of songs herself. Halfway through the set the band acquired a joint from the crowd and shared it among themselves as well with a few fans.
Green Apple Quick Step finished up their set with a Velvet Underground cover, with additional vocals provided by Vinnie from Sponge. GAQS left the crowd wanting more, but they failed to produce an encore. I left that night feeling good about the latter two bands of the night, but still I pine for the era of the Commodore.
---
First published in Drop-D Magazine on August 17, 1996
Index | Search | E-mail | Info | Copyright

Considering copying some of the images from this story?
Please read this first. Thanks.