This Ruby's a Gem
ruby
with Schtum
The Starfish Room
Vancouver, B.C.
March 29, 1996

Review by Georges Vezina
Photography by Rodney Gitzel
---

No mistaking that acrid smell lingering outside the 'Fish this evening, as desperate punters clawed like panthers at passing patrons for tickets to this sold-out show. The malignant odor was definitely Hot Band du jour, stewing in the collective juices of fans, curiousity-seekers and industry hacks gathered at Leslie Rankine's buffet table.

Rankine is the ex-Silverfish howler (tho' this critic bows his head and sez -- never heard 'em) who gained fame for their confrontational, ultra-aggro feminism. Remember the 1991 slogan "Hips Lips Tits Power"? After dissolving Silverfish, Rankine hooked up with a gentleman named Mark Walk, known for his work with Pigface and Skinny Puppy, among others. The two put together a fabby disc called Salt peter last year for Creation Records, and christened the baby ruby. Now she's assembled a band of English musicians, without Walk, to put the sequencer/sampler driven tunes from Salt peter on the road. With only about 20 shows under their belt in this configuration, they hit Vancouver as the singles "Tiny Meat" and "Paraffin" were steaming up the charts in North America to an accompanying media blitz.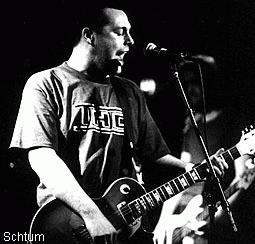 Openers Schtum are also riding a small wave of radio action (though not in the desolate radio wasteland of Vancouver), but their tight, passionless set gave the assembled throng little to be excited about. The Derry, Northern Ireland foursome showed up with a workmanlike attitude, cranking out scratchy post-punk riffs somewhat reminiscent of Vancouver's own Sons of Freedom. There appeared to be a constant battle between groove and song going on in their arrangements; the two could never co-exist -- it was one or the other -- causing a distinct power outage on the old punk-o-meter. Complex rhythms and chord progressions seem a little misplaced in the Schtum universe. Check Shudder to Think, Fugazi or Kyuss, even, if yer looking for some thinkery with yer riffery.
The chasm between artist and performer (it's called a dance floor, Vancouverites...use it) that Schtum failed to bridge was quickly filled as ruby prepared to take the stage. Rankine emerged sporting a little shiner from an incident at one of their previous shows, and her opening greeting proved the most pleasant interaction of the evening. What followed was an entertaining but unspectacular 53 (!?!!?!?) minutes of tight-assed groove from an undeniably talented band, playing nifty pop songs at full crank. Yet even the singles failed to light a spark under the bulk of the typically standoff-ish Vancouver crowd, who seemed to enjoy the show, but were unwilling to let themselves lose that sense of (jaded) decorum we seem to pride ourselves on in this city.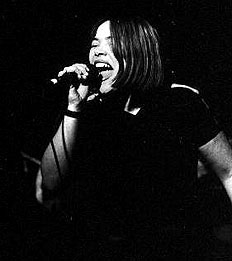 With only one album of material to draw from, ruby suffered from a certain sameness to the set as a whole. Tempos, feel, and sounds differed little from song to song, so if you didn't like the flavour, you were out of luck for variety. Still, the massive, muscular thrust of the rhythm section combined smoothly with the sampled material to get hips into action, and the vocal stylings of Rankine (and sampler) proved a pleasant aural counterpoint for the unrelenting bottom end. I mean, this woman can sing. You could positively feel a heavy dose of rage and power being forced through these delicate melodies, an inherent tension so rare in most of the post-grunge dreck we're being bombarded with. As Rankine so aptly puts it in the chorus to "Heidi," "I can speak softly because I hold so much power."
The show was slick, professional and seamless. Rankine's undeniably charismatic personality had a few chances to emerge, but ultimately we were left with just hints of what ruby could do with a few years of recording and touring under their belt. So the smell of success will get stronger, and then... and then we'll be sniffing around somebody else.
---
First published in Drop-D Magazine on April 11, 1996
Index | Search | E-mail | Info | Copyright

Considering copying some of the images from this story?
Please read this first. Thanks.