Batch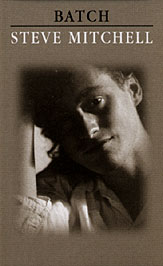 Steve Mitchell
Independent Cassette

Reviewed by Gary 'pigboy' Swartz
---

40-second excerpt from "Never Work This Town Again" (various formats)


His bio describes Vancouver's Steve Mitchell as a prolific singer/songwriter who throws off tunes faster than he can afford to record them. Maybe he should write slower and give all his songs the lyrical polish that makes for a more interesting album, because when he succeeds, he succeeds well, showcasing his compositions with the flaunt-it pickin' that is the essence of Country musicianship -- be it New, Traditional, or Mitchell's Alternate mode.

On that note, Mitchell's latest cassette, Batch, is obviously intended for those who like their music acoustic. The uptempo, newgrassy "Never Work This Town Again," is a gem and paints the poignant picture of the axing of a band that has failed to move what the bar owner sells. The title/hook line sums things up succinctly and lyrically proves to be a hard act to follow. "First Addiction" does come close, juxtaposing vocals against the distinctive rythmic and melodic elements of a mandolin -- reminiscent of the lamented Okanes.

Essentially, this is niche music. It either appeals or it doesn't. If it's a niche you're comfortable in, the aspects that disappointed these ears could well appeal to yours.



---
First published in Drop-D Magazine on August 23, 1996
Index | Search | E-mail | Info | Copyright

Considering copying some of the images from this story?
Please read this first. Thanks.