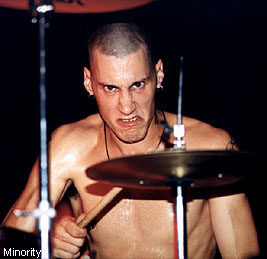 Two Out of Three are Bad
Minority
with Punch Drunk and Atomic Boy
Gastown Music Hall
Friday, August 16, 1996

Review by Daniel Ewacha
Photography by Michael T. LaRivière
---

Two of four bands, Smoother and the New Grand, who were scheduled to play on the bill last Friday at the Gastown Music Hall failed to show due to mechanical problems with the tour bus south of the border. Oh-oh. The show was already off to a bad start.

Huntington Beach, California's Atomic Boy took centre stage in front of a scantly filled room and attempted to raise the spirits of those in attendance with their bright, poppy, cheery sounding punk songs à la Green Day, NOFX and Platinum Blonde. As the fourth song of their 45 minute set passed, it occurred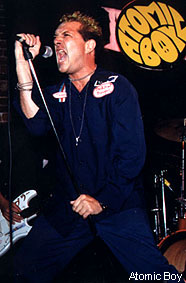 to me that there must be some unwritten rule in punk that all songs must sound the same. The songs of Atomic Boy were no exception. However, their performance was worthy of a thumbs up due to the hyperactive attitude of their lead vocalist and the pure, raw tight sound produced by the two guitarists, bass player and exceptional drummer. Atomic Boy gave us hope that the night wasn't a total loss and that things were going to get better, at least until Punch Drunk walked on stage.
Punch Drunk were made up of three members of Minority and a vocalist who graduated from the Cannibal Corpse school of music. Completely incomprehensible and mundane, Punch Drunk lived up to their name and treated their short, ten minute (thank god!) set as a joke, obviously just filling in time for the bands that failed to show. Punch Drunk's performance only enhanced my belief that musical instruments in the hands of some people are just as dangerous and crippling as guns.
Minority, or, the rest of Minority, took the stage after another lengthy void and were ready to dish it out to the now three-quarter filled club. Minority, of course this year's Demolisten winners, have been in top form every other time I had seen them. I wish the same could be said this time.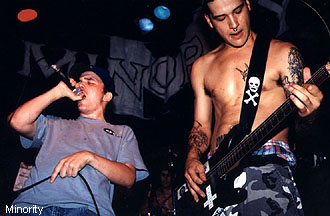 Part of what makes Minority exciting to see, apart from their adrenalin-fueled angst-ridden songs, is the intensity with which the songs are brought to life. This important factor was missing in action on this particular night as Minority played an hour-long set of music to kiss your sister by. As the band pointed out, it was the first gig they'd played at which everybody in the crowd was sitting down. This may have been part of the reason why their set lacked that well-known charisma. However, even when this brought a few to their feet to partake in a bit of mindless moshing, it didn't ignite a fire underneath the feet of Minority, which was a shame, as they are capable of bigger and better things. Hopefully we'll see it next time.
---
First published in Drop-D Magazine on August 23, 1996
Index | Search | E-mail | Info | Copyright

Considering copying some of the images from this story?
Please read this first. Thanks.