Country -- But Hold the Horses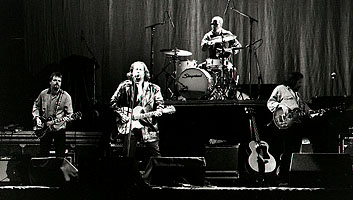 Bassist Robert Reynolds of the Mavericks
Interview by Gary 'pigboy' Swartz
Live photography by Rodney Gitzel
---

43-second excerpt from "Here Comes the Rain" (various formats)


Everyone knows country musicians hone their chops in the honky tonks of dusty Texas towns performing for the world's most demanding -- drunk or sober -- fans.

Hold your horses. What if a country band served its apprenticeship in the clubs that were the heart of Miami's alternative music scene? Now let's talk demanding fans! Such was the unconventional launching pad of vocalist/songwriter Raul Malo, guitarist Nick Kane, drummer Paul Deakin and bassist/spokesman Robert Reynolds, together known as the Mavericks.

"We shared the bill with bands that sounded like U2, the Clash, Metallica and the Red Hot Chili Peppers," says Robert Reynolds -- conjuring up visions of wire mesh to protect the Mavericks from flying beer bottles. Rein in them horses -- again. For a band to be booked for its first gig, the clubs, and Miami's fans, had a simple standard: "It was more of an original music scene. You had to be playing some of your own music." Play it well and the demanding fans welcomed you back.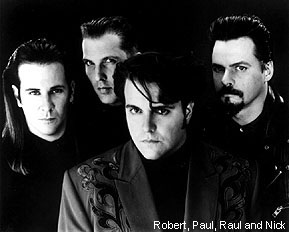 The Mavericks played well and used the experience "to improve the group but not change the sound," an uncompromising process still taking place. In those early days this meant adding to the instrumental mix: "lap steel, fiddle and harmonica, instruments you just didn't hear" and, with a chuckle indicative of the band's wry personality, introducing the audience to some Patsy Cline!
Apparently it worked. The Mavericks were rewarded with a self-titled independent release (about to be re-released in Canada), and eventually their deal with MCA. What's more important is the Mavericks were rewarded with an appreciation that there are fans out there whose musical tastes are more eclectic, and tolerant, than given credit for by Nashville A&R people, radio program directors and industry spin doctors. Supportive fans.
This is not to say that the Mavericks lack solid country credentials. You can't fake Video of the Year for "Here Comes the Rain," a Grammy for Best Country Performance by a Duo or Group and CMA Vocal Group of the Year.
You can make a strong case for the right to continue to answer to your own unpredictable muse. Much of the Mavericks' original material inhabits that back 40 in Broken Heartland that brings to mind vintage Elvis and Roy Orbison at his most haunting. Songs with titles like "Foolish Heart," "Missing You," "I'm Not Gonna Cry for You," and even a cover of the Frank and Nancy Sinatra classic, "Something Stupid," replete with lush arrangements, set the tone for the Mavericks' fourth and current release Music for All Occasions, presently gold in the U.S. and, duly crediting Canadian fans, already platinum here.
While some deride this sound as retro and derivative, not to mention down right radio-hostile, when you face comparison to the aforementioned legends, you'd best bring something original and personal to the BBQ. And it had better be damn good.
The Mavericks do -- and it is. Even radio has grudgingly acknowledged them. Not surprisingly, the Program Directors were won over in the same manner that won over their original fans. When the Mavericks' recorded material failed to move radio PD's, MCA moved the PD's to the Mavericks' live shows. Sold American.
In fact, there is universal agreement that playing live is what the Mavericks are all about. "We still go out there and pretend to be a garage band," says Reynolds. "I'd rather see a lot of passion, maybe rough around the edges, than a perfectly timed and orchestrated stage show." Hear! Hear! So, mixed in with the hits and album material are covers of Bob Marley's "Stir it Up," Kris Kristofferson's "For the Good Times," John Lennon's "Give Peace a Chance" or whatever else contributes to the euphoria of a given evening.
With this kind of roots, what does the future hold? According to Reynolds, "We plan to build the next album slowly, take some time to work with sound, and maybe look for a bit more edge." Unlike their country cousins, who are "frighteningly intimidated by the challenge," the Mavericks also have ambitious plans for a major world tour to Europe, Australia, possibly Japan, Canada and the U.S. beginning mid '97. Hopefully, the eclecticism of Miami's alternative music scene will prove to be a global phenomenon.
In the interim, eclectic Western Canadian fans can look forward to gigs Sept. 11th at Vancouver's Orpheum Theatre, the 13th at Calgary's Jubilee Auditorium, the 14th at Regina's Centre For the Arts, the 16th at Edmonton's Jubilee Auditorium, and the 17th at Saskatoon's Centennial Auditorium.
---
First published in Drop-D Magazine on August 30, 1996
Index | Search | E-mail | Info | Copyright

Considering copying some of the images from this story?
Please read this first. Thanks.