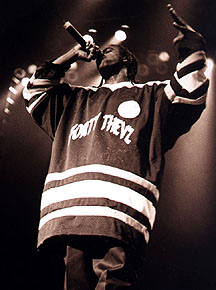 Livin' in a Rap Fan's Paradise
Coolio
with Groove Therapy
Vancouver Coliseum
Vancouver, B.C.
Thursday, August 24, 1996

Review by Cereita Goulbourne
Photography by Suzanne Goodwin
---

Groove Therapy was an interesting match for Coolio. While Coolio is completely rap, Groove Theory is strictly soul and R&B. The female vocalist was extremely friendly with the crowd and carried on extensive conversations with her fans. She expressed how happy she was to be in Vancouver and how sweet Vancouverites were. Numerous times she would get down from the stage onto the floor so that she could be on the same level as the crowd.

Their set up was quite simple: the lead vocalist, a man on piano, and another female vocalist singing backup. The lead female had a beautiful voice and harmonized well with her backup singer. They saved "Tell Me," their breakthrough hit song, for last, which went over well with the audience because of the singer's enthusiastic encouragement to sing along. They performed for about 45 minutes and they surely captured the audience's attention with their soulful songs.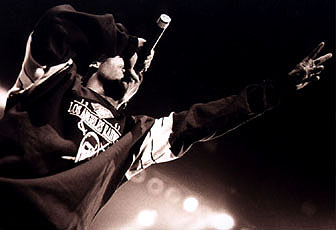 It was soon time for Coolio. His DJ was the first member of the group to appear, and it wasn't long before we heard Coolio's voice, from somewhere in the building, encouraging the DJ to play faster. The crowd's excitement matched the speed at which the DJ scratched and mixed. Suddenly one of the three 40 Thieves members came tumbling out while the other two ran out on stage to do a little song to warm up the crowd for Coolio. The Coliseum erupted with a deafening noise and applause when Coolio strutted out and began to perform.
It was quite difficult to hear what the rap star was saying, however, as the music and bass simply drowned out his lyrics. This, however, did not seem to bother the crowd, because they got into the concert with as much energy as Coolio was pushing out. The odd lyric that was audible seemed to be talking about real issues such as living in the roughest areas in the U.S.A.-projects and inner-cities.
At one point, Coolio made a public service announcement as an introduction to the song, "Too Hot," a song about protecting yourself against AIDS and STD's. This was quite intelligent and much welcomed. The music industry actively promotes the kind of activities that can lead fans into situations where AIDS can be contracted, such as sex, drugs, and being irresponsible. It is important for people in the media to promote AIDS awareness. As Coolio pointed out, "AIDS, unlike people, does not discriminate. White, black, rich, poor, homosexual, heterosexual, everyone can get AIDS." He warned his fans about the importance of wearing a condom and to the females in the audience, he insisted that "if he don't wear one he don't get none."
What was interesting to see was the interaction Coolio had with the crowd. Considering this man has rocketed to stardom in such a short while following his hit "Gangsta's Paradise" from the Dangerous Minds movie, one would think that he would have a swelled head. But Coolio was indeed quite cool. He was in Vancouver to give a show and to have fun.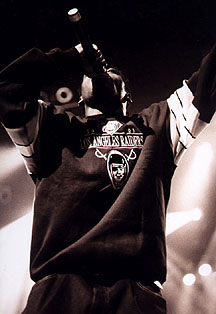 He at one point challenged the audience by saying that Toronto claimed they could rock better than Vancouver. If he did not realize the crowd's energy and noise before, he certainly felt and heard it in full force now. Vancouver showed most noisily how much they adore their rap star and how this city rocks!
Coolio then invited on stage four individuals who said that they could rap. Now, he warned them that any one of them who couldn't would be totally embarrassed. Rules understood, the contest began. Unfortunately for them, the first two, a guy and a girl, went blank when the mic was passed to them and they were definitely humiliated. Their punishment was to sit down on a towel while Coolio poured water on them and sang with the crowd, "Whack, whack, whack, whack." Then Coolio's DJ told them to get off the stage while the crowd cheered. I laughed so hard that I nearly fell out of my seat!
The next two proved that they did have some rapping skills and, in the end, a female won and was awarded a t-shirt for her performance. They continued with some more freestyle to the delight of the crowd. For the next song, Coolio invited a whole group of people to come on up and dance on stage.
Then it was time for "Gangsta's Paradise." Coolio and the 40 Thieves came out in black choir gowns onto a dark stage. The members of the audience who were sitting down got up and waved their arms back and forth to the song. They then finished off the concert by singing "We Love You" to Vancouver.
All in all, Coolio was an excellent performer who captured his audience's attention from the minute he walked on the stage to the minute he walked off. He had fun and the crowd thoroughly enjoyed him. He will definitely be welcomed back with open arms.
---
First published in Drop-D Magazine on September 6, 1996
Index | Search | E-mail | Info | Copyright

Considering copying some of the images from this story?
Please read this first. Thanks.