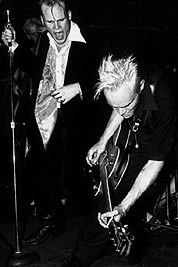 Shakin' Up the Chicken Coop
Rick Royale of the Rattled Roosters
Interview by Paul Watkin
Live photography by Dan Zubkoff
---

37-second excerpt from "Little Star" (various formats)


"Say hello to the hills of Hollywood, send my love to Sunset Strip," admonishes the first line of "Stars On The Sidewalk," the opening tune from the Rattled Roosters' current CD, Young and Modern. Those are probably the first lines the Roosters uttered to each other as they drove into their new home in Los Angeles, California, nearly a year ago. Moving from Vancouver to Los Angeles is a big adjustment, so why L.A.?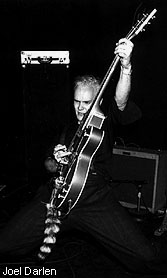 Says vocalist Rick Royale, "It's warm! Also, there are a lot more places to play down there. California has such a huge population and there is so much stuff going on there right now, too much sometimes, it can be distracting, but Los Angeles has this energy that's tough to find anywhere else. It's weird, it didn't seem like a big adjustment at first, but overall the move has been kind of disorienting. We've been down there a while now, but we haven't spent a lot of time there, we're on the road most of the time."
The essence of the Rattled Roosters is definitely their live show. It is dripping with style, fashion, flair and that spirited 50's style rockabilly with a 90's edge to keep it, indeed, young and modern. It was a different type of show at the Vogue Theatre in August when the Roosters opened for Goldfinger and No Doubt. The Vogue is a soft seat theatre and there's no room for dancing. Vendors were selling popcorn and such, and I got the feeling of frustration that Elvis Presley or the Beatles must have experienced. I mean, there's no room for the kids to go crazy.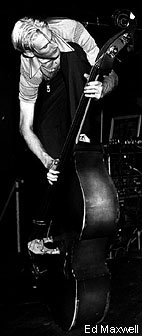 "Yah, it was definitely weird, security was a little tough at first, and we worried that everybody was just going to sit there, but it turned out good. It was kind of like a 50's-60's rock show, people would be dancing in the aisles and you could feel that there was a lot of young energy."
Young energy seems fitting in describing the stage presence of the Rattled Roosters. Confident and flamboyant, it's an attitude the kids seem to relate to. There has definitely been a resurgence of fun in music and as grunge lies with intravenous tubes sticking out of its nose, its drabness and coolness of uncoolness wavering, there is a bigger surge towards energy and good times. Surf, lounge and punkabilly have found a home in today's youth. Kids are dancing, dressing up and just getting involved.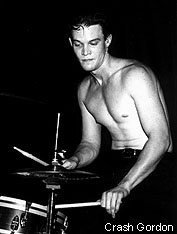 "I think kids are into it more, even in L.A., bands are taking a little more effort into how they look and appear. I always felt it was important to be entertained... I think a lot of people want to be entertained these days, a friend of mine says she's tired, she's been bobbing her head for five years."
It was kind of funny because, as he said that, the Foo Fighters had just started to play over the restaurant speakers. Make no mistake though, the Rattled Roosters are more than just a fashion statement. This music and the scene involved with it is their lifestyle. They are always checking out other bands and the local night-life, which isn't easy for a band that is seemingly constantly on the road.
"It's hard to get away when you're on the road, so you really have to find somewhere to go. There's always things to do, sometimes you just feel like hiding. If we get a chance, we try and check out the city we're in and see what it's all about. I'm really interested in the culture of the city, the underground galleries and stuff, I like to get a sense of its energy. If we have a night off, I'll try and see another band."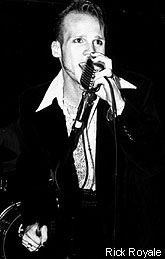 It is this life on the road that has created the three year gap between full length recordings. Before Young and Modern, 1993's Year of the Rooster was their last CD.
"It's tough being on the road, I don't really get a chance to write. I get up and take care of the business stuff, then we play, and there's always something happening after the show. We've sort of had to learn new stuff during sound check. It's an exciting time now, I've had a chance to write and we have a chance to learn and hear the new stuff at rehearsal. Ed (bassist Ed Maxwell) is going on the road as part of a band doing a Gene Vincent tribute and Jeff Beck is doing some of the dates too."
Learning has been an integral part of the Rattled Roosters' career to this point. They handle a good chunk of the business themselves and this is partly due to a past experience they had with a manager.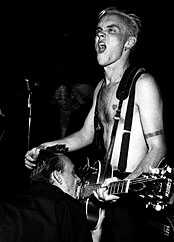 "It didn't go as we had hoped, but it's not like anything good didn't come out of it, we were young and still finding our direction. You have to know where you're going, I mean there were telltale signs from the beginning that the management wasn't going to work out, but we were naïve. I like doing the business ourselves, but I'll tell ya', I wouldn't be against having the vast part of it taken away from us... it's just got to be right though."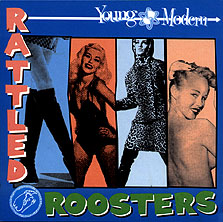 That reminds me of a line from Young and Modern: "If someone says that they are 100% committed then frisk them for knives." But I digress.
The Rattled Roosters are a band that would have Elvis shakin' his hips in a frenzy of fervent ecstasy. They chose to move to L.A. to surround themselves with this exuberance and energy and it is paying dividends for them. They seem to make it into Flipside nearly every month. Hell, even Jerry Springer jumped on stage and sang a couple of tunes with them at one show.
Go see the Rattled Roosters live, buy their records, grab someone close to you and start dancing. Then tune in next week for "talk show hosts who can't sing and the lovers who despise them," live on Rikki Lake, because as Rick Royale will tell you, "True love killed rock 'n roll."
---
First published in Drop-D Magazine on September 13, 1996
Index | Search | E-mail | Info | Copyright

Considering copying some of the images from this story?
Please read this first. Thanks.