Southern Culture on the Rise
Southern Culture on the Skids
with the Saddlesores
The Starfish Room
Vancouver, B.C.
Saturday, August 31, 1996

Review by Paul Watkin
Photography by Paul "Chris Murphy" Clarke
---

Oh man, was this a fun show. First locals the Saddlesores rocked the joint with their cow-punk sounds and their sense of humour. Continuously playing with the crowd between and during songs, it was clear that they were on stage to have fun. Southern Culture on the Skids then elevated the fun factor with their southern surf-hillbilly sounds and stories to match. This combination of funsters had the crowd in their grasp the entire night.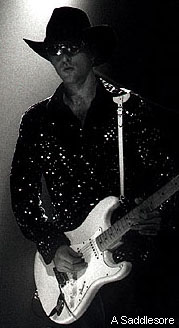 The Saddlesores found their groove early and we found their pattern early: twangy guitar chords changing into metal chords throughout their songs. Why? Because they said that there is "a little metal in all of us." It was weird and pretty damn cool. Decked out as though they were auditioning to play the role of a country band in a Quentin Tarantino movie, they personified country gone bad.
Stealing riffs from artists such as Lenny Kravitz, Led Zeppelin and Slayer, the Saddlesores managed to mock these performers all in good fun. Upon playing the intro to "Cuts Like a Knife," they apologized by saying that they thought this was Bryan Adams at Club Soda (the Starfish's previous incarnation). Their banter was non-stop during and between songs and even made a victim of Drop-D's photographer (see credits above).
Stampeding through a set of guitar heavy numbers such as "Mexican Showdown" and "Garth Brooks" (featuring a guest appearance by one of the Deadcats), the Saddlesores gave us a bit of everything in their performance and never failed to entertain. As the set wore on, I wished it wouldn't end, but from every ending comes a beginning...
Robert E. Lee (or was it Luke Duke?) said that "The South shall rise again." Whoever it was, they must have had a clear vision of Southern Culture on the Skids (SCOTS). Jumping on stage and into their set without even whispering a word, they began the resurrection to a packed house that was ready to go nuts from the first twang of Rick Miller's guitar.
SCOTS' brand of hillbilly rock -- with a touch of Uncle Jed goes surfing -- is instantly infectious. They've been around for a number of years and have their pick of the litter when it comes time to choosing songs for the set-list. Tonight they gave us a good mix of material, old and new, including a bevy of songs from their latest CD, Dirt Track Date, such as crowd favourites "Greenback Fly," "Soul City" and "Voodoo Cadillac" [ed. for added fun, check out the band's set list]. SCOTS had the joint a-jumpin' faster than you could say oatmeal pie and put forth a tight, joyous set of ditties highlighted by Mary Huff's high pitched countrified voice of yesteryear on the old Lincoln Chase song "Nitty Gritty," which, for me, stood higher than her bouffant hairdo.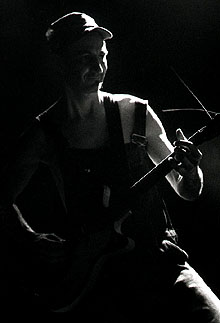 The second half of the set was crowned "the fast food portion of the show" in which the band played such songs as "My Little Biscuit Eater," "Fried Chicken and Gasoline" and "Eight Piece Box." For the latter, Rick invited a group of women up on stage to dance and they were rewarded with some finger-lickin' fried chicken.
SCOTS proved that southern culture is steeped in musical history. You also can't deny the storytelling aspect of the ol' south, and Rick Miller, decked out as the Overalls Poster Boy, paid homage to this art between songs. Relating a variety of tales, he told us of how he met his old girlfriend playing pinball at a truck stop down I40 and how he baked her his incredible buttermilk biscuits. Rick also told us of biscuits made from dirt and spit: "They smell kind of funny when you bake them, but they taste mighty good." I'm thinkin' I'll just take his word on it. He spoke of this magical shack hoisted up on cinder blocks, a place where it doesn't matter what you look like and the Schlitz Tallboys are mighty cheap. It was these stories that was as much a part of SCOTS as their music.
Obliging the constant applause of the crowd with two encores, SCOTS looked tired by the end of the night, but to their credit, left us with a show to remember and, tonight, the south rose higher than freshly baked buttermilk biscuits. See ya at Soul City... y'all.
---
First published in Drop-D Magazine on September 13, 1996
Index | Search | E-mail | Info | Copyright

Considering copying some of the images from this story?
Please read this first. Thanks.