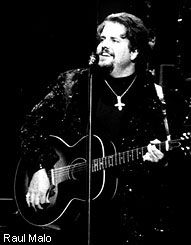 If You've Got It, Flaunt the Hell Out of It
The Mavericks
with Junior Brown
The Orpheum
Vancouver, B.C.
Wednesday, September 11, 1996

Review by Gary 'pigboy' Swartz
Photography by Rodney Gitzel
---

There's something called "New Country Music" that you hear on stations like JR. Much of it is music, and maybe singers, that's had done to it/them what cowboys do to bulls to make steers. Which explains why it ain't called "New Western." The western-influenced guys know from close observation that there are things money and record company A&R men can't buy.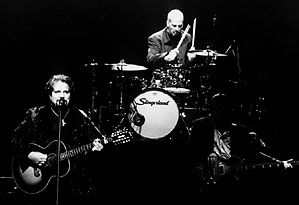 The Mavericks and Junior Brown fall into this latter category and make for a kick-ass live package. (Excepting perhaps too much cajones volume and bass, and a breakdown in communications between an audience that wanted to get to its feet from the get go and a band that wanted them to.) These guys know that making music, providing entertainment and having fun are what it's all about. And if you've got it, flaunt the hell out of it.
The Mavericks prefaced their show with a taped montage of excerpts from 60's rain songs, underscoring their affections for an era when singers, songwriters and fans were a lot more naïve. Then, out of a crescendo of SFX thunder and lightning, the band opened with their hit "Here Comes the Rain," punctuating the reality that they are just as hip to the 90's.
They also answered a lot of questions. Can the Mavericks replicate live what any one-note-wonder can accomplish in today's computerized recording studios? Yes! Those aren't "retake and splice" vocals: Raul Malo has the chops and easily put to rest any doubts in his solo acoustic portion of the show. This kind of talent isn't all that common and is a joy to experience live.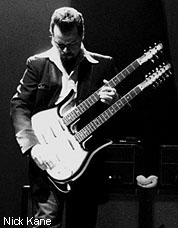 And how does a basic quartet provide the lush arrangements of their Music For All Occasions album in a live show short of hauling along a handful of side people or Mr. MIDI and his digital digits? Easy: hire a virtuoso keyboard player and limit him to a traditional piano and a Hammond organ pumped through a vintage Leslie speaker. In other words, fill the holes differently, but with a whole lot of energy and enthusiasm, and no one will care, if they even notice.
It was that kind of evening. And it came with the added pleasure of seeing bassist Robert Reynolds, rudely interrupted by some heckler, silence the fool and potential clones by asking if he was the only person there who'd paid and was the band doing the show just for him personally? More bands should discourage this annoying distraction as effectively.
They should also pick their opening acts as appropriately. Junior Brown is one of those people who genuinely deserves the description "original." If your channel surfing hasn't yet brought you to Junior and his "guit-steel," a unique double-neck lap steel and electric guitar configuration, his is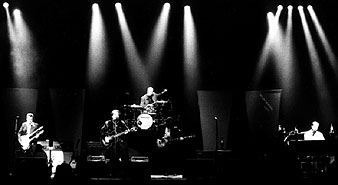 the kind of edgy act you want to have play at your fourth or fifth wedding reception, especially if you're into marrying sisters/brothers, cousins or the same person repeatedly. Imagine a room full of ex-spouses and in-laws and the pleasure of exposing them to tunes like "Venom Wearin' Denim," "(You're Wanted by the Police and) My Wife Thinks You're Dead" or his encore number "I Got to Get Up Every Morning (Just to Say Good Night)."
These are bands with a sound country radio doesn't particularly want to play, and where there are drinking or infidelity references, such as in Merle Haggard's "The Bottle Let Me Down," which the Mavericks covered during this show, those born-again stormtroopers who have an excessive influence on radio station playlists definitely don't want you to hear them. So buy these bands' albums or catch them live.
Or you could be the next in line for steerhood.
---
First published in Drop-D Magazine on September 19, 1996
Index | Search | E-mail | Info | Copyright

Considering copying some of the images from this story?
Please read this first. Thanks.