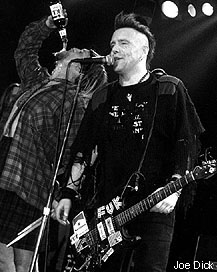 Punk 'n Popcorn: Movies for the Road
The 1996 Vancouver International Film Festival
October 4th-20th, 1996

Preview by Suzanne Goodwin
Hard Core Logo Commodore shoot photography by Paul Clarke
---

The Vancouver International Film Festival is back again with yet another copious and eclectic offering of films from the world over. With films that run the gamut of tastes, styles and subject matter, this year's selections have a few flicks for the serious music fan, too.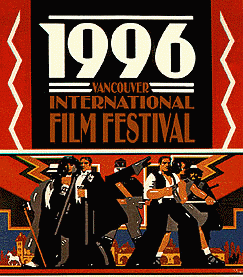 American Beer, by Calgarian Grant Harvey, is not really about music, per se, but its subject matter is something to which many a music fan can probably relate: an ill-fated road trip in pursuit of cheap beer, undertaken of course in a totally unreliable vehicle, accompanied by a "hip soundtrack" -- apparently all Canadian - to keep the road warriors company. Set in the trippy Badlands of Southern Alberta, it sounds like a pretty cool adventure...
In keeping with the road and music theme, go check out R.E.M.'s Road Movie, which documents the final performances of their "Monster" tour. This "beautifully crafted" film by Peter Care apparently "lets the band and the music speak for itself." Sounds like something no true R.E.M. fan should miss; however, if PUNK and INDIE are more your tastes, then a different kind of road movie is in the offing with Hard Core Logo.
This Bruce MacDonald (Highway 61, Dance Me Outside) film is undoubtedly going to be a favourite at this year's festival. Shot on the road between Vancouver and Edmonton, it's an in yer face chronicle of the final tour of a fictitious punk band called (surprise) Hard Core Logo. The enigmatic Hugh Dillon (of the Headstones) is cast as the band's singer, the mohawk-sporting "Joe Dick." His battle cry "Grasp the evil!" pretty much sums up the band's reality and this flick promises to offer plenty of that.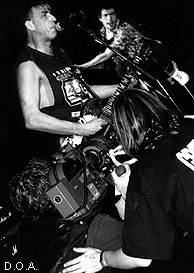 With appearances by D.O.A. and Art Bergmann, among others, the fictional lines are somewhat blurred in this realistic story of what ties a band together, and the angst that pulls them apart. What serious music fan wouldn't want to see this movie? I dunno.
If those films aren't enough for you, the festival offers all sorts of other cool stuff offered for your viewing pleasure, too. Sure, the X-Files' Chris Carter will be at the trade forum, and Norman Jewison will be giving a lecture to high school students, but there will also be three hundred films!
However, according to Festival Director Alan Franey, 90% of this year's films will not return for screening after the festival. That means that during the festival is your one shot chance to check some decidedly un-Hollywood features, including never before seen films from behind that ol' Iron Curtain, and a plethora of films from "movie crazy" India to boot. With all this, plus a cornucopia of groundbreaking non-fiction features too, you'd do well to grab your passes soon.
The Festival runs in Vancouver October 4-20, 1996. Programs should be available all over town, and you can find information on the 'Net at http://viff.org/viff/.
So hey, who took my popcorn?!!!
---
First published in Drop-D Magazine on September 27, 1996
Index | Search | E-mail | Info | Copyright

Considering copying some of the images from this story?
Please read this first. Thanks.