Return of the Living Dreads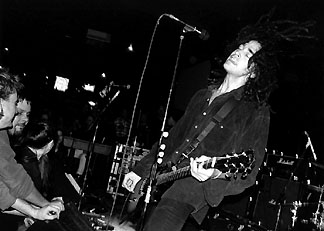 Doughboys
with Therapy?
The Town Pump
Vancouver, B.C.
Saturday, September 21, 1996

Review by Kevin Templeton
Photography by Paul Clarke
---

Synonymous with punk-pop rock 'n roll in Canada, Canada's Doughboys will never be accused of hopping on any bandwagons, having been around the block in their own caravan and jumping from stage to stage for ten years now (their Home Again record from 1989 is an absolute classic). Sad to say, I thought I'd seen the last of the hyperactive dreadlocked ones, as longevity is certainly not a given in the 90's rat-race music age.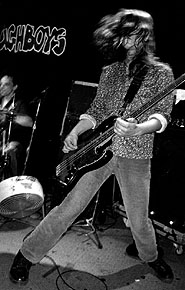 The Doughboys always seemed to be a record company/marketing person's dream band: they've got the pop hooks x 10, the punk framework, the spastic hair and good looks, and they bust it out live. Alterna-retread groups like the Killjoys or even Pluto appear to only mimic a style that's been done better for years, with Jr. Gone Wild, S.N.F.U., and Sons of Freedom coming to mind as a good stew. Make no mistake about it, these Doughboys rock because that's what they do. Work ethic isn't a problem. Or at least that's what I was thinking before the show.
The last time I saw Doughboys live was at the Commodore in 1991 (or was it 1992?), sandwiched Seattle-style between Screaming Trees and Nirvana. I'll never forget that show, and I distinctly recall the Canuck four-piece being as good, and at times even better, than Nirvana, with Screaming Trees being an emotional non-factor that evening. 1993's Crush CD raised Doughboys' punk-pop flag once again, with the prominent single and colourful video "Shine" elevating the band to newer retail-friendly heights [ed. and it's still used as the theme for MuchMusic's alternative show, The Wedge]. This past summer saw the release of Turn Me On, with new guitarist and ex-Mega City Four member Wiz (sounds like a doughboy, and, hey, he's got the dreads!) joining the fold after the departure of one Jonathan Cummins. Doughboys have been touring with label-mates Therapy? across Canada, and I was a little surprised at the home team's slight lack of interest towards this capable double bill. Sink or swim, I was in.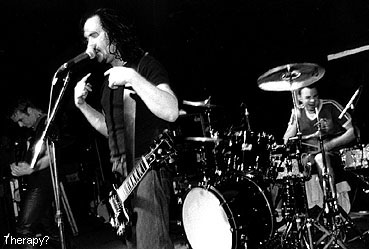 Unfortunately, my high expectations for the Doughboys set came back to haunt me, kinda. Walking on stage with the A-Team theme playing in the background, the band ripped into "I Never Liked You" from their new CD, and it became apparent rather quickly that we were in for a loud, muffled set of hastily-played pop songs. Singer, guitarist, and rock star John Kastner pranced and jumped about like a punk-pop Paul Stanley, his icy stares and lack of interaction with the crowd becoming painfully obvious as their set dragged on. "So Long," "Numbered Days," and "Shine" were fine versions, but I'd say, at least initially, that these guys miss their old guitarist.
Kastner and Co. now seem to come across like just another of those bands congesting the gamut of alternative rock, instead of "shining" like the scene forerunners that they truly are (were?) in this country. Don't get me wrong: Doughboys sped through their rockin' back catalogue in fine, workmanlike fashion, but the sound was just too noisy and the frontman was just too uptight. A fun show, but...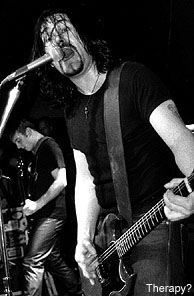 Anyway, Northern Ireland's Therapy? were actually the first of the two bands to play (openers Local H had bowed out) and, in rock 'n roll terms, they kicked ass! Playing a brand of tormented, metal-based rock with, of course, a touch of modern punk (or just "heavyfuckingmetal," as their t-shirts stated), Therapy? immediately got the crowd on their feet with the chugging "Stories" from their latest disc, Infernal Love, and kept them dancing throughout the hour-long set.
Hell, it was one big group therapy session, and topping the list for counseling would surely be singer/guitarist/mastermind Andrew J. Cairns, his earnest desperation and flair-for-the-dramatic stage presence intriguing many of the venue's beer drinking patrons. Cheesy yet cool, Andy often kept singing to himself after his actual vocal parts had ended, while staring intently above the crowd as if contemplating murder (or love -- it's hard to tell with this man). The band played two covers, Hüsker Dü's "Diane" and the Bee Gees' "Tragedy," while my favourite track, "Misery," was also highlighted. Therapy?, come back soon!
After leaving the Town Pump via the back exit, we ran into the Doughboys walking to their bus in the back alley. "Good show," I said. "Thanks," responded John. "Hey, cool t-shirt [my old Doughboys longsleeve], this show's for you for wearing that shirt." I didn't know quite how to take that...
---
First published in Drop-D Magazine on October 5, 1996
Index | Search | E-mail | Info | Copyright

Considering copying some of the images from this story?
Please read this first. Thanks.