Dr. Pepper, the Shah and Canadian Jazz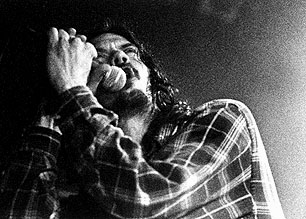 Butthole Surfers
with Starfish
The Rage
Vancouver, B.C.
Monday, October 7, 1996

Review by Darren Kerr
Photography by Dan Zubkoff
---

What can you say about the Butthole Surfers that hasn't already been said? A couple of snippets from Toronto's late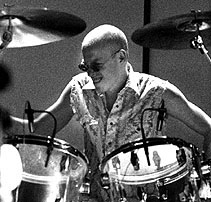 80's mag Graffiti have stuck with me: "...they used those plastic baseball bats as pisswands" and "...then Cabbage, the percussionist woman, wearing only a tool belt and construction boots, grabbed Gibby by the belt buckle and proceeded to have sex with him then and there." Those are just a few examples. The Butthole Surfers are legend and myth -- stories of Tijuana cops, bouncer brawls, and drug-induced free-for-alls. All legendary tales that Austiners will someday use to scare their young 'uns: "Gibby Haynes'll come in the middle of the night and rip your adam's apple clean out if you don't eat those goddamn peas!!"

Alas, it's 1996 now and the Butthole Surfers are mellowing, dare I say maturing? It seems that Paul Leary, guitarissimo demento is easing up on the psilocybin and leader Gibby has been hanging out with Jorgensen, Barker and Co. of Ministry. The last time I saw the band was at the PNE Forum about two years ago when they played in the daylight, thus proving that vampires aren't the only creatures that shrivel when hit by the sun. This Monday night, however, was different -- way different.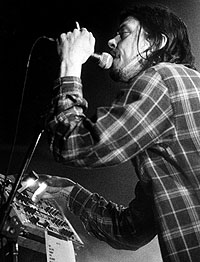 At the first note the crowd went crazy and the goons got airborne. Right away I learned that if someone is pushing you with their back and you move out of the way quickly, they will fall flat on their head, ha ha ha, but I digress. The band burned through "Cough Syrup," "Thermadore," and "Ulcer Breakout," while their new hit "Pepper" turned the throng into a seething hip hop mass. Gibby was in vintage form spouting gibberish about Dr. Pepper and apologizing for July 4th. They went into the archives for a blistering "The Shah Sleeps in Lee Harvey's Grave," "Hey," and one of my favourites, "Cherub." Of course what would a BHS show be without a very weird psychedelic jam (where Gibby played sax!) and songs you do not know.
Another indication that the Butthole Surfers are mellowing is the omnipresent film footage which accompanies their performances.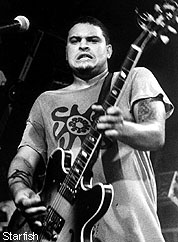 This time the emphasis was on toads and The Breakfast Club, and seeing Anthony Michael Hall and Ally Sheedy doing their geek dance somehow only made this show seem weirder. It got even more bizarre in the last twenty minutes as we saw Gibby transform into Genesis P-orridge's dark side as he played tour guide, showing us around his own techno hell. I enjoyed their performance, but a few statements such as "Sometimes the mailman is on time" and "Thus continues the ritual of Canadian jazz" left a few people scratching their heads in total confusion.
The openers, Starfish, were playing as I entered. They are a three-piece band on King Coffey's (the BHS' drummer) Trance label. Starfish played a solid set of heavy post-acid rock pop music with that distorto Texan tweak that is representative of said label. The male guitarist and female bassist traded off vocals like a really pissed off Babe the Blue Ox, while the breakwrist rhythm anchored buzzsaw wah pedal damage. Starfish were fun to watch as the guitar player was trying his damnedest to stay upright with people in the front row giving him all kinds of helping hands.
---
First published in Drop-D Magazine on October 20, 1996
Index | Search | E-mail | Info | Copyright

Considering copying some of the images from this story?
Please read this first. Thanks.