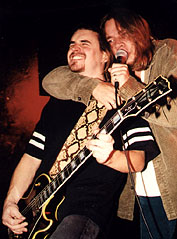 Isn't This B.C. Place?
Ressurection Mary
with Noah and Planet Hopper
The Starfish Room
Vancouver, B.C.
Saturday, October 12, 1996

Review by Daniel Ewacha
Photography by Suzanne Goodwin
---

Three distinctly different bands showed up at the Starfish Room recently to offer those present a dose of Vancouver's diverse music scene. Some people were left with a sweet after-taste, while others were left with a bitter one, but one thing could be said for all: everyone left with a bellyful of music, enough to satisfy the hungriest music connoisseur. Responsible for this feast of musical escapades were Ressurection Mary, Noah, and Planet Hopper.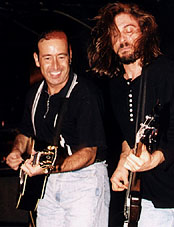 Planet Hopper opened the evening with a very groove-oriented vibe. With their diverse and eclectic mix of Bad Religion, R.E.M., and prozac-induced Joy Division, Planet Hopper were full of exuberant energy and played a very entertaining set. Diversity is this band's middle name as the lead vocalist (who had a striking resemblance to both Kurt Cobain and the singer from DDT) and the guitarist and bass player swapped instruments regularly. There was, however, one negative point to be made of this band. Their last song, entitled "Part-Time Whore," featured a blow-up doll being tossed around the stage, which was immature, and, to be honest, a bit disturbing. Judging by the reaction from about half the audience,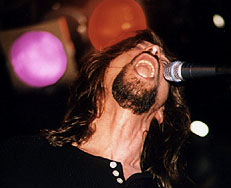 I wasn't alone in my feeling of distaste. This moronic act prevented Planet Hopper from completing a great set, but they did manage to turn in a really good performance up to that point.
Noah took the stage in the coveted second slot. Now, I've noticed that when there's three bands or more on a bill, it's usually the second band that plays to the most people, and in this case it was no different. Noah is actually one person, a singer/songwriter from Australia, surrounded on stage by other musicians to form his band. A word of advice for Noah: ditch the band! Noah is a superb singer/songwriter whose acoustic guitar filled the audience's heads with catchy melodies and interesting lyrics. Although a couple of his songs were a bit laughable in the sense that the lyrics were a little bit odd, they weren't nearly as laughable as his back-up band, whose stage antics and facial expressions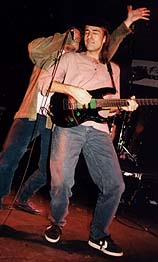 made you think they were playing to a sold-out show at B.C. Place. No matter. It was Noah who was in the spotlight and he rose to the occasion. Everyone I talked to agreed, though, that Noah's brand of acoustic rock would be better with just Noah and his guitar. Hopefully, we'll see that event soon.
Ressurection Mary were the headliners this evening and really needed to produce something great to top Noah. Unfortunately, they didn't, but it wasn't for lack of trying. Ressurection Mary at the best of times are a tight-sounding group that play good, memorable songs, and they approached that tonight. They certainly put on a far better show than the one I witnessed two weeks before, at which an apparent attack of nerves wiped them out.
The band's music is very groove-oriented, with lots of drums and bass. However, I found the melodies to be quite stagnant, even boring at times. While the considerable energy and effort put forth by this quintet in their performance is noted and commended, perhaps more energy should be put towards making the songs more memorable and distinctive.
---
First published in Drop-D Magazine on October 31, 1996
Index | Search | E-mail | Info | Copyright

Considering copying some of the images from this story?
Please read this first. Thanks.