Iz Funk Aroma Thera 'PU' Tik?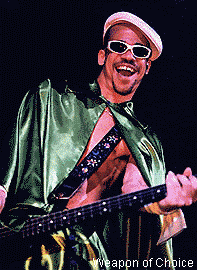 Red Hot Chili Peppers
with Weapon of Choice and Toadies
at The Pacific Coliseum
Vancouver, B.C.
April 13, 1996

Review by Suzanne Goodwin
Photography by Rodney Gitzel
---

Given all the recent hype surrounding the Red Hot Chili Peppers, I went to this concert thinking it would probably be some sort of major "rawk" event. They currently have an incredible presence in the media, so I was curious as to just what sort of a show they would put on. I wasn't sure their funk/rock/backstreet style would translate well to a huge stadium-style stage, as the Chilis impressed me as the type of band that wasn't into the huge mega-rock-star thing. Wandering into the Pacific Coliseum I was also struck by how little the nature of these big concert "events"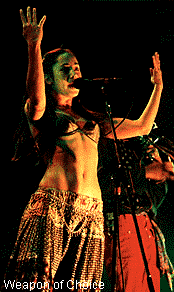 has changed since I first saw Queen in 1977. Oh, sure, there are technical advances, but the similarities were there: a broader in age range of fans than what you usually see at most clubs; a noticeable use of, shall we say, "recreational substances," often -- to my eyes -- more blatantly noticeable among the older fans, as opposed to the "kids"; and, of course, the commonly monster-sized stage, which often looks like a movie set. And so all this was part of the Chili Peppers "event." With the air thick with anticipation from an as yet far from full house, I settled in for the show.

The opening band, Weapon of Choice, were a good, er, choice, since their brand of guitar laden funk set the tone nicely for the Chilis' rockier funk style. As I watched Weapon of Choice perform, the words "dayglo" and "moon" kept creeping into my head. The Princish troupe -- which was quite large, actually, with a horn man, backup singers, keys, and the requisite barely-clad attractive female doing some serious fanny wiggling and little else -- donned lime-green satin suits and clown pants among other distinctive threads. Unfortunately, true to most coliseum-style venues, the acoustics were abominable, from which Weapon of Choice's heavily layered sound certainly didn't benefit, making their lyrics virtually unintelligible. This however, was not a detriment to their energy or enthusiasm in putting on a show. This family of funkers spared no encouragement in imploring the audience to dance dance dance, and, in true funk fashion, the band let the crowd know that they really had it "goin'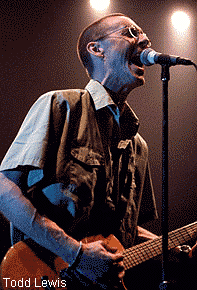 on" and that the crowd was a part of the band too. Pretty cosmic. I'd definitely like to see this band again, in a smaller venue, where their rapport with the audience could be better used, and where their sound, hopefully, could be better appreciated.
Toadies, who were the second band up, hail from Texas. They're not exactly a household name in Canada, and they didn't waste any time making a rather obnoxiously loud introduction to our eardrums. I can only describe this band as being pure radio pop, with heavy edgy guitars and a big bass foundation. Unfortunately, though, their songs droned on and on, being not particularly distinctive. I mean, Toadies were good in the sense that they get everyone up and moving, but I found nothing in this performance that made them especially unique. They offered up straight ahead rock guitar, with some pleasant enough melodic vocals from frontman Todd Lewis that somehow always metamorphosed into a cacophony of screaming and wailing. While Todd was good enough at the wailing, it just seemed too gratuitous or put on for the sake of the BIG rock show.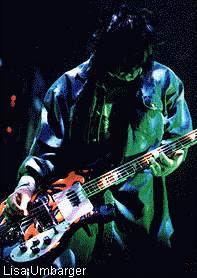 The band's redeeming feature was bass player Lisa Umbarger's "Angus Young on speed" performance. Her spunk and incredibly tireless energy onstage most certainly kept the atmosphere revved up. As the second band up, Toadies appealed perhaps to those Chilis fans who enjoy the rockier, radio side of the Chilis' music, so, from that perspective, Toadies were not an altogether bad fit. In the long run, however, I don't expect to see them around for long unless they can carve out their own niche in the vast sea that is popular music.
When the Chilis finally walked onstage, I was immediately struck by how physically fit these guys look. While shirtlessness has become a Chilis trademark, it fit their style visually, too -- unassuming yet very engaging. The band threw themselves at once into "Give It Away" and then "Suck My Kiss," squandering no time fervently setting the tone of their performance.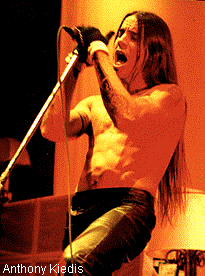 They bantered very little with the crowd -- which were by this time an ocean of pogoers and surfers -- yet, the Chilis still performed their tunes with an honest and unaffected air. They didn't distance themselves from the audience like some sort of rock gods as bands of their stature so often do. We were especially reminded, that yes, "rock stars" are people too, when bass player Flea was actually sick ("Hey! I just puked my guts out!") behind his amps. Nonplussed, he quickly collected himself and just kept on thumping out the rhythm, none the worse -- on the outside anyway -- for his illness.
The Chili Peppers stuck to primarily newer material for the majority of this show, hitting apparent mass appeal with a melodic rendering of "My Friends" (during which there was a rather resplendent lighter display from the audience), then reaching back to their high energy cover of Stevie Wonder's "Higher Ground" from Mother's Milk. A little quiet time ensued with a solo by Flea and his anti-homophobic song "Pea," followed by monster hit "Under the Bridge."
Anthony Kiedis was indeed a captivating singer throughout the show. His vocals were full, tireless, and strangely much more clear and understandable than those of the first two bands. His vocal stage presence was physically punctuated by his agility in flailing himself about his mikestand, all the while tossing his waist-length mane to and 'fro. Even if Anthony couldn't sing, his appealing good looks and demeanour could probably still reel 'em in.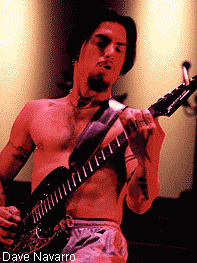 Newest Chilis member, guitarist Dave Navarro (formerly of Jane's Addiction), while not as animated as Flea or the long-haired Kiedis, still kept many a fan happy. I spied him often playing at the stage's edge and he made a point of shaking hands with the crowd. The Chili Peppers' amiable attitude was not lost on a couple of particularly young concert-goers who were sitting at the side of the stage. Looking no older than maybe 7 and 10 years, they actually got to "sing" (quite loudly, too) with the backup singers for several songs, including "Aeroplane," from the band's latest release One Hot Minute. This brought home to me the wide appeal that this band has accumulated in their over ten years together.
And so I and several thousand others left the show extraordinarily happy campers. All around me I heard comments, from young and old, proclaiming what a great show it had been. As the Red Hot Chili Peppers migrate towards rock-icondom, they are apparently getting there with feet planted firmly on the ground, not forgetting to take their talent, and their fans, with them.
---
First published in Drop-D Magazine on April 18, 1996
Index | Search | E-mail | Info | Copyright

Considering copying some of the images from this story?
Please read this first. Thanks.