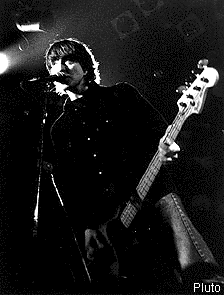 Pluto and Cracker(s), Anyone?
Cracker
with Pluto
The Commodore Ballroom
Vancouver, B.C.
April 5, 1996

Review by Daniel Ewacha
Photography by Paul Clarke
---

Okay, I'll admit it. The only thing I knew about Cracker was that song about being stoned and that the lead singer, David Lowery, had hair like Michael Hutchence of INXS. I know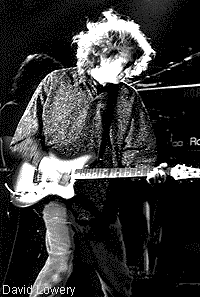 this because when the song came out, that's all I listened to for weeks on end and I have always wanted hair like Michael. And someday I will. But on a recent Friday, I walked into virgin territory at the Commodore, a fine place to see and hear a show indeed, and I walked out pleasantly surprised. It was the first real rock concert I had witnessed in quite a long time and it was good to know that they still exist.

The first thing I noticed when Cracker walked on stage was lead guitarist John Hickman's red-on-red stage wardrobe and Bob Rupe's big black cowboy hat, which made me feel like I had been transported back to the late 70s. The band members also looked older than I had expected.

Touring in support of their new album, The Golden Age, Cracker enlightened the crowd with their mix of country twang and melodic guitar hooks which were driven most viciously by Johnny Hott and complimented the soothing keyboard sounds of Kenny Margolis, who added a special twist to the music by breaking out the accordion from time to time.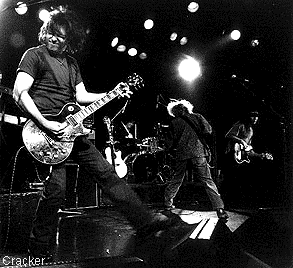 Cracker are alternative in the truest sense of the word, with a wide range of influences, and this is always welcome. The only thing that prevented this from being a perfect show was the fact that a lot of their songs seemed to have no end. I'm sure that to some this may hardly be considered a "bad thing," but, personally, rather than hearing a band dwell on the same song for seven or eight minutes, I'd rather hear what they have to offer next. In the end, though, I, as well as everyone else in the Commodore, was more than satisfied, and that's what is really important in the end, isn't it?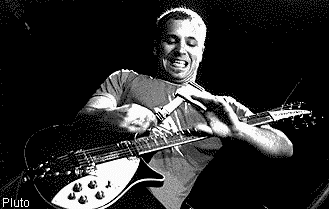 Hailing from right here in Vancouver, Pluto lived up to their job description as a "warm-up" band. Offering neither a stellar nor disappointing performance, Pluto played the usual guitar noise rock we have already heard before, leaving the audience to decide for themselves whether it was something they would like to listen to in anticipation of Cracker. Most did.
---
First published in Drop-D Magazine on April 18, 1996
Index | Search | E-mail | Info | Copyright

Considering copying some of the images from this story?
Please read this first. Thanks.