Sweat-Soaked Goops and Chocolate-Filled Goofs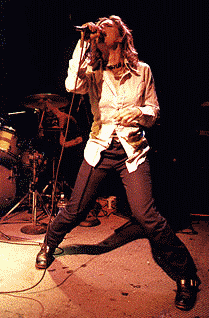 The Goops
with The Joykiller
ALL AGES SHOW
The Town Pump
Vancouver, B.C.
Sunday, April 7, 1996

Review by P. Freako
Photography by Suzanne Goodwin
---

Unfortunately there was only one band on the bill for this all ages mid-afternoon bash. Why? The same old tired story. The Bob Dole wannabees we call border guards decided that they didn't like the looks of The Joykiller and would not let them north of the 49th parallel. Doh! So now I'm left with telling you about the sole act that was able to venture north on this Easter Sunday, the Goops.

The Goops rolled into the Pump supporting their new release, Lucky. They were ready to go, ready to kick the Easter Bunny's ass and ready to take on this all ages-show with tempest-like angst. But not so lucky for them, there was a mere spittance of a crowd. Nope, it wasn't a large gathering, though 30 kids can easily cause quite a frenzy, when they want to. Frontwoman Eleanor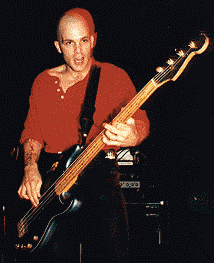 Whitledge bounded out on stage and announced that there wasn't going to be one single note played until she saw some bodies up front by the stage. Motionless silence swept over the room. Nothin'! Fortunately, good punk band that they are, they just dove into their set anyway with Eleanor visibly driven by anger. The cause of the anger? Most of the kids were just sitting on their lazy asses far from the stage. They must have been at the show to avoid kissing Grandma after Easter dinner. That's too bad, because The Goops are a great band to see live.
The band rattled off a trio of rapid tuneage to kick off the show. They carried that trait of playing song after song throughout the entire show. To hell with the idle chit-chat between tunes, they just poured out the songs. Their sweaty, spirited, straight-ahead New York punk rock should have been enough to draw the crowd into a hyped mood, but this was an extremely unappreciative bunch who were displaying the symptoms of being Cadbury Easter Cream Egg junkies. Eleanor's electric stage presence and body flailings combined with the power guitars chords of Brad Worrell and the chunky bass of Steven Mazur was more than enough energy-laden bait to hook the crowd in, but, no, it wasn't going to happen on this day. New crankified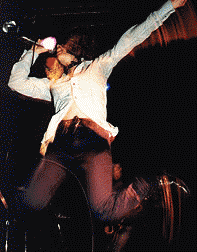 tunes such as "Change Your Mind," "Yeah, I Know," and "Where the Wild Things Roam" stood out for me, as did the blast from the past, "Booze Cabana," a song about an abusive alcoholic parental situation.
That last song carries the line "...there's nothin' shaking in this town..." Guess what Vancouver? They played it loud and furious, and Eleanor had to be thinking to herself, "@!#&*!" as she howled the line.

This is a fun band to watch with Eleanor doin' her thing on stage, Brad running around with his guitar realizing he had a backup vocal to sing a second too late and Steven bobbin' his bald head while laying into those bass strings. The Goops cut their set short and, just like it had started, the show finished in a hurry and they were out of there. Next stop Salt Lake City for the Goops. Say hi to the border guards for me...with a left hook!!
---
First published in Drop-D Magazine on April 18, 1996
Index | Search | E-mail | Info | Copyright

Considering copying some of the images from this story?
Please read this first. Thanks.