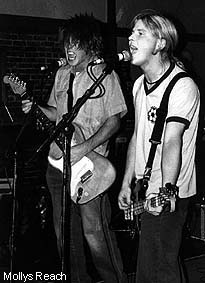 Two for Three
The 3 for 5 Tour
with 1000 Mona Lisas, Smoother and Mollys Reach
Club Paradise
New Westminster, B.C.
Saturday, October 19, 1996

Review by Rodney Gitzel
Photography by Paul Clarke
---

[ed. The photographs were taken at the show the night before, when the Tour stopped at the Pic Pub in Vancouver.]

It's an admirable idea: take three bands across Canada and play as many shows as possible, charging only five bucks a head to get in. While you're at it, take a musical and geographical cross-section of bands: east coast-ish pop from Edmonton's Mollys Reach, muddier stuff from Hamilton's Smoother and, covering the aggressive side of things, 1000 Mona Lisas, from Los Angeles. Not sure why you don't see this kind of thing more often.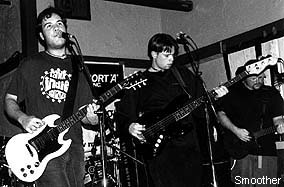 Anyway, there were only about thirty people in the club when Mollys Reach went on stage. Not great, but, hey, it's only the start of the tour -- and Mollys Reach seemed to do a good job of making those thirty people enjoy themselves. Yes, they are definitely mining the same eighth-note downstroke pop vein as typified by bands like -- until recently -- Sloan, but you gotta put your mine in somewhere. They do a good job of it, besides, and they didn't seem to be suffering for the recent departure of their bass player, either, with their vocalist taking over bass duties quite capably. Not a band with huge stage presence -- each player thrashes about in his own little piece of stage -- but that's ok if the music is good. I just wish they would speed "Poppysong" up a bit, though: as they did on their CD, hi-fi and stereo, they imbued it with just a touch too much lethargy. Oh well.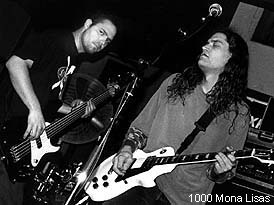 Smoother, apparently the best band of the night before, didn't do as hot, this night. They are definitely a heavier band, and the clear pop vocals of Mollys Reach gave way to the rather gravelly vocals of Smoother. They had little stage presence, the second guitar was all but utterly inaudible and they just didn't have a spark to them, at least initially. They DID do a cover of that "We're the kids of America, oo-woo-hoo!" song, and they finally began to pick up steam, no doubt due to someone in the crowd continually yelling "faster!" Too late, though.
Turn the vocals up another notch, here come the 1000 Mona Lisas! Not that that's a bad thing -- in this case it was quite good. The set started with some raspy spoken word over drawnout, moody feedback before tearing into some aggressive and noisy hard rock. The band's vocalist is one of those intense guys whose conviction you do not doubt for an instant. He might be singing/speaking/yelling that the Arch Deluxe really is the greatest hamburger in the world, and you'd be fervently rushing out to the nearest golden arches in no time. Sadly, the only people in the crowd by this point were the other bands. No matter, the Mona Lisas kept pounding out the tunes like the room was full. Worth checking out the next time they roll into town.
---
First published in Drop-D Magazine on November 15, 1996
Index | Search | E-mail | Info | Copyright

Considering copying some of the images from this story?
Please read this first. Thanks.