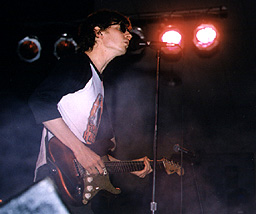 Happy Birthday, CBC!
Doughboys
with the Super Friendz
PNE Garden Auditorium
Vancouver, B.C.
Saturday, November 2, 1996

Review by Darren Kerr
Photography by Rodney Gitzel
---

It was all part of CBC's big gala event, a 60th anniversary weekend of live broadcasts from all of Mothercorp's radio shows. Vancouver's own Saturday night RealTime radio programme's contribution was this free all-ages concert, broadcast live across the country, complete with live on-air commentary and interviews by host Leora Kornfeld.

Kudos to the RealTime crew for making this show seem like more of a happening than it really was: a large venue, balloons, noisemakers, pomp and pageantry -- and a really great sound system. The old arena they chose for the venue had stellar acoustics, comfortable seats and a a hockey game's worth of floor space, yet it hadn't housed a rock concert since the Plasmatics in the 80's. Why isn't it being used in live music capacity more often?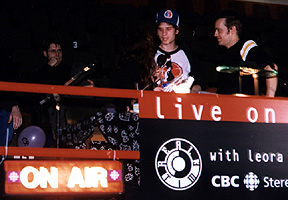 The audience was mostly young teenaged kids decked out in all forms of indie rock finery: Cows t-shirts, shirts with every product logo parody under the sun, shirts with catchphrases galore. In addition, I have two words for you: "bare midriff." And all these kids had one thing in common: they looked happy! Obviously all-ages shows aren't as prolific as they could be.
The first band to grace the sizable stage was the Super Friendz, all the way from the Maritimes and fresh off a plane from Toronto. A four-piece in which everybody but the drummer sings, and sings well, they came off like a guitar-heavy Raspberries or Herman's Hermits. They had that 70's pop sound that transports you back to the time of concert television like Don Kirschner's Rock Concert or The Midnight Special.
The whole band was tight, but their strong suit was their immaculate vocal harmonies, especially on "Rescue Us from Boredom," which had spot-on ooh-ooh harmonies behind the angelic front vocals. Lead guitar Matt Murphy had a guitar tone similar to that of Television's Tom Verlaine, and had a wicked break in "Blue Tattoo" where he played some tasty Chuck Berry-ish stuff. Another song saw the band jump on board the feedback train for some cool stomp and skree, and they ended with a good old-fashioned instrumental rave-up, Dick Dale-style.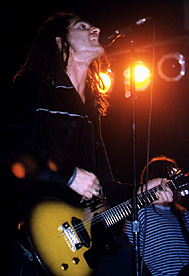 The Doughboys were up next and, honestly, their set of pedestrian power pop was as flavourful as a white bread sandwich. I'm sure that they were raw and cutting edge at some point of their lengthy existence. About five years ago I heard the Doughboys cover a song called "Private Idaho;" I don't know who wrote it, but the rendition was full of piss and vinegar. The Doughboys in '96, however, sound like a faster, unneutered Rembrandts. Even with all the helicopter hair shaking and synchronized pogo bouncing, I could still picture them playing the Friends theme.
They are a very tight band with picture-perfect vocal harmonies, beyond competent lead guitar wails and a rhythm section that is totally in sync. But what good is all that if you telegraph every punch? Of course they played their big hit, "Shine," and the majority of the audience lapped up every note. Don't you hate it when a band develops a formula? Same ingredients, same bland taste...
I'm surprised that RealTime took the easy route, choosing a safe commodity to headline the show, rather than celebrating the eclecticness that makes CBC's night time programming a welcome santuary from the bloated repetition of classic hit radio. Surely the Doughboys were not the most relevant Canadian band they could find for the show -- and how come both bands had to be flown in from out east? No one around here good enough?
---
First published in Drop-D Magazine on November 15, 1996
Index | Search | E-mail | Info | Copyright

Considering copying some of the images from this story?
Please read this first. Thanks.