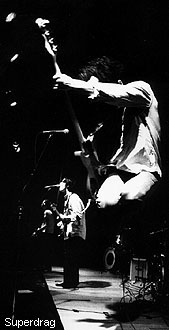 Weezer Goes Greek
Weezer
with Superdrag
Hellenic Community Centre
All Ages Show
Vancouver, B.C.
Thursday, November 7, 1996

Review by Paul Watkin
Photography by Paul Clarke
---

So who knew that an all-ages show at a Greek Orthodox centre would be so cool? Homer (not Simpson), step aside. The Iliad -- The Musical is about to begin.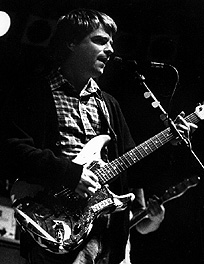 Meandering on stage and shaking each others' hands before settling into their positions on stage under the sounds of jazzy music emanating from the house system, Weezer confirmed two things: (1) they have a sense of humour and (2) they were going to entertain us. They kicked off the show with the bass heavy, "Tired of Sex." Right off, the attention focused on bassist Matt Sharp, and, for me, it never shifted away for very long. He constantly bounced about the stage with a focused energy that fed the crowd.
Full from digesting the energy from the stage, those in attendance let out one big collective belch and returned that energy with a surfing and moshing frenzy in full, tidal wave force. The crowd was definitely up for every song. With a band like Weezer, where every song could be a single, there is no secondary material, and thus no break for the crowd... and they revelled in it.
Mixing up the set with songs from the band's two CDs, Weezer and Pinkerton, the band had us surfing to such favourites as "My Name is Jonas," "El Scorcho," "Say It Ain't So" and "Getchoo." Before the show, drummer Patrick Wilson told me that, right now, Weezer is a "testosterone driven ride into emotionland," every song reverberating with heavily amplified guitar chords that fill the air, and tonight was no exception. Thankfully, however, there was a great deal of estrogen in attendance, showing all that a love for rock 'n' roll guitar is indeed androgynous.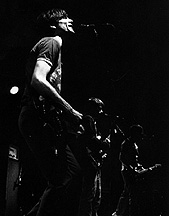 Though Weezer looked a little road weary at times, it never really affected their performance. They all played well together and the guitars of Brian Bell and frontman Rivers Cuomo fuelled the teen spirit in attendance. Rivers, decked out in his button up sweater, sang of lesbians, sex, relationships and twelve-sided di, drawing glances from the ancient Greek philosophers such as Plato and Socrates. Weezer rocked and took a room full of kids and converted them into the guitar pop faithful, but not without a little help from their friends though.
Now all of this surfing mayhem just didn't start the second Weezer began to play. This wave actually started to build the moment Superdrag took the stage and with an impressive energy started to lay into their Brit-Pop guitar riffs. Where the Superfriendz are note heavy, Superdrag is chord heavy. Like Matt Sharp, bassist Tom Pappas was a fireball bounding about the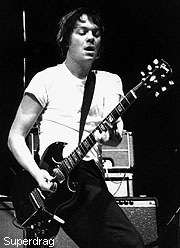 stage providing a nice balance to singer John Davis, who would slowly approach the mic, close his eyes and passionately emote his songs out into the room. The set peaked when they played their hit "Sucked Out," and the crowd sang along on the chorus, "Who sucked out the feeling?!?" No life was sucked out from the rest of the set though, and they drilled that point home as they ended with an inspired performance of "Rocket." Cool band.
After all was sang and done, I thought that a Greek Hall was the perfect place to have this show, I mean... have you ever partied with a Greek? Those people know how to have fun and that attitude definitely rubbed off on the crowd and everybody had a raucous time, which thankfully resulted in a Weezer encore complete with "Buddy Holly" and the guitar mayhem that is "Surf Wax America." As we exited the building sweaty and satisfied to a jazzy rendition of "Buddy Holly" playing over the house system, I couldn't help but think that Zorba would be sporting a Weezer shirt if he were here.
An excellent show from both bands.
---
First published in Drop-D Magazine on November 23, 1996
Index | Search | E-mail | Info | Copyright

Considering copying some of the images from this story?
Please read this first. Thanks.