Garden of Sound Lies Fallow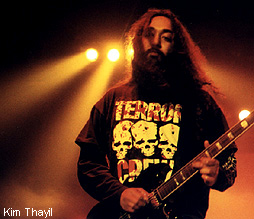 Soundgarden
with Rocket from the Crypt and Pond
PNE Forum
Vancouver, B.C.
Saturday, December 7, 1996

Review by Kevin Templeton
Photography by Rodney Gitzel
---

'Twas with bemused detachment that I headed to the old Forum building to check out hard rockin' grunge quartet Soundgarden, currently touring in support of their latest long player, the better-than-Superunknown-but-still-not-as-strong-as-the-older-stuff Down on the Upside. After all, the Seattle group had stunk up this same old barn back in '94 with piss-poor sound and grumpy, lackluster performances, and, by all reports, the band's ill-fated Town Pump "surprise" beer company promo gig this past June was lacking in many areas as well (free beer not being one of them).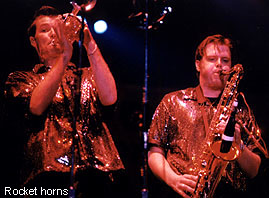 What has left many music fans scratching their collective heads is this: whatever happened to the formative and iconoclastic Soundgarden that progressed heavy metal and alternative music forms from said genres' dire limitations with mammoth, sexual rhythms and moody, Zep-Sab-punk dynamics? Where exactly is the irony now? And what about the killer shows that Soundgarden used to play, like the band's homecoming show at the Moore Theatre in Seattle, which a friend and I caught in February of 1990, or the near-religious Lollapalooza '92 upheaval at Thunderbird Stadium (during which vocalist Chris Cornell proclaimed Vancouver to be the band's second home)? Sure, grunge is dead, but doesn't passion sell any more?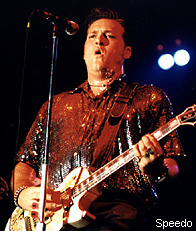 Apparently not, 'cuz passion opened this evening's festivities with glowing performances from both Pond and Rocket from the Crypt. Stepping onstage at around 7:30, Pond (from Portland, I believe) warmed up the sparse and stingy crowd with neat, floaty and occasionally heavy working class pop tunes that the trio seemed genuinely happy to play. The singer/bassist was especially on top of things with his pronounced on-the-neck strumming and grounded demeanour, while the guitarist had higher, technical aspirations. Pond play catchy, yet atypical music; they also have a new CD coming out in the new year on Sub Pop, so check it out at a listening booth near you.
San Diego's Rocket from the Crypt are certainly no strangers to our fine city, as the six-piece (not including the two dancers to the side of the stage) has entertained audiences here numerous times over the past few years. The party began as Rocket, decked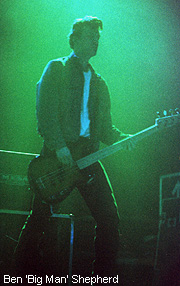 out in matching silver-sequined outfits, tore to the stage with reckless punk 'n roll abandon, led by singer/guitarist Speedo, who actually managed to get a large number of the audience involved by inspiring a "do what I do" clapping session (rockers dig raising their hands, y' know).
Campy image aside, what's really cool about experiencing Rocket from the Crypt's spicy rock adventure is the amount of collective energy produced on the stage. Tracks like "Come See, Come Saw" and "On a Rope" (from the group's fifth and latest record, Scream, Dracula, Scream!) really come alive onstage, almost like the songs are playing the band. The crowd's short attention span put a bit of a damper on things towards the end of their set, however, but Rocket from the Crypt held their own and riffed into oblivion. Very eloquent.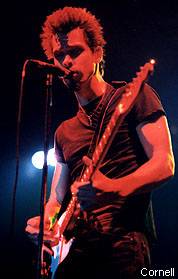 First things first with Soundgarden. If you haven't already heard, bassist Ben Shepherd was a little disenchanted with his band's sold-out crowd and, being the man that he is, took every opportunity to berate the audience. Around the time Soundgarden first began playing, it appeared to me as though badass Ben had a problem with the security people at the front of the stage; I found out later that he had been kicking and spitting at fans and photographers! Shepherd's rock star snit continued throughout the evening, mainly in the form of fingering and spitting at the audience (how brave!). Man, if you don't like or have mutual respect for your audience, then simply get the fuck off the stage and brood somewhere else.
As if onstage tantrums weren't enough of a downer, Soundgarden began their show with Superunknown's "Spoonman" -- how anyone can stomach a song this banal is beyond me. Chris Cornell's tired stage presence still seems entrenched in the mature singer/songwriter mold, a style that in my opinion doesn't do the man, or the band, justice. His singular "Black Hole Sun" performance was ruined for a number of reasons -- his inability to hit the song's high notes being a prominent one. I was standing out in the crowd with everybody else and was almost embarrassed for the guy. As it turns out, the band had to cancel subsequent tour dates in Seattle due to Cornell's throat ailment, believed to be laryngitis. Still...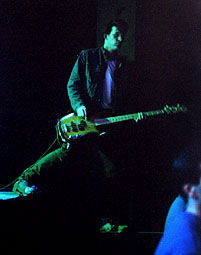 Undeniably, "Hands All Over" and "Outshined" still sounded immensely huge, even with the Forum's muddy acoustics to contend with -- guitarist Kim Thayil and drummer Matt Cameron saw to that. But I can't help but think that perhaps Soundgarden have played one too many shows with bands like Metallica, who've taken a similarly complacent and career-oriented musical path of late. During "Ty Cobb," when Cornell finally got a chance to put down his six-string, he appeared almost uncomfortable and reluctant, a mere shadow of his former charismatic self -- not unlike his band.

[Rodney's Footnote: It's true, I got kicked out of the security buffer by Soundgarden bassist Matt Shepherd! This after he tried to kick me in the head (and in the camera) and after he tried to hit BCIT Link photographer Andrew Dennison with his mic-stand. Our crimes? Taking his photo. He was also spitting on people and attempted to start a fight with someone in the crowd (that's what he's doing in the photo just up to the left). Meanwhile, the rest of the band ignored him and the fact that he wasn't doing much playing. It's too bad he didn't connect with my head, I would have had him arrested for assault. Ironically, I only took three photos of him, two of which are run, here. Thing is, he could avoid all this by adding one line to the photo waiver: "DO NOT PHOTOGRAPH THE ASSHOLE PRETENDING TO PLAY THE BASS!" Now that he's made a fuss, he's having lots of pictures run of him, and the Georgia Straight even ended up running a story about the incident! And I got quoted! Woohoo, I'm famous...]
---
First published in Drop-D Magazine on December 14, 1996
Index | Search | E-mail | Info | Copyright

Considering copying some of the images from this story?
Please read this first. Thanks.