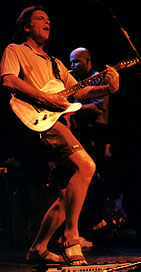 Better Off (with the) Dead
Ratdog
with the Grames Brothers
Vogue Theatre
Vancouver, B.C.
Saturday, December 7, 1996

Review by Peter Grainger
Ratdog photography by Suzanne Goodwin
---

"Have these guys ever rehearsed?" asked a cleancut kid in a lovingly faded Dead T-shirt. "They're thinking about it," answered his scruffier sidekick, defensively. Ratdog's ragged performance promoted these kind of musings, as it was very much a "what-a-long-strange-trip-it's-been" kind of thing. Not that most of the Deadheads who dominated the sold-out show cared. It was loose and raw, tight and tense, often within the same song. It kept you wondering whether Ratdog was just bird-dogging us, or would they ever turn and bite?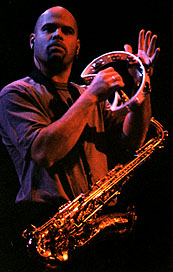 Unfortunately, Ratdog -- this mutating musical mongrel -- will always be compared to its pedigreed parent, the Grateful Dead. And it's hard to know from witnessing this show just what guitarist Bob Weir really wants from this, his first band since the Dead passed away last year. Slick R & B showband or folky troubadours? Rock and roll revivalists or jazzmen? The Dead understood the need to digest their many influences and spew them back into something palatable and fresh. There were a few times in this show where Ratdog tried "hitting the note," searching for that exalted space the best jamming bands reach for... but they never got even close.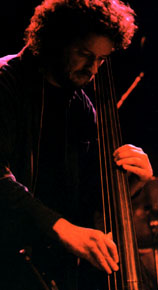 Instead, we got a tired, under-rehearsed band whose improvisational qualities were virtually non-existent. Weir is not a gifted musician like Jerry Garcia was, and not nearly as adept a player as his new bandmates are. You get the impression listening to Weir muddle his way through much of this set that this is either really hard work for him or he's lazy. Remember that Weir is the guitarist Garcia considered sacking several times in the late 60's for his less than clairvoyant jamming abilities and flat singing (Garcia must have forgiven Weir once he improved his chops, and once Garcia's own voice began to fray).
To his credit, Weir tried to get some jams to happen, but the only one listening was bassist Rob Wasserman. Pianist Johnny Johnson shuffled on and off the stage at various points during the show, seeming genuinely lost in the proceedings on several occasions, checking his set-list, and never quite finding his way into the improv sections. You could almost hear him muttering, "It was never like this when I played with Chuck Berry." Matthew Kelly, on the other hand, really listened and adapted his playing of blues harp, guitar and percussion to whatever was going down.
Weir's lead guitar lines were sloppy for most of the show. It reinforced the impression that he is the lesser talent in Ratdog. What Weir misses in technique he often makes up for in emotion, but when he constantly slips on his bottleneck licks and screeches in that annoyingly flat, nasally falsetto, it makes any efforts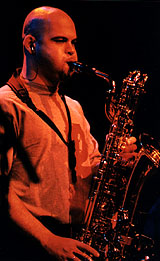 on his part seem almost laughable. It's a shame Weir shined only during the acoustic set highlight, "When I Paint My Masterpiece," the set closer, "Throwin' Stones," and the encore, "Another Saturday Night" -- both old Dead favourites.
The choice of material was pretty strange, as well. Weir has written some great songs of his own, but this concert relied heavily on covers. After a string of bar band prerequisites like Robert Johnson's "Walkin' Blues," Al Green's "Take Me to the River," "Young Blood" and "Fever," it wouldn't have been too surprising to hear Ratdog play "Tequila," "Mack the Knife" or "Wang-Dang-Doodle." We got "Little Red Roosters," "Big Boss Man" and "Kansas City" instead.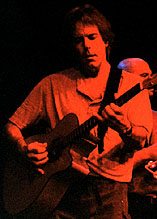 That's why Wasserman's obligatory bass solo was so well-received. It was a welcome contrast to the string of R & B classics that had come before. Wasserman used some spacey electronic effects on his electric string bass, playing snippets from "Amazing Grace," the seasonal "God Rest Ye Merry Gentlemen" and "White Christmas," as well as the Dead's own "The Eleven" and "Satisfaction," much to the delight of the crowd, which was now crammed stagefront. But then very soon it was all over, again leaving many wondering why Ratdog tries to cram so many musical styles into a show without the musical mind-reading abilities that made the Dead pull it off more often than not. Ratdog should improve fast or rethink their name -- Dog's Breakfast is more like it.
Local up and comers Grames Brothers opened the show. This four-piece guitar band confidently glides the stylistic space between Jimi Hendrix and Lenny Kravitz. Not band for a bunch of white boys from Vancouver! Their set of original 60's inspired blues rock was nicely paced between funky shuffles, hard rocking jams, and even a dreamy slow blues. "Open Skies" and "Driving South" both earned hearty applause from an audience that really only wanted to hear Weir & Co.
---
First published in Drop-D Magazine on December 20, 1996
Index | Search | E-mail | Info | Copyright

Considering copying some of the images from this story?
Please read this first. Thanks.