19-Year Old Son for Sale. Cheap!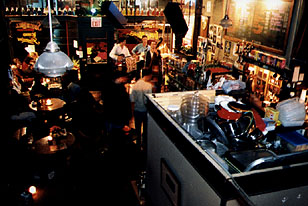 Ronnie Hayward Trio
The SouthHill Candy Shop
Vancouver, B.C.
Saturday, December 7, 1996

Review by Gary 'pigboy' Swartz
Photography by Suzanne Goodwin
---

It was a sort of catch all evening: check out a venue, do a review and sneak in some long overdue family service. You see, while other dads were teaching their sons the skills of hockey and baseball (boring), I was patiently, most patiently, waiting (and practicing diligently) until my eldest grew old enough for cold beer, live music and smoke-filled clubs. If two out of three ain't bad, after 19 years (plus the few months he spent exploring dance and strip clubs with his misguided pals), have a cigar, I'm a father!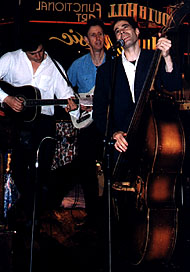 I say two out of three because the SouthHill isn't smoke-filled (we know better than that nowadays, don't we?) and it isn't exactly a club. Café or bistro might be a more appropriate description. But cozy, comfortable and relaxing. (You go to the counter to order -- no wait-person interrupting conversations and pressing you to consume vast quantities. Great for bonding with friends, lovers or, I might add, family.) The beer is good, and affordable, and there's not even a cover. The music is definitely live. And, to my mind, alternative in the truest sense of the word. Folk. Jazz. Bluegrass. Rockabilly.
Which is why I officially was there. Acoustic bassist/vocalist Ronnie Hayward, together with electric guitarist Darwin Fisher and rhythm guitarist Pete Turland, the Ronnie Hayward Trio, are making a bit of a name for themselves around town in rockabilly circles -- and in Europe as well. It's easy to see why. Hayward looks the part. Lanky with a haircut by someone who thinks unisex is a phone company.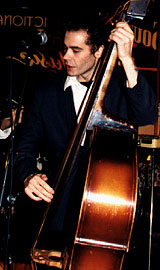 More importantly, Hayward sounds the part, offering up a good mix of covers and originals -- songs in that long lost, innocent, minimalist 50's vein. Tunes with titles like "Brand New Red High Heels" or "Wild About You Baby" and lyrics like "You can have her, I don't want her, She didn't love me anyway" or "Asked for a drink of water, She brought me gasoline." Ah, true love. All rendered in a voice with an edgy quality closely reminiscent of Hank Williams -- Senior, not Junior. Proving, if nothing more, although it is more, that, trace your musical roots back far enough -- 80's, 60's, 40's, 20's -- and we all swung out of the same musical family tree.
Except maybe junior and me. The SouthHill and other similar off-the-beaten-track live music venues are now something he and his friends, emphasis on friends, will begin to explore. Beer and similar beverages were never in dispute. Less-than-mainstream kinds of music are even up for grabs. Like maybe some folk, blues or bluegrass. But rockabilly, even good rockabilly, is just a bit too...
So much for the joys of parenting. I'm thinking of adopting. Hell, I may even start smoking again. And if I can convince the SouthHill to toss a bit of sawdust on the floor... They don't call them the good old days for nothing. Just ask Ronnie Hayward.
---
First published in Drop-D Magazine on December 20, 1996
Index | Search | E-mail | Info | Copyright

Considering copying some of the images from this story?
Please read this first. Thanks.