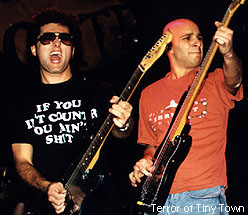 A Night to Waste
Music Waste Benefit
with Zolty Cracker, Maxi Dadd, Terror of Tiny Town, Knock Down Ginger and Spiritual Heroine
The Gate
Vancouver, B.C.
Saturday, December 14, 1996

Review by Darren Kerr
Photography by Rodney Gitzel
---

The turnout for tonight's soirée was excellent. Lots of people came out to support Music Waste, and why shouldn't they? As the David to Music West's Goliath, Music Waste grows a few feet taller every year and, pretty soon, it will be the giant who needs the slingshot. Music Waste is about camaraderie, bands helping bands -- and having a shitload of fun doing it. And, now, thanks to the two shows this weekend, it's also about having an office for bands and the festival to use.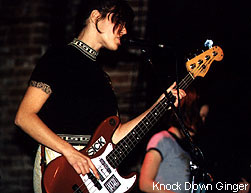 Anyway, due to spiritual demons, I managed to miss both Spiritual Heroine and Knock Down Ginger [ed. !@#$&*#!!], but I have it on good authorities that they were both great. Buy their albums.
Terror of Tiny Town was the first band that I did catch, a rollicking rock and roll band in the best bar band tradition. Now, I don't mean "bar band" as in some withered cover act playing "Mustang Sally" for the umpteenth time, but instead as lively, vital kind of rawk and roll in the spirit of Stiff Records. All five members of ToTT exude charisma. The singer reminded me of Otto from the movie Repo Man, singing forcefully in an oversized button-up. The equally bald bass player made hilarious facial expressions and the Elvis-via-Morrison guitar player jumped all over the place without missing a chord on his glitter guitar. The other guitar player grinned the entire time like the Cheshire Cat at a Hello Kitty bacchanal. I would expect that playing while grinning madly would be very hard indeed, but he pulled it off with much aplomb.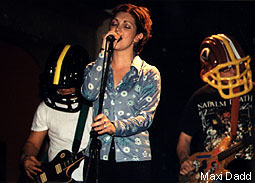 Maxi Dadd started their set behind a large video screen, and we could only focus on their cosmic musical offerings. When the screen lifted, we saw that the bass and guitar players were wearing large inflatable football helmets. That is strange, yes, but only because usually the whole band is done up weirdly. Maxi Dadd were very freakin' loud, and the guitars were massive walls of sound that at times couldn't be distinguished from each other. The lead singer looked like he had two paths in life from which to choose -- aspiring Fagin or rock vocalist. I'm glad he chose to sing.
The band's set culled material from their just-released debut CD, The Maximum Daddy. The tune "More" showcased April White's ethereal voice over an extended coda that was very "Saucerful of Secrets." "Don't Disrespect Tony Marine" had a great psycho Travis Bickle feel to it, but the screamed chorus grated me like lettuce. Maybe that was the point. The best moment of the set was Kenneth Campbell's guest vocal turn on "Punch the Girls." With a blissful expression on his face, Campbell elaborated on his studio performance with nonchalant shrieking power -- it's a fantastic song that you'll be chanting for days.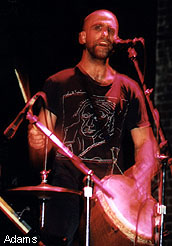 Zolty Cracker had me dancing. Actually, their tribal minimalist voudou had lots of people doing the seductive shimmy shake. With acoustic and bass guitar acting as percussion, they opened with "Heavy," which set the tone for their set. The second song was haunting, filled with eerie falsetto. "Driver" had a lurching staccato feel, while "Twinkle Twinkle Little Star" had an offbeat tempo change that was so difficult for us dancers to adjust to that even those who knew it was coming couldn't cope with it.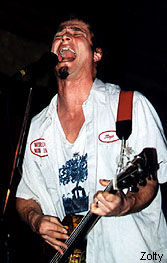 Gilles Zolty is a very charismatic frontman. Resplendent in a Mushroom Mania Inc. work shirt and pants that had five-point jester cuffs, Zolty strummed that acoustic with wild abandon and sung with the passionate intensity of someone who loves to perform. At one point in the set, he sat on the edge of the stage and crooned lounge-style, velvety smooth. Annie Wilkinson was laying down some wicked and slinky bass lines. Zolty and percussionist Wayne Adams may control the feet of the dancer, but Annie commands the pelvis. After all, isn't it the pelvic thrust that really drives you insane? They all sing well, as was evident in "Simple Pleasures," where the three-part harmony was simply beautiful. The search is over: we've found a band to take the torch from the Violent Femmes.
Support Music Waste. We need it as much as it needs us.
---
First published in Drop-D Magazine on December 26, 1996
Index | Search | E-mail | Info | Copyright

Considering copying some of the images from this story?
Please read this first. Thanks.