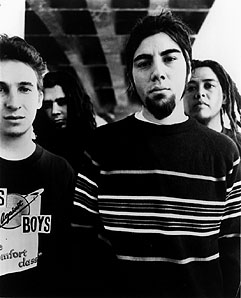 Sacto Metal Proves Def
Deftones Drummer Abe Cunningham
Interview by Kevin Templeton
Live (Warped Tour '96) photography by Rodney Gitzel
---

45-second excerpt from "Minus Blindfold" (351 Kb .au file)


One of the most compellingly heavy releases from 1995 that invaded my senses throughout much of '96 was Adrenaline, the debut record from Sacramento (or 'Sacto') California's Deftones. Chock full of phat, desperate riffs and rhythms, and coupled with Chino Moreno's soaring gospel/cat-on-fire vocals, Adrenaline is a shredding monstrosity that continues the West Coast's supreme urban-metal manifestation. And though they may share their progressive emotion and frustration with groups like Rage Against the Machine and Korn, the Deftones lack the political ranting or ragged bravado of those bands -- and are all the better for it.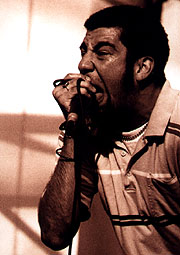 With the band in Vancouver for the fourth time in two years (that'd be for two Warped Tours and two Starfish Room dates), I had a chance to shoot the shit over a couple Heinekens with Abe Cunningham, a.k.a. Babe the Angry White Guy, purveyor of "caffeine beats." Having just witnessed a blistering soundcheck from the band and now sitting in the illustrious tour bus (with Chino air-drumming to music in the background), I was stoked and began reeling off my questions. Ears ringing, I immediately wondered if touring for the better part of two years has taken its toll on anyone's hearing. "I'm deaf," Abe responded. "I try to wear earplugs, but I'm always sneakin' them out. I wear them when we practice, but playing live -- I just can't, I can't hear [enough]. I wish."
Besides the two Warped Tours, who have the Deftones been out on the road with? "Ozzy, KISS, Anthrax, White Zombie/Pantera, Bad Brains, all kinds of bands. Arena tours, everything. With this tour, our headlining tour, we just kinda hit everywhere we could in the States. All the clubs were like a thousand, fifteen-hundred seats the whole way. Everything that we have has just been from us touring the whole time. They [Maverick, the band's label] have totally supported us; we're one of the few bands on the label that has a real [fan] base, y'know?"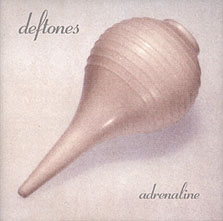 What was it like touring with KISS? I mean, did you ever get to hang with them, or what? "No, not them at all. Man, we couldn't even approach them," says Abe. "There were so many rules on that tour. It was fun, but..." The stupidest rule? "If they came walking down the hall, you couldn't make eye contact with them. If they came over to you, then you could talk to them -- but they had to approach first. I mean, c'mon man, this is ridiculous."
On a much smaller scale, I had heard from the band's manager that the Deftones have played the fabled Viper Room. Abe? "We've played there about four times, but not recently. Last year we were out with Anthrax and we did the last night of the tour with them in L.A., and afterwards we played at the Viper Room. It's one of those places... a very teeny little spot. A lot of fun, though."
Having had Adrenaline's eleven tracks (the hidden last track, entitled "Fist," was culled from one of the band's early demos) ingrained in my consciousness for the past couple years -- I still listen to the album in its entirety at least once a week -- I was anxious to pry into matters concerning the band's next release. "We're talking about going into the studio for two or three months around March. We wanna take different chances in the way we record it, experiment a little more. Terry Date [Adrenaline producer] was pretty adament about us establishing a sound for ourselves with the first record. This time [again with Date]..." He pauses for a second. "I wanna make it sound sick, all of us do. Just pushing levels, but keeping it natural."
Well, if you're like me and you just can't wait to get your next fix of new Def-tunes, check out the quartet's two recent outstanding songs, "I Can't Breathe" and "Teething," from the Escape from L.A. and The Crow 2 soundtracks, respectively. And if that's still not enough, be on the lookout for the soon-to-be-released Depeche Mode and Duran Duran (!!) tribute discs featuring fly 'n fresh renditions from the Sacto crew.
---
First published in Drop-D Magazine on January 11, 1997
Index | Search | E-mail | Info | Copyright

Considering copying some of the images from this story?
Please read this first. Thanks.