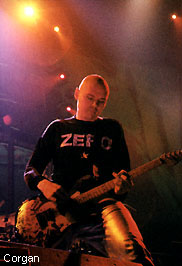 Return of the (Great) Pumpkins
Smashing Pumpkins
with Fountains of Wayne
G.M. Place
Vancouver, B.C.
Wednesday, January 8, 1997

Review by Kevin Templeton
Photography by Paul Clarke
---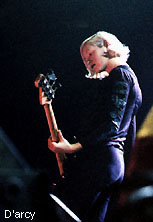 Much has changed for the Smashing Pumpkins since the group's inception in 1988. Originally considered by naysayers to be a second-rate art/grunge band riding on the coattails of their much-hyped Seattle contemporaries, the Windy City foursome have found themselves on top of the modern rock heap in 1996 with the late '95 release of the band's fourth album, the delightfully excellent double CD, Melon Collie and the Infinite Sadness, an "alternative rock" response, of sorts, to The Wall.

Still, despite the group's much-heralded breakthrough into the realm of mass acceptance, 1996 was probably a year they'd just as soon forget, having lost touring keyboardist Jonathan Melvoin to a drug overdose and subsequently firing original drummer Jimmy Chamberlain for drug-related reasons. But it's a new year, and with two replacement members in tow (joining mainstays Billy Corgan, James Iha and D'Arcy), the Pumpkins finally made their way to Vancouver to showcase their grand "Infinite Sadness" tour in place of the originally scheduled August 12th date, and showcase they did.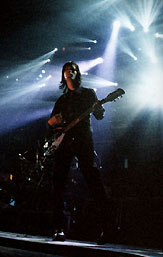 (I unfortunately missed the openers, Fountains of Wayne, whom I'm told are a very favourable new band. Personally, I would've preferred the scheduled August 12th openers, Grant Lee Buffalo, who are very cool. Oh well.)
Briskly making our way up to the higher confines of G.M. Place's press/nosebleed areas, where the air is thin and the Orca Bay staff are present in large numbers, we found a couple of seats and I began to psych myself up for this long-awaited rock concert experience. From our spot in the heavens I noticed the crowd seemed a tad rigid and perhaps a little too well-dressed. Hmmm. Oh, there go the lights...
The evening of enchantment began with the calming piano sounds of lullaby/intro "Melon Collie and the Infinite Sadness," which led appropriately into "Tonight, Tonight." These two majestic pieces were worth the price of admission alone. A spruced-up punk version of Siamese Dream's "Cherub Rock" was quick to follow, and it was unmistakably clear that Billy and Co. were, well, ready to rock. "Rhinoceros," "Where Boys Fear to Tread," and the beautiful "Porcelina of the Vast Oceans" carried the band away from the well-worn path of arena-rock formality. Although most of the band's more aggressive tunes were unnecessarily sped up, the Pumpkins never seemed to lose the emotional connection to their audience that is such a critical element to their performances.
"Thank you very much for coming to this concert," stated charmer Billy Corgan with more than a taste of pretentious honesty. Later he noted: "This is the best song I've ever written; I wrote it when I was 12. It's called '1979.'" Say what you will about Corgan, you cannot deny the man's songwriting prowess or the fact that he plays one mean guitar (love those Gilmour-esque leads!).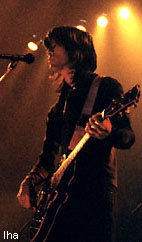 Guitarist James Iha stepped to the forefront mid-show to announce the Smashing Pumpkins' "affiliation" with the X-Files cast and crew (yeah, sure, you were childhood friends with Chris Carter... the Cancer Man, too?) before dedicating the group's next song, "X.Y.U.," to the show. Speaking of science fiction, the soundboard configuration on the arena floor looked straight outta Star Trek, complete with flashing buttons, panels, and gadgets aplenty.
The latter portion of the Pumpkins' performance featured at least two encores full of meandering (and never-ending) riff-noodling from both Corgan and Iha that drifted from monotonous, Sabbath-inspired droning to their own self-indulgent sonic wanking, reminiscent of rock royalty like Pink Floyd (or, rather, Hawkwind) and Queen.
Still, overall, the more I think about it, the more that I realize what a great show this was -- a smashing success and a guilty pleasure all in one evening. Now if only I could afford the Aeroplane Flies High box set...
---
First published in Drop-D Magazine on January 17, 1997
Index | Search | E-mail | Info | Copyright

Considering copying some of the images from this story?
Please read this first. Thanks.