A Bad Night to be an Eel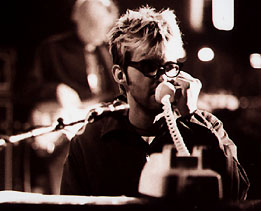 the eels
with Melt
The Starfish Room
Vancouver, B.C.
December 6, 1996

Review and photography by Rodney Gitzel
---

Los Angeles band the eels definitely are up there on the quirky meter, with their debut CD beautiful freak chock full of pieces and bits of all sorts of odd sounds, not to mention odd and solid songs. But how would they do, live?

Well... the show started off great. The band's stage setup alone was impressive: a really beat-up electric piano, big pieces of furnace pipe attached to drum heads, a french horn, a huge fire alarm (sprinkler cover?) suspended like a gong, a telephone, a massive kick drum, an almost non-existent kit, lots of bells, a triangle and what looked to be congas with a 30-degree bend in them. No synths or samplers, though. Hmmm.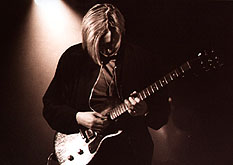 Their first song was something along the lines of "If I Was Your Girlfriend," and it was cool. Lots of little bits of percussion from Butch, and bassist Tommy quickly proved himself to be a very non-typical player, with plenty of fuzz and string bending, seeming far more concerned about sound and texture within the context of each song than with simply providing a harmonic foundation. Cool.
Then, after a bit of straight piano from band leader E, they lost it. Or, he lost it. The spoken word-ish "Susan's House" was lifeless, with E reciting his words through a telephone like he couldn't wait to get over with it. "My Beloved Monster," "Spunky" and "Guest List" were the same story. Tommy and Butch were into it, but E just seemed... tired.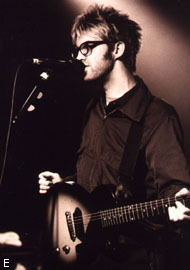 Maybe it wasn't completely unwarranted. "We're all feeling fairly weird after the cavity search at the border," said E, hopefully not completely seriously. And the band had traveled literally half the world in the few days before the show. And there were morons in the crowd (like the guy who admitted to not knowing the band at all, but who still insisted on screaming "eeeeeels!" all through the night). Then again, if you aren't going to deal with crap like that, then maybe you shouldn't be in a band.
Anyway, they continued on. Eventually, Butch took a break, Tommy broke out the french horn and E sat down at the piano for the delicate and cool "beautiful freak." It did not go well. Crowd chatter got the best of E, and when people started yelling "Come on!" during a mid-song pause, he gave up and the band broke funkily into the Macarena. "That's what you get. Don't fuck with us, man!" Not that it had the desired effect -- a lot of people seemed to like it! Eeeeg.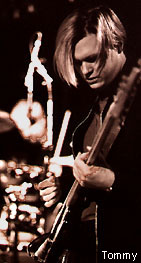 The band followed that with their hit, "Novocaine for the Soul," pumping it up with feedback. During the way cool "Rags to Rags," they brought out the furnace pipes and fire alarm cover for a percussive interlude and drum solo. E showed the first signs of life that night, finally, giving the crowd the universal rock salute before laughing with Tommy at some private joke. Maybe it was time to see the eels for real!
Almost, though their cover of Sophie B. Hawkins' "Damn, I Wish I Was Your Lover" was pretty effective -- and well-received. Back into their own material, they threw us a few heavy chords to intro "Not Ready Yet," completing it with a rock/blues odyssey and E making faces at the crowd. And that was that. Too bad, they were just getting into it.
But wait! After a prod from the promoter and some applause from the two-thirds-full house, the band came back out for a seasonal encore. Dragging a female volunteer up to play the jingle bells, the band closed the show with a nifty tune along the lines of "Everything's Gonna Be So Cool This Christmas," and Tommy announced, "Ok, we're leaving now. Loverboy's up next." Surprisingly, none of the audience stuck around.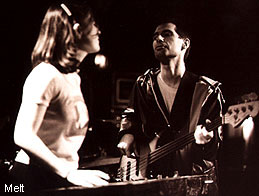 The openers tonight were originally from London (England), then Toronto, but now hail from Vancouver. And they were? Melt, a rather interesting four-piece: a singer/fretless bassist with a cool, and familiar, voice and a blue vinyl coat; a very young looking woman playing an amazingly, and completely, painted-over synth (a JX-3P?); a guitarist with a string of Star Trek toys and figurines around his neck; and Gene Simmons' crazy-looking brother on drums. They played, I guess, dark and odd alternative rock, with lots of squawks, warbles and drones out of the synth. Hard to describe beyond that on first listen, though definitely intriguing enough to look forward to seeing and hearing them again.
---
First published in Drop-D Magazine on January 17, 1997
Index | Search | E-mail | Info | Copyright

Considering copying some of the images from this story?
Please read this first. Thanks.