There's No Place Like Home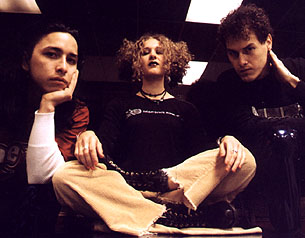 Vancouver's Liquid Amber
Interview and photography by Rodney Gitzel
---

43-second excerpt from "All Inside" (various formats)


Who says it's easy to get a band together? For Andrea Hector, vocalist and bassist for Vancouver "modern aggressive guitar rock" band Liquid Amber, it took years of trying to piece together bands that didn't work out. Years of writing and recording demos and meeting people who didn't get what she was doing.

Hector was shopping around "this little 4-track recording of me, my bass, my drum machine and my dog," when she finally convinced Damn the Diva guitarist, and fellow Cap College student, Jerry Wong to take a listen. He liked it, and signed on to play on her album. Hector then recruited guitarist Luke Doucet, formerly of Sarah McLachlan's band and just starting his own project, Veal, and Big Tall Garden's drummer, Haimish Thomson.

So she was finally set. And? "It was FUN. To sit in your living room with a ghettoblaster for like years and years, and then actually hear [your music] come out of amps... it's just so cool! It's finally going on!"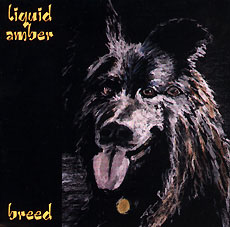 With the CD -- entitled Breed -- off to the presses, it was time to assemble a full-time band. Enter Gary Carlson, a guitarist who'd actually done backing vocals on the album. Carlson then tracked down Darryl Shackelly, an old friend and drummer, and excitedly gave him a tape before Darryl even had the chance to say 'hi.' How could he refuse? Then there was a video to be shot in a hurry, a release party to play, a stream of second guitar players (they're looking, again, if anyone's interested), shows to play...
Fast forward. Less than a year later, it's 10:00 a.m., this past Christmas morning. Most people are with their loved ones shredding coloured paper. And Liquid Amber? They were just pulling into Vancouver, having done 100mph through most of Washington at the end of a 10-day trip to Los Angeles. Hey, what would you do, faced with the possibility of spending Christmas trapped in Oregon by the Storm of '96?
And what were they doing down there, anyway? What's a Vancouver indie band doing in L.A.? Nothing much, just playing the Whiskey A GoGo!
The Whiskey is a world famous club in Hollywood, and an icon and magnet for musicians. So much so that bands are lined up to pay $500 ($US!) for the privilege of playing a set there! And I thought it was bad, here in Vancouver, where most bands get paid with a case of beer! Hopefully this won't give any local promoters any bright ideas... Pay to play?!?
But it's the Whiskey! "I've always wanted to play the Whiskey," grins Darryl. "Pay-to-play, well, it SUCKS." On top of that, they were bumped to an earlier set time at the last minute. And there's more: "We had a 45-minute set, but we got cut early because the band before us played over their limit. They gave us the last-song sign before we even got to do our single, and we're like, 'hello?' So we burned the place to the ground. Now we're immortal, we're the last band to play the Whiskey A GoGo!"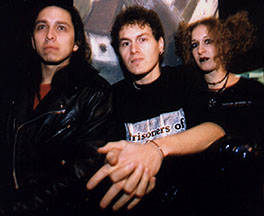 "And [the club's management] didn't care," adds Andrea, hopefully refering to the early cut-off to their set. "They've got a lineup of bands waiting to take your spot that minute if you don't want to do it." And it was worth the $500?!? "YES!!" they exclaim. Darryl elaborates: "It's worth playing there for many other reasons. We just had a shitty deal, that's all. People really dug us there. It wasn't packed, but I had friends walking around, and they said people were really into it, everybody was paying attention to the band. It was a good time."
Besides, their set over, they were free to explore a couple more legendary Hollywood haunts, the Rainbow and the Roxy. Woohoo! They didn't manage to run into Lemmy, who plays a lot of Pac Man at the Rainbow when he's not busy with Motorhead, or Drew Barrymore. "But we saw Ron Jeremy and Joey Buttafucco!"
"Bruce Kulick, from KISS, and John Corabi, the singer from Motley Crüe, they were gonna come to our show at the Whiskey," laments Darryl. "A friend of ours down there got them some tickets, and they were actually at the Rainbow, on their way down. But our start time got screwed, and we bumped into them right after our show. They were having something to eat and said, 'Yeah, we're coming down to see you,' and we said, 'Uh, we're done.'" Ouch.
L.A. wasn't all glamourous partying on the Sunset Strip, either; there was learning to be done: "My most valuable lesson in L.A. was learning that glam isn't dead," states Gary. Darryl chimes in, "It needs to be killed!" and continues the horror tale.
"It's clubs like one called FM Station. They even have a Motley Crüe tribute. It's really bad. We were walking around going, 'These guys would get murdered in Vancouver.' Gary and I actually went to see 'The Crüe' at FM Station, and we're laughing, 'Can you imagine if one of these guys walked into the Niagara?!?'"
They also learned that (a) it's expensive being down there, (b) it's a hard place to be a vegetarian and (c) playing the Coconut Teaser on a Monday can be fun, even if only your friends are there. Explains Darryl, "On the way to the gig, Gary says to me, 'We're playing in L.A. tonight!' And that started it for me. There weren't a lot of people, but it just felt so neat."
Still, it's always nice to be home, says Andrea. "I was really happy to play the Gate [a couple weeks later]. It was really nice, it was like: 'We're home,' they enjoy you and they show you that they enjoy you... and it was the first time we had some people dancing! I found out later it was these people's first ecstasy trip."
There's no place like home, there's no place like home...
---
First published in Drop-D Magazine on January 28, 1997
Index | Search | E-mail | Info | Copyright

Considering copying some of the images from this story?
Please read this first. Thanks.