Schtick-Stuck Old Suckers Pucker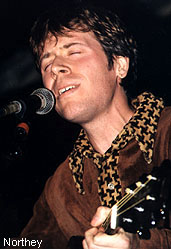 Bluebird North
with Eight Canadian Singer/Songwriters
W.I.S.E. Hall
Vancouver, B.C.
Sunday, January 26, 1997

Review by Paul Watkin
Photography by Suzanne Goodwin
---

Stepping into the weathered halls of the W.I.S.E. Hall, one immediately gets the keen sense that these walls could spin many a yarn. Unfortunately, it was history that brought the Bluebird North showcase to this venue, as its previous home, the Glass Slipper, burned to the ground in December. Needless to say, the show had to go on.

Bluebird North, styled after the Bluebird Café in Nashville, has become a fabled small acoustic showcase for Canadian songwriters. Sponsored by the Songwriters Association of Canada (SAC), the northern version came to Vancouver in 1996 and already has hosted such artists as Randy Bachman, Annette Ducharme and Gary Fjellgard. Tonight, eight more would grace the list.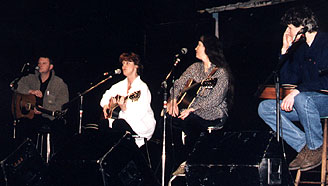 Four chairs spanned the stage, supporting four performers armed with nothing more than a microphone and an acoustic guitar. In rotation, they would perform their songs. Shari Ulrich, noted songwriter and V.P. of SAC, was our ever smiling hostess for the first half of the evening. Her first order of business was to announce the ground rules: "You must listen." Easier done than said.
The first four to take the stage were Kathy Stack, Linda Kidder (Gary Fjellgard's partner), Allan Dobb (Dobb and Dumela) and Paul Hyde (ex-Payola$ frontman).
Kathy Stack works on a fishing boat with her husband on Saltspring Island. The life of the seafarer seemed to bring out the romantic in her and she sang of life and relationships, whether it be with her husband or her cousin Tom, who sadly passed away in an automobile accident. She demonstrated the magical power that songwriters possess to create distinct images for the listener through her songs of everyday life.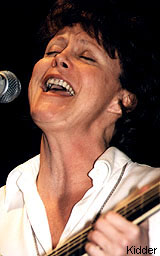 Linda Kidder was a first hand witness to the power of imagery tonight. Upon Kathy's description of her cousin, a large, strapping Irishman, Linda softly released a grinning "hmmm," forgetting that a microphone was present until after the fact. She displayed a tendency to be moved by the moment and upon re-focusing, presented songs she had written while spending some solitary time at a secluded lodging. She was happy to be there, sad to leave and the images and emotions that resulted from that time became her songs this evening. With a soothing voice, and a beautiful simplicity, she let us into her heart.
In the case of Allan Dobb, a time past led to a physical journey that retraced personal footsteps. The journey brought him to Idaho and he sang of his trek with a powerful, sleek voice, laying down a country, folk feeling that brought us with him to America's Heartland.
Aahh. This was all so nice. Enter Paul Hyde. Unleashing his poetic sense of humour through bitter sarcasm, he sang of prostitutes, the Las Vegas entertainment scene and the falseness that consumes assuming couples. He urged the crowd to sing the chorus on "Pie-Eyed" ("schtick sticks to some suckers, like lipstick on old puckers.") I think he knew we weren't going to join him and joked "Where were ya?" after each chorus. We were there, listening intently and, even though he was sort of the odd man out, he was cool.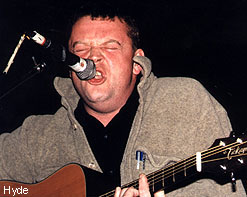 INTERMISSION. Hum "Spanish Flea" with me.
The second half of the proceedings featured Craig Northey (Odds), Michael Friedman, Saffron Henderson and Rick Scott, who also hosted the second half of the show.
Craig Northey, the Odd man in, began a little nervously -- this wasn't like being in a band: "You just can't turn up the amps and play loud." So, as he calmed his nerves by picturing us as the mess on his floor, he performed three lyrically wonderful songs filled with vivid imagery. Especially good was "The Last Drink," one of my personal favourites from the Odds CD, Good Weird Feeling.
Michael Friedman was the musical director for the last three seasons of Front Page Challenge. It's ironic that FPC carried such a staid stigma and that its last musical director carries such a provocative sensibility. Using a wide vocal range, he sang of the notion that one's first love is their only true love. The idea appeared to meet some opposition in the beginning, but after listening to the song, it seemed to make sense. He also reminded us of how science is ridding us of wonder and, had he stated that in a speech, it wouldn't have had nearly the impact as it did related through the power of song.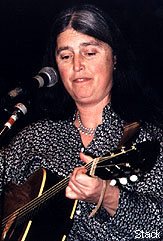 Saffron Henderson also possesses a wide vocal range -- and a powerful voice. She had taken some time off recently to relax and write, and, realizing that she could write about anything she wanted to, she came up with "My Lopsided Bed." With her sister (on backup vocals) and guitarist on stage, Saffron's calming voice and flowing song structure provided us with a beautiful sampling of her talents.
Now, getting a room full of adults to sing isn't an easy thing to accomplish (Paul Hyde can attest to that), but it was child's-play for Rick Scott. He has spent most of his time lately performing for children and you could tell. His large, inviting presence and gestures had us glued to his every move as he told us of the joy he experienced upon hearing of the birth of his grandchild -- and the subsequent shock of learning that she was born with Downs Syndrome. He always thought that angels had wings until he laid eyes upon his grandchild. His heart is as big as his presence and this thoroughly entertaining man left us no choice but to sing along with him.
So, as the night wound down and I reflected upon strapping Irishmen, making love on a lopsided bed, old socks on Craig Northey's floor, driving to Idaho, and the miracle of birth, I did, indeed leave with a good, weird feeling. The kind of feeling that makes songs stick to the brain like schtick sticks to some suckers, like lipstick on old puckers.
---
First published in Drop-D Magazine on February 7, 1997
Index | Search | E-mail | Info | Copyright

Considering copying some of the images from this story?
Please read this first. Thanks.