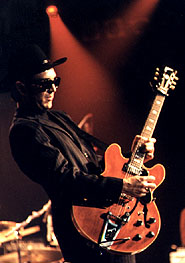 Big, Rude and Groovy
Big Sugar
with Big Rude Jake
The Rage
Vancouver, B.C.
Monday, February 10, 1997

Review by Alphonse Leong (with Shauna Wiwchar)
Photography by Brian Kraus
---

Big Sugar guitarist/singer Gordie Johnson humbly confessed to a wall-to-wall soldout crowd at the Rage that he was unsure how his band's booking at "this cool new place" would turn out. By the end of the evening, he must have concluded that his audacious guitar riffs and explorations had everyone thoroughly convinced.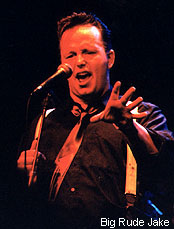 Openers Big Rude Jake came on with a blast of trombone and trumpet and immediately had the crowd swaying along to the funky jazz blues beat that was the basis of most of their set. Refreshingly unlike what you usually see at the Rage, BRJ is a very fun, swinging band, complete with the big, boxy Gibson guitar, standup bass, crisp brass, and a good loungy vocalist who reminds me of the singer for Doug and the Slugs (but with a few more strands of hair). Playfully snide and gesticulating like a Las Vegas mainstager, he dove shamelessly into numbers like "Queer for Cats," a bouncy, slightly crass ode to a bisexual girlfriend, and "Blue Jay Jump," a fast, rollicking tune that showcased a heart-thumping and authoritative bass.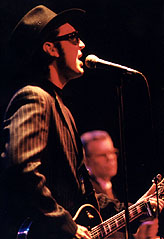 The highlight of their set, though, was an hilarious, angry response to Bob Dylan's selling of his "The Times They are A-Changin'" song to the Bank of Montreal. Called "Let's Kill All the Rock Stars," the song mercilessly lambasted self-centered, sellout musicians for all the "crap I've had to take" and encouraged us to "put 'em all six feet into the ground!" There were wide grins on everyone's faces in the audience and, by the time the group left the stage, you couldn't help but be in a good mood. They promised to be back in the first week of March and they are definitely worth catching.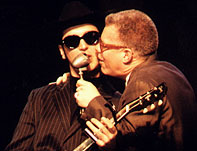 Big Sugar strode on coolly, with Johnson dressed up like a bad guy from a western (just like in the videos!), and they launched into a strangely perfunctory rendition of "Diggin' a Hole," seeming as if they had played the song a few times too many. But on the next song, "Five-Hundred Pounds," they completely plunged into it, dragging it out to almost fifteen minutes long. Johnson milked all the sounds he could get from his equipment, getting spacey effects with both hands and a slide and really indulging in the howling feedback. A few people in the front plugged their ears, but it was a noisy guitarist's fantasy come true. In fact, each subsequent song was like an event in itself, with the guitar taking centre stage and standardized arrangements thrown out the window. Most of the crowd was into it, though there were a few people sitting in the back wondering what all the fuss was about (then again, they looked like they would have sat dazed through anything).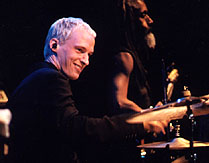 Then came the second single from the Hemi-Vision CD, "If I Had My Way," and again the group delivered a straight, competent performance (perhaps not wanting it to sound too different from the radio version?), although Kelly Hoppi did perform a nice harmonica intro. At first, Hoppi seemed to be the most dispensable member (I forgot he was there sometimes), but I began to like his clownish personality and tasty sax and keyboard licks. Bassist Garry Lowe was like a benign Rastafarian grandfather, content in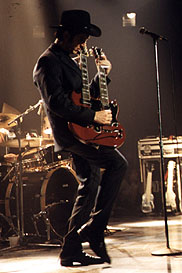 holding down a steady bass groove, while patienty allowing the other boys to muck about. Vancouver's own Paul Brennan (ex of the Odds), on drums, didn't muck around too much, but he really kept up an energetic and mesmerizing beat the whole night (and displayed an infectiously boyish grin!).
Of course, it was Gordie Johnson who really had his way through most of the show. He sang a particularly moving version of "Wild Ox Moan," accompanied by just his mournful guitar, and his falsetto was practically heart-wrenching. I even heard a voice, drifting from the marijuana breeze behind me, say seriously, "It's amazing what music can do to you." After a seemingly out-of-place cover of "Foxy Lady," the band closed the set with the frenetic "Ride Like Hell" and then came back promptly for three encores, leaving a lasting impression of powerful-looking and powerful-sounding guitars, relentless bass lines, and black hats and shades.
---
First published in Drop-D Magazine on February 21, 1997
Index | Search | E-mail | Info | Copyright

Considering copying some of the images from this story?
Please read this first. Thanks.