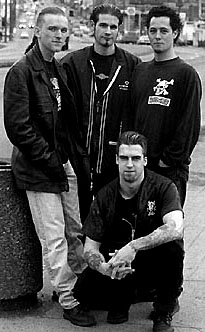 Discordant Niche Jar'd Open
Vancouver's Own Jar.
Interview by Kevin Templeton
Photography by Rodney Gitzel
---

43-second excerpt from "Flybanger" (331 Kb .au file)


"Wanna go outside?" intones Jar. drummer Rob Wade a mere five minutes into our interview. No, I'm not being summoned for a mid-afternoon fistfight; rather, Rob and yours truly, along with Jar. members Garth Allen (vocals), Chris Smith (bass) and Brian Fratesi (guitar) exit the band's Main Street-area rehearsal space for the alley out back, as another band who happens to share the same jam spot has decided to turn on their amps and crank 'em up.

Such is life for an up-and-coming act of Jar.'s stature these days. Formed during the summer of '95, the group has gigged extensively around town to much acclaim, and for good reason: a Jar. show is as energetic and vibrant an experience as you're likely to see on a Vancouver stage. "Some people who aren't even into this type of music have bought our CD solely because of the intensity and impact [we have] live," enthuses frontman Garth. "We haven't re-invented anything, but people tend to pay attention because they can see that we're not just going through the motions."

"We're entertaining," agrees Rob. "We're going up there, we're playing rock 'n' roll and we're having fun."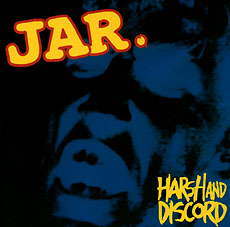 Fun. Now that's a novel idea for a 90's band to come up with! What isn't quite as much fun as it is dangerously pleasurable is Jar.'s seven-song-strong EP CD, Harsh and Discord, released in October of last year. Full of aggressive yet melodically-inclined shred rock, with a strong sense of style and songwriting prowess to boot, Harsh and Discord recalls a range of metal from Pantera (especially) to early Alice in Chains to latter-day Anthrax.
"Some of the material on Harsh and Discord was written with our old guitarist," explains Rob. "When things started gelling with Brian on guitar, we set out, found an investor and went in to record with Larry Anschell at Turtle. He went through a few changes with us, rearranged some stuff, and we came up with the product that we have now."
Speaking of "product," if you haven't caught "Regional Pump" or "Code Name" on any number of the specialty radio shows around town, you may be the exception to the rule, as Jar. have received their fair share of rotation for an indie band. But, as they explain, such exposure doesn't necessarily arrive without compromises via corporate reasoning.
"We would have liked to have had 'Flybanger' out as the first single, but C-FOX wanted 'Regional Pump,' a more commercial track," states Rob. "We had to spend a little more time in the studio to do some final polishing," admits Chris, "because we thought it would be a radio song." I'm wincing. The station also picked the crunching but indifferent "Code Name," one of Jar.'s older tracks, for the second single on rotation, but, as Brian adds, "C-FOX have been pretty cool to us so far. Supportive."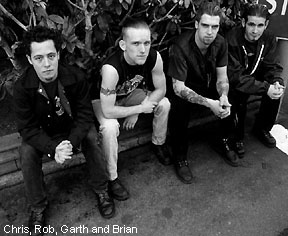 Any plans for a video in the near future? "We got refused by FACTOR [a granting authority] a little while ago," says Garth. "We know someone who's into camera stuff, and he's into doing a video with us. We're going to do the best independent video we can with him, and even if it's not good enough for MuchMusic -- which we're hoping it will be -- we'll just use it as a promotional tool."
Reading the local music papers a couple of weeks back, I noticed that the band had been added to the L.A. Guns bill at Studebakers. L.A. Guns? "I didn't really know what to expect from them, but they came out pretty hard, actually," says Chris. "It was really good exposure for us." There was even talk of the band going out on tour with the L.A. bad boyz. "Unfortunately, it was put together so quickly that it just wasn't feasible," he adds. L.A. Guns and... Jar.?!
"We're kind of a nice change from what's happening out there right now," says Brian, throwing the band's final ten cents into the kitty. "It's fresh in its own way, in your face, aggressive... we're a pretty visual live band and I think people get off on that."
---
First published in Drop-D Magazine on March 6, 1997
Index | Search | E-mail | Info | Copyright

Considering copying some of the images from this story?
Please read this first. Thanks.