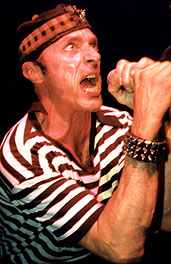 Sco'ish and Preud o' I'!
The Real McKenzies
with Diesel Candy and Wide Mouth Mason
Town Pump
Vancouver, B.C.
Saturday, February 15, 1997

Review by Michele Martin
Photography by Suzanne Goodwin
---
I've seldom seen a show with such diverse bands: openers Wide Mouth Mason were many things, including alternative blues, Diesel Candy were alternative rock, and the Real McKenzies were, well, the Real McKenzies.

A trio from Saskatoon, Wide Mouth Mason are named appropriately in view of the wide range of musical influences from which they chose. Vocalist/guitarist Shaun Veireault has a wonderfully expressive face, and a great big interesting voice,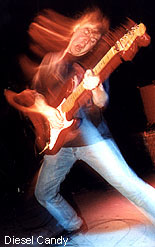 strong and versatile, sort of like Stevie Wonder with more oomph. Ranging from funky dance to R&B to hard-driving thrash, to finger-pickin' blues, the tunes were all carried out tightly, but with an edge.
You can tell Wide Mouth Mason have been at this for awhile: even when they cut loose, they were still in control; and, while each member of the band was obviously having fun and really into their playing, they still managed to come across as a cohesive, polished unit. I think we'll be hearing a lot about Wide Mouth Mason, particularly with their self-titled CD due out by the end of March. Check 'em out next time they hit town.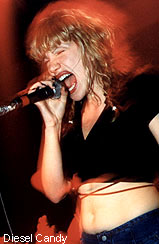 In the middle slot were locals Diesel Candy, hot on the heels of their new CD release, Big Sky. Diesel Candy are a five-piece fronted by blonde-braided vocalist Miss Benny, who is from the breathy school of singing. Quite honestly, I preferred the accompanying music over her vocals. It would have been interesting to have just heard her sing without all the special effects; I sensed she had more of a voice than she displayed this night.
Musically, the band was tight and played well together, with each member being given an opportunity to shine -- and doing so with style, energy and enthusiasm. Other than the annoying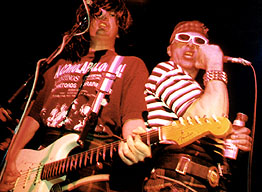 little-girl quality of the vocals, and the over-flogging of their new CD, the only problem with the set was that Diesel Candy's own talents were a little lost with them being sandwiched between two out-of-the-ordinary bands, one for its musical style (Wide Mouth Mason) and the other for its stage antics (the Real McKenzies).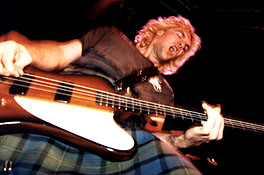 How do you even begin to describe a Real McKenzies show? Well, any description has to include the wailing and whining of the ubiquitous bagpipes, as well as the antics of the kilt wearing, sporran- and tartan-clad band members, who tend to be busily exhibiting their unrestrained genitalia for all to see. And don't forget the on-stage banter and patter ("This song tells a story about bastards who just happen to be Scottish."). and their rapport with the audience (beginning with "Show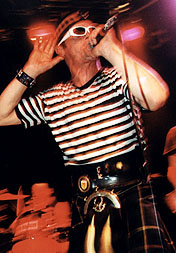 us yer tits!" and ending with "Fuck you! That's all you get!"). Add in a female fan who just couldn't keep her hands off the band's members, plus lots of beer being sprayed everywhere, a few Scottish (and otherwise) traditionals done punk style (and sung by a vocalist with a great voice he tries to hide in the craziness), lots of bawdy humour and four-letter words -- and you've just about got it.
These guys have personality plus and energy to spare. The more abusive they were towards the audience, the more enthusiastic the crowd became. Go figure. But, hey, you don't go to see the Real McKenzies for the music, you go for the spectacle, and boy, do these guys put on a show. So the next time you're feeling an overwhelming desire for all things (made) Scottish, but with a twist, just listen for the sound of the bagpipes mixed in with lots of cursing and attitude with a capital 'A.' Chances are, the Real McKenzies (and a lot of beer) won't be far behind.
---
First published in Drop-D Magazine on March 6, 1997
Index | Search | E-mail | Info | Copyright

Considering copying some of the images from this story?
Please read this first. Thanks.