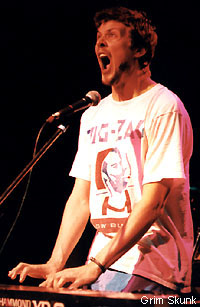 The Sweet Smell of Skunk
Grim Skunk
with Nefro and Minority
The Town Pump
Vancouver, B.C.
Thursday, March 6, 1997

Review by Michele Martin
Photography by Rodney Gitzel
---

As usual, the Pump was almost empty for the night's opening band, in this case local metal-rappers Minority, and the few people there were jammed into one small corner, giving a rather strangely lopsided look to the venue. The last time I saw Minority I was in the minority, because, amidst all the screaming, happy fans, I didn't like what I was hearing, preferring a musical performance to mere shouting. This time, however, I found myself enjoying the band. The sound system was less muddy than usual, and, for a change, I could actually make out the lyrics being tossed about by the stage-stalking rappers.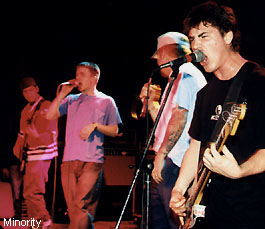 Minority played their hard-driving, slammin' tunes tightly, while at the same time demonstrating an ability to blow out a solid wall of sound to complement the staccato vocal style. The set was a blend of old and new, with bearded lead singer Jamie belting 'em out in spite of a case of tonsillitis. All in all, a good performance with lots of enthusiasm and energy from the band. Too bad the same couldn't be said of the few people who made up the audience.
Up next, Nefro, with the bass player and guitarist looking like book-ends in their Hawaiian print shirts. Romping about in a "I'll strip for you" t-shirt, the lead singer had a interesting voice, very listenable and wide ranging, kind of reminiscent of Perry Farrell (he even had those Farrell-like arm movements down pat).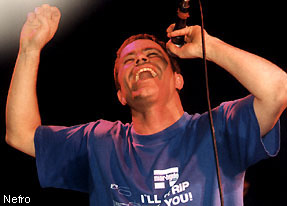 Playing a blend of dance, hippy trippy and island music (think Farrell in Good God's Urge), mixed in with hard thrash/punk, Nefro were fun to watch, decidedly more so than the few women (and I use the term loosely) on the floor smashing into everyone and determined to prove that, indeed, obnoxious behaviour and asshole posturing transgress gender barriers. Anyway, meanwhile, there were lots of good dancing tunes being played to the standard horseshoe arrangement of fans around the stage, with a few hearty souls in the middle moshing away. Nefro have a good stage presence and presented a solid, yet diverse, set with every song sounding different, from the vocal range to the interesting instrumental and sound effects.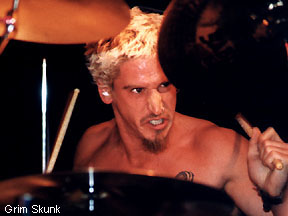 Last, but certainly not least, came headliners Grim Skunk. Although a Montreal band, these guys were definitely West Coast cool, from the twisted arrangements of their tunes to the sandals, bare feet and shades. And that organ! Man, it was like Emerson, Lake & Palmer meet Frankenstein, with its carousel-gone-amok sound.
Grim Skunk displayed a good deal of humour and diversity in their edgy music, one minute playing a haunted house intro, the next laying into some reggae-meets-cajun funk, then blasting off into fast and furious punk, often all in the same song. One standout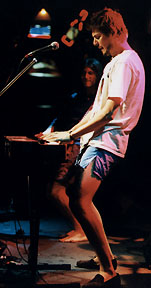 tune, featuring an opulent middle eastern flavoured layering of sound, needed only an arabesquing belly dancer to make it complete. The keyboard player (sharing vocal duties with the semi-naked guitarist) had the most expressive face, putting it to good use whether standing hunched over the keyboards, or hopping about frantically on stage in his blue shorts and Zig Zag t-shirt.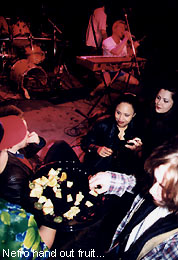 The rest of the band kept pace, putting on a sometimes maniacal, sometimes bizarre, but always fun set. And, they did so even while puffing away on the never-ending joints being passed up front by the now enthusiastic and eager-to-share crowd jammed in front of the stage. Kudos to the drummer for his ability to keep everybody together, no small feat in view of the off-beat tempos and complicated rhythms going on.
Whether Grim Skunk sang in English or in French, their fans loved 'em, crying out for more and moshing well into the night. At one point, the band invited an old friend up on stage to perform a song about legalizing marijuana, much to the delight of the glazed and wild-eyed crowd. When I called it a night at about 1:40 am, Grim Skunk were still going strong after some 17 songs, playing their hearts out to an appreciative audience. Nothing grim about this skunk -- just the sweet smell of good music being played well, and lots of it.
---
First published in Drop-D Magazine on March 15, 1997
Index | Search | E-mail | Info | Copyright

Considering copying some of the images from this story?
Please read this first. Thanks.