Much Ado About Music West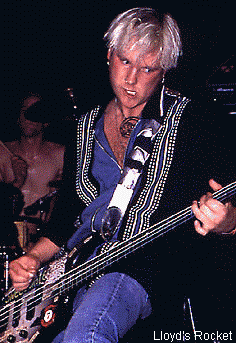 Music West '96
Over 200 Bands
A Whole Lotta Venues
Vancouver, B.C.
May 2- 5, 1996

A harried festival roadmap by P. Freako
Music West '95 photography by Rodney Gitzel
---

May is the halfway point through the deluge that is the music industry's festival conference schmoozathon/heresmycardcallme season. Welcome to the Vancouver chapter: Music West, part industry conference, part tradeshow and part music festival featuring bands o'plenty.

The music industry conference section of Music West features a host of speakers and panels ranging from a keynote address from Halifax band Sloan to John Oswald's (Plunderphonics) talk on sampling and copyright. The tradeshow is an opportunity to collect a lot of paper, play some guitars and even pick up some cool information. Definitely worth checking out.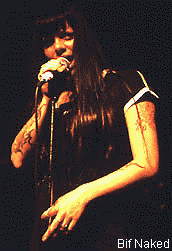 But what's the real force behind Music West? The BANDS! Get your running shoes on, because there's gobs of 'em to see. If you haven't been to one of these musicthons before, let me warn you: the old adage, "ahh, it never starts on time," goes right out the window. These kinds of shows are on time, so get yourself a watch -- oh shit... sorry Mr. Mercer -- get yourself a Swatch and keep track of the time. Also, keep your schedule handy because no matter how good a plan you have, it will change and there's too much happening to commit to memory. Now I'll give you some suggestions of bands I think are worth seeing, but if you truly want to appreciate the spirit of the festival, here's what to do: Clamp on your wristband, take out your schedule and make a promise to yourself that every band you see will be one that you've never seen or heard of before. Now that is the ultimate way to go. However, if you're a slave to pop culture like most people (hey, that includes me at times, too -- I admit it), here are some suggestions. Keep in mind that all times are subject to change...
Thursday starts off light and, from what I can gather, there are not too many conflicting shows. You'll be coming back from an afternoon at the tradeshow, with pamphlets and propaganda, you've filled out a ballot to win this or that and you've even managed to pick up some cool stuff. Good start. You like to rock? Head down to the Gate and check out the entire show from Lead Pipe Cinch at 9:00pm right through to the Smokin' Frogs at midnight. The Starfish Room is hosting some cool poprock stuff including the Wheat Chiefs (midnight) and headliners Pluto (1:00am), but then again, the Real MacKenzies, Vancouver's own crazy band of Scots are playing the Town Pump at 1:00am. I was wrong, conflict already. Christ!! How you end your night is up to you, but may I also suggest starting at the Railway Club with songwriter Annette Ducharme at 9:00pm and then just ease into the rest of the night from there. Don't forget to find a good boozecan after the scheduled shows as sleep is not an option here. Remember, you're just warming up for the next three days.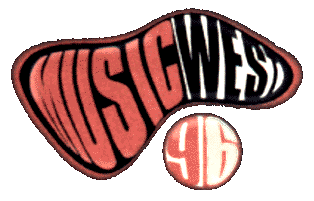 Friday is a huge, brain-melting logistical nightmare. Unless you can clone yourself, you're going to have to make some sacrifices. Here's what I would do. Head down to the Plaza of Nations and check out Slam City Jam, an incredibly awesome skateboarding competition. Inject some hip hop into your afternoon with the Hip Hop Mechanix at 3:30pm and DDT at 6:30pm. Grab something to eat from one of the vendors and race off to the Gate for 9:00pm to check out Made, a cool alternarock trio from Toronto. You'll thank me for that one. Fire off to the Phunky Toad to see Vancouver's own Tone at 10:00pm, maybe hang around for Lloyd's Rocket [ed. they were way cool, last year] at 11:00pm or race off to the Commodore to see punkabilly hipsters the Rattled Roosters. Shit, no...back up. Do yourself a great justice and go see Holly McNarland at the Town Pump. She's a wicked singer of ultra-personal songs, and is backed by a fantastic band. After that it gets ugly. Pansy Division and the Smugglers at the Gastown Music Hall (midnight and 1:00am respectively). Toronto blues rockers Big Sugar at The Commodore... uhh... Bif Naked, Dick 'n' Jane (C-FOX Demolisten winners), Another White Male (hip hop punksters), the Paperboys (Celtic rockers), Tom Wilson (frontman of Junkhouse), the infamous JJ Cale, DSK... aah, to hell with it. You're on your own. Start asking questions and find out where the best party's happening.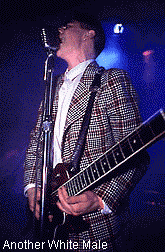 You should get home sometime around 6:00am. Grab a shower, have another beer to cut the queasiness, go force down some breakfast and hit the pavement again. Okay. Saturday you're wired from the weirdness of Friday, so you should head back down to the Plaza of Nations for Slam City Jam again and check out Upper Hutt Posse, a real cool neo-reggae hip-hop fighting social injustice Maori band from New Zealand. A must see. Spiderbait from Australia (2:30pm) and Seaweed (4:00pm) are also there to "Punk...You Up!" Now you've just seen three awesome bands, punk music still coursing through your veins and you're still on top of the world because you have Bad Religion tickets...cool! You will enjoy. Hold it. Rewind... still coursing through your veins and now you're pissed 'cause you don't have Bad Religion tickets. Not to worry. You could check out some rockabilly/punkabilly stuff at the Unicorn starting with Ray Condo at 9:00pm and ending with locals the Deadcats at midnight. After that you should run down to the Pump to catch the Smalls at 1:00am (don't ask them about Kamloops) for some hard hard, cranked-in-your-face music. 54-40 are having their CD release party at the Starfish, but if you're not there early, chances are you're not in. Now, if the scenario works out that you couldn't beat somebody up for Bad Religion tickets and you were too late for 54-40, you could always go to the Polynesian Lounge (sadly, Johnny LaRue will not be there) and let your hosts, Toronto crazies Jaymz Bee and Melleny Melody, take you on a surrealistic cocktail party to ease your pain by completely shredding reality. On the other hand, if you really want reality, there's the Free Speech Workshop at the Phunky Toad from 7:30pm until 10:30pm featuring Dean Hapeta (Upper Hutt Posse) and Professor Griff (Public Enemy). It should be pretty fuckin' cool. Alternately, for a nice dose of eclectic rock, Dorothy Missing at Route 66 at 10:00pm is a good bet. Hmmm, too much conflict again, you'll have to see how your night goes. Oh, of course. You're going to Music Waste!! Good for you...this is no time for sleep.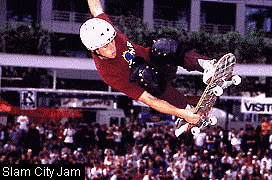 So, you get home sometime around 6:00am. Grab a shower, have yet another beer to cut the queasiness, force down some breakfast and hit the pavement again thinking to yourself, "deja vu man." You have been here before, but now it's Sunday. The last day. Once again you fire off to Slam City Jam for the finale of the skateboarding championships and you manage to catch some cool punk bands down there, including locals Ten Days Late at 2:30pm. Not too much hair pulling frustration tonight. You've run all over the city trying to see all these bands over the last few days, so tonight my friend, head down to the Commodore. Mosh into the night with Spiderbait, SNFU and Seaweed. Oh, sorry, I didn't realize you were punked out. Boo hoo! Well, how 'bout the jangley pop of Pal Joey over at the Gastown Music Hall? Of, if you want to get weird and heavy, Technicians of the Sacred take on the Hungry Eye at 11:00pm, but Speedbuggy also plays at 11:00pm at the Gate. Ahh, who knows, you're on your own again.
I hate to tell you this, but Monday is going to roll around and while you're sleeping all day, more than likely you'll lose your job. Well, it just won't matter, because after seeing 20-30 bands in an insanely short period of time, you've lost all common sense anyway and you'll probably decide to put a band together yourself. Good for you. Fill out your Music West '97 entry form and just remember: Clamp on your wristband, take out your schedule and make a promise to yourself that every band you see will be one that you've never seen or heard of before. That is the ultimate way to go, because in 1997 you're going to be one of those bands that nobody has seen before. Get the picture?
I'll see ya next year.
---
First published in Drop-D Magazine on May 2, 1996
Index | Search | E-mail | Info | Copyright

Considering copying some of the images from this story?
Please read this first. Thanks.