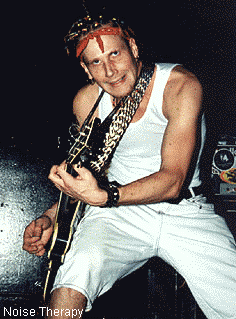 Therapeutic and Mind-Numbing
Noise Therapy
with Nickelback and Jar
The Starfish Room
Vancouver, B.C.
April 27, 1996

Review by Daniel Ewacha
Photography by Rodney Gitzel
---

Obviously, someone forgot to tell the 200-300 people who showed up at the Starfish Room last Saturday night that hard rock/heavy metal is passé. Long hair, leather jackets -- please don't make us laugh. Hairspray and spandex have "loser" written all over them. Yet, this was the gear of choice for most people in attendance, and they couldn't give a rat's ass what you think because they were having too good a time absorbing the gut-wrenching, ear-splitting, mind-numbing RAWK that they know and love. Supplying the musical overtones were none other than Vancouver's Jar, Nickelback, and Noise Therapy.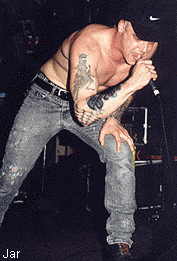 Upon entering the hallowed hall known as the Starfish Room, I could have sworn Alice in Chains were onstage. After all, I've never heard nor seen Jar before, and I could very well have assumed that Alice in Chains had used the pseudonym "Jar," taken from their EP Jar of Flies, to play a surprise set. This, of course, was not the case. I guess the only way to describe Jar would be to say they were as dark as Alice in Chains; as psychotic as Pantera; as flashy as Poison; and as charming as Henry Rollins, of whom the lead vocalist does a good impression. Guitar poses courtesy of the guitarist and bass player added a bit of cheesy humour, which was readily accepted by the audience.
By the end of Jar's set, the dance floor was alive with energy as they kicked off the night in grand fashion. I will say this about Jar: if heavy metal/hard rock ever makes a comeback, assuming it full out left in the first place, then look for Jar for to be near the top of the play list.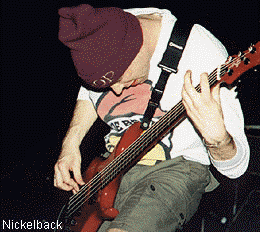 Next on stage were Nickelback, who have been receiving a lot of attention lately, with their single "Fly" getting airplay on the FOX. Although known for their kickass live show, unfortunately, Nickelback as a whole left me yearning for more. It was a show full of hills and valleys; it had some strong moments, but, for the most part, the show was a bit mundane. The sound was pretty poor, due to no fault of the band (read "soundman"). The vocals were distorted and hard to make out most of the time, and the guitars produced noise of some sort, which rarely sounded like guitars. However, before I pass final judgment on Nickelback and my word becomes law, I would like to see the band live a couple more times as this show was only about the fifth or sixth time they've played live. They obviously must be doing something right to be receiving the kind of attention they have been. Hopefully, I'll see more of that "something right" next time. (And, as a bit of a side note to other drummers, Nickelback's skin basher, Brandon Kroeger, played a most inspiring set and is definitely worth checking out.)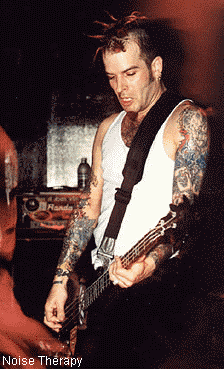 The headliners of the evening's festivities, Noise Therapy, were next and proceeded to give the audience a right good thrashing, much to everyone's delight. Last time I saw Noise Therapy, they were opening for Brother Cane. In the six months that have passed since, they haven't changed a bit, which in most cases would be a reason for a band to panic, but not in this instance. Noise Therapy put on a great show back then, outshining Brother Cane, and they put on a great show once again, Saturday night. Secure enough in the ability of their own songs to do the trick, Noise Therapy blasted through their own rendition of Police's "Message in a Bottle" to open their set. For the next hour or so, Noise Therapy took control of the stage -- hell, the whole venue -- and played mostly new material from their forthcoming CD, as well as "old classics" such as "Sick Mind" and "What's Wrong With the World."
Yes, Tipper, it seems hard rock/heavy metal is back, assuming it ever left in the first place. The signs were there. Even KISS, the best band in the world, is touring original members, makeup and all. Ozzy has come out of retirement and Noise Therapy, Nickelback and Jar are the next generation. Lucky us!
---
First published in Drop-D Magazine on May 2, 1996
Index | Search | E-mail | Info | Copyright

Considering copying some of the images from this story?
Please read this first. Thanks.