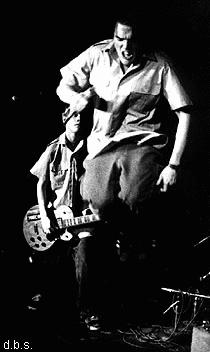 Hands Off our Fish, America!
d.b.s.
with The Dole and The Insipids
(formerly Funeral Oration
with Falling Sickness and d.b.s.)
The Hungry Eye
Vancouver, B.C.
April 24, 1996

review by P. Freako
photography by Rodney Gitzel
---

Being this magazine isn't exactly Rolling Stone (thankfully) and I don't get paid gobs of dough for my professional writing talents (hysterical laughter accepted), I was forced to work late this night and, though I pedaled my ass off to get down to the Hungry Eye in time, I still missed the better part of the set of the first band. Shit!! To my surprise the first band wasn't d.b.s., but rather it was localites, the Insipids. Now, I was informed beforehand that Falling Sickness, from California, could not get across the border, but what I didn't know was that headliners Funeral Oration had also suffered the same horrible fate. Freakin' border guards. So, anyway, d.b.s was now headlining this punk show and opening was the aforementioned Vancouver bands, the Insipids and the Dole.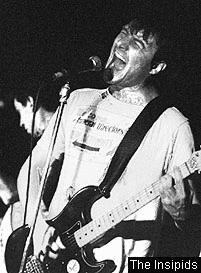 Where was I? Oh ya, sweat still dripping off my brow, I managed to get upstairs and catch the last two songs of the Insipids. There were loud, lotsa guitars, screaming vocals -- they sounded pretty good, but they also sounded like they had had a few pints before they got the last minute phone call to play. That's not their fault, though, and they seemed pretty cool in the short time I saw them on stage.
The Hungry Eye has a TV tuned in to MuchMusic at the side of the bar. I don't have cable and I couldn't help but be drawn in at times. I saw KISS doing an "unplugged" version of "I Want to Rock and Roll All Night" that made me want to throw an axe through the picture tube.
Where was I? Oh Ya. The Dole... hmmm nice mohawk on the singer. They admitted that they hadn't played or practiced much recently and that they were still riding the wave of their show a week or so earlier. Unfortunately it showed, and they were pretty sloppy for a good part of the set, but, hey, they answered the distress call and hauled their asses down to the club. They did, however, carry some good punk rock traits. They hated The United States of America and dedicated a song to that very country carrying the line "Hands off our fish, America!" Christ, I'm thinking that maybe the lead singer should be our new fisheries minister. Guaranteed he'd take no crap from those yanks, man. Somebody book this band a tour to Alaska, quick, while we still have some fish left.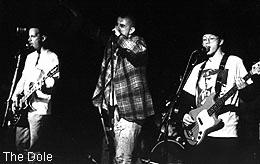 The Dole also carry some good Canadian traits, and stated their love for hockey which was met by a small chorus of "hockey sucks," which brought out a retort from the band, "hockey is the lifeblood of this country and if you didn't like it you can get the hell out!" This was met of course by another round of "hockey sucks" from a few of those in attendance. Dole played a set filled with that dancey ska/punk beat and as the set wore on I started to like these guys. But that's the problem with taking a while to warm up, you just start to get into it and POW, the set is over. That's okay, they can go practice now.
d.b.s., Vancouver's own punk veterans at the age of roughly 16 or 17 have been together for five years now. The Jackson Family of punk as it were. It still amazes me that these guys play together better than most bands way older than them. These boys are tight and play their instruments well. d.b.s lean towards a hardcore punk style and deliver their wares with unlimited energy. Lead singer Jesse Gander moves around the stage blaring the lyrics out to the crowd and even jumps in for some keyboards -- what!?! keyboards in a punk band? Ya -- and the random manic key pounding works (especially on a cover of Cindy Lauper's "Time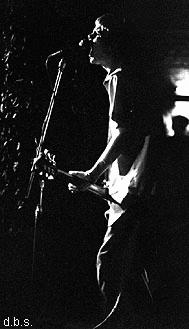 after Time"). At one point, a specific song was requested and Gander had to apologize, explaining that, over the years, the band has written some 250-300 songs, and they don't remember how to play all of them. That's another thing that impressed me about this band: they have absolutely no pretension.
Being no strangers to live shows, d.b.s put forth another strong performance fueled with high energy songs of reality such as "School Sucks." They exuded confidence and displayed a strong stage presence while pounding through their set, leaving the few flailing themselves in front of the stage sweaty, their angst released, and those further from the stage impressed, their angst released.
Though the main bands tonight couldn't get across the border, this was a fun show with no expectations and a neighbourhood atmosphere. Good or bad, all of the bands delivered emotion and ya know that's why live music will always rule. I will leave you with the immortal words of Mojo Nixon, "blow up your TV..."
---
First published in Drop-D Magazine on May 2, 1996
Index | Search | E-mail | Info | Copyright

Considering copying some of the images from this story?
Please read this first. Thanks.